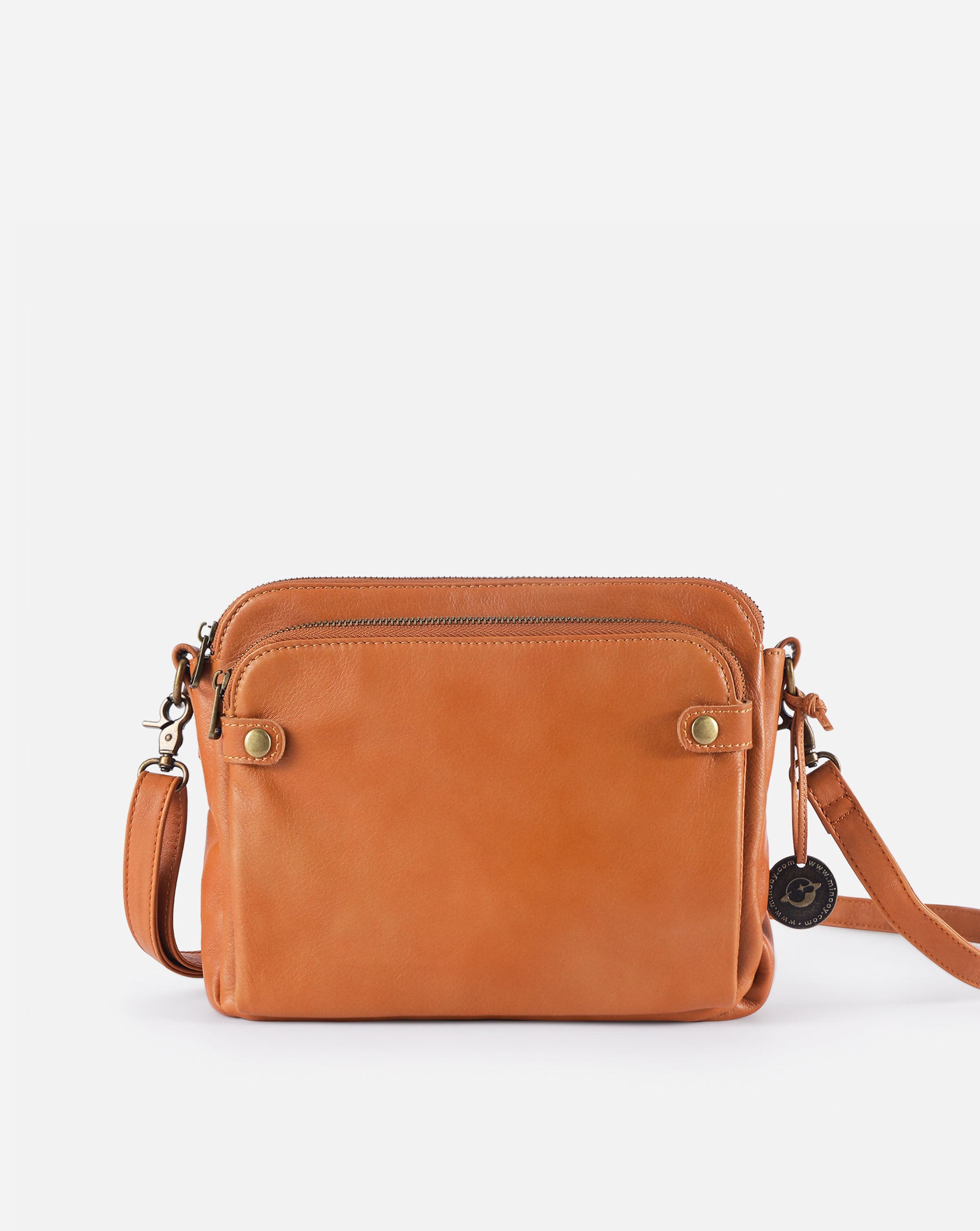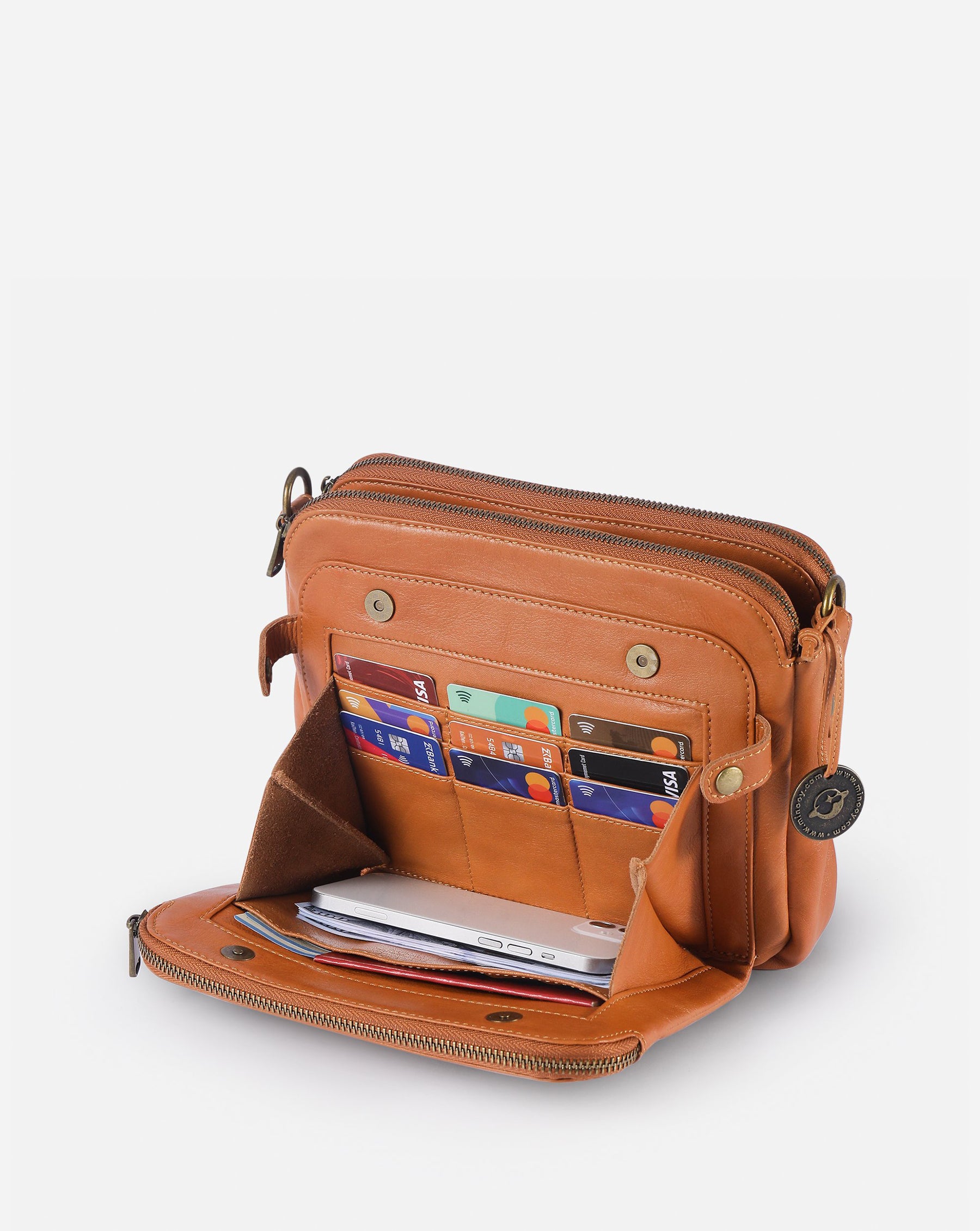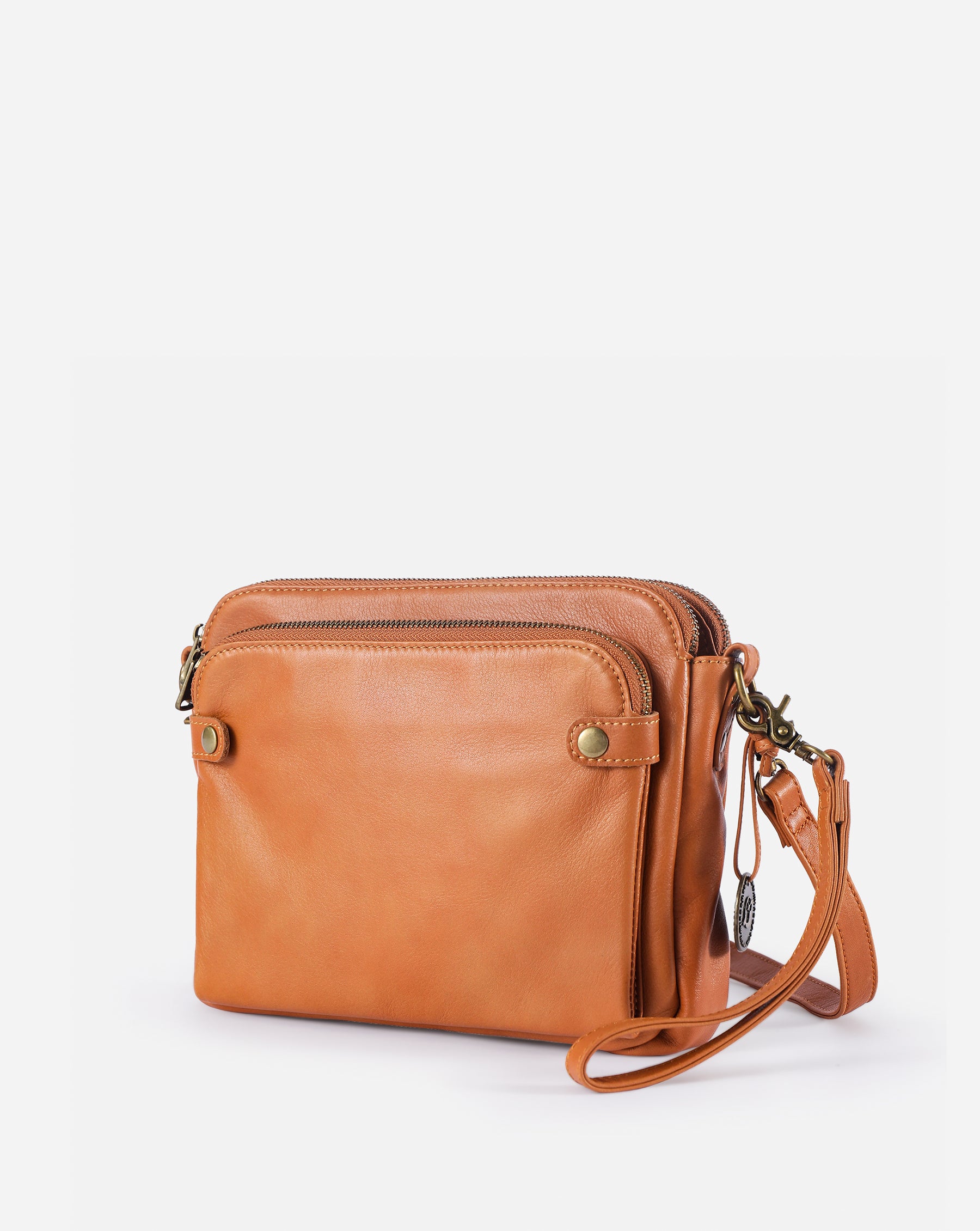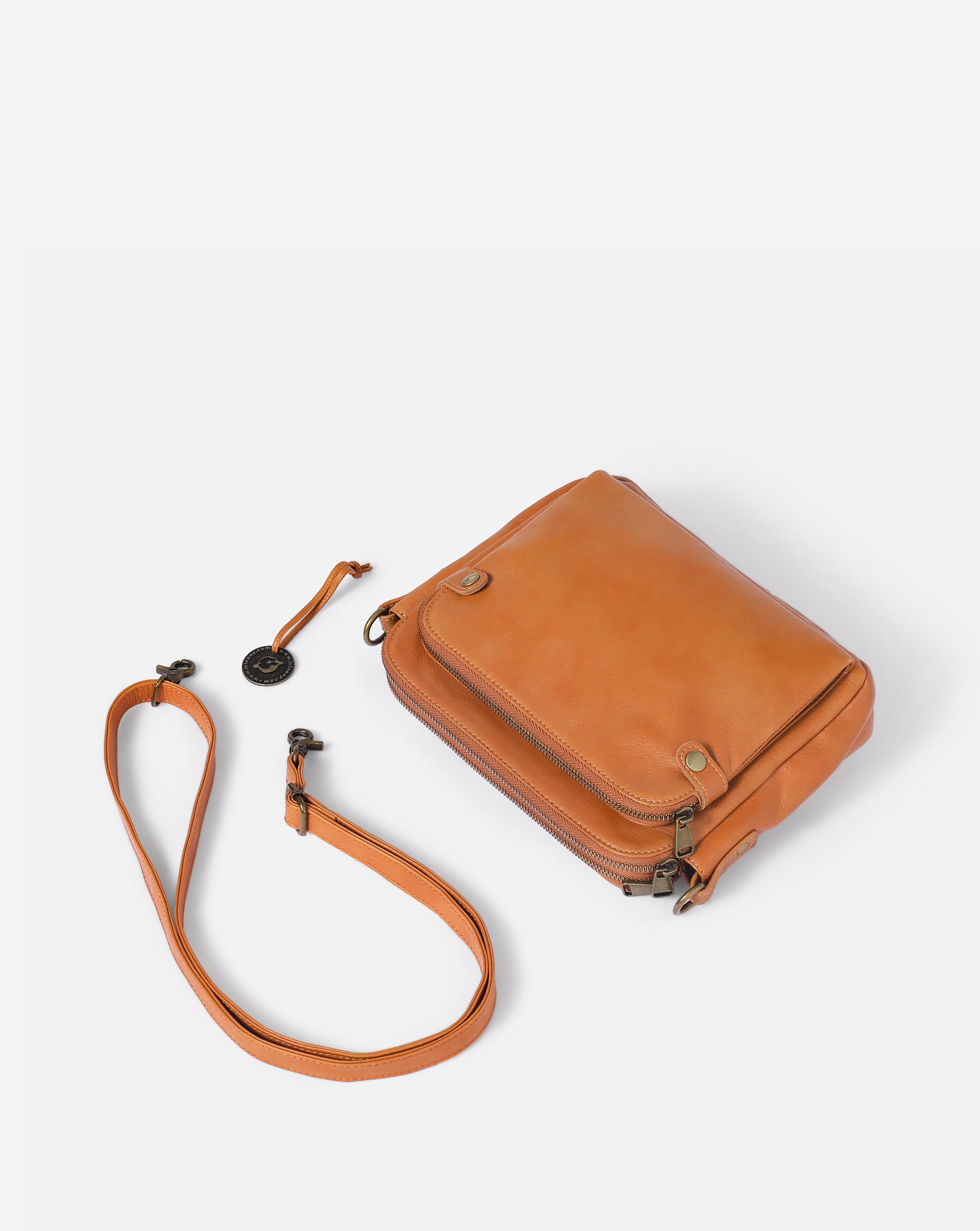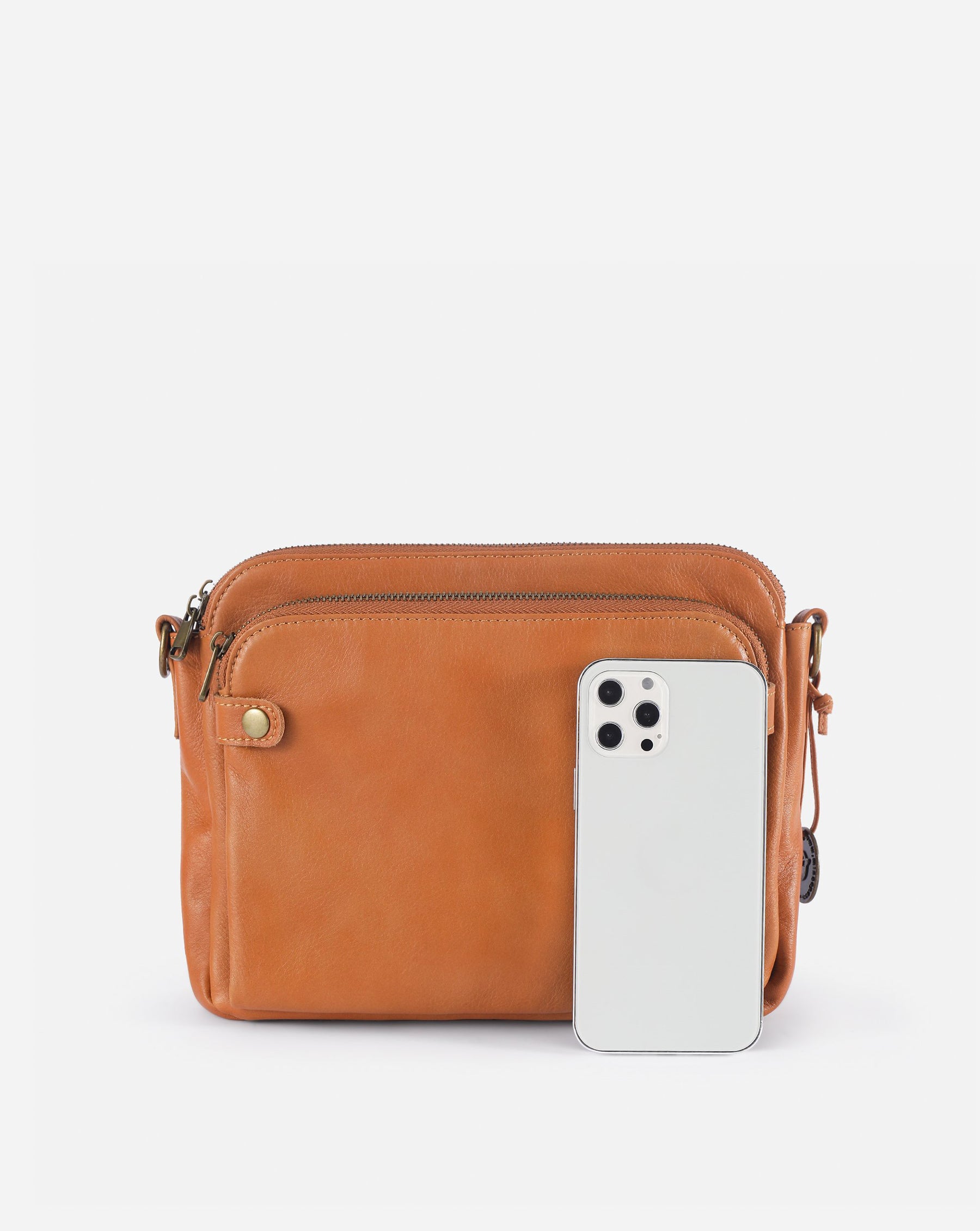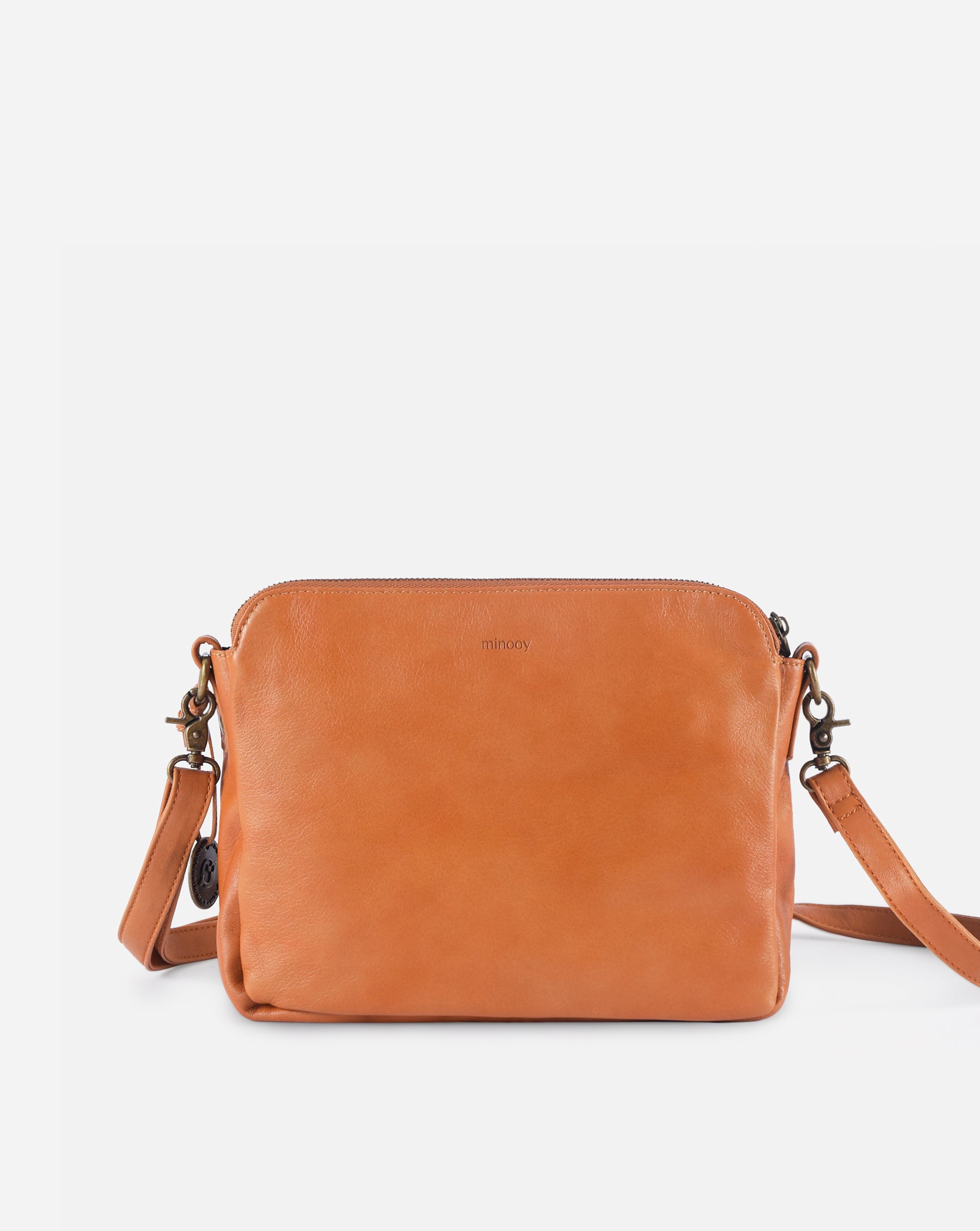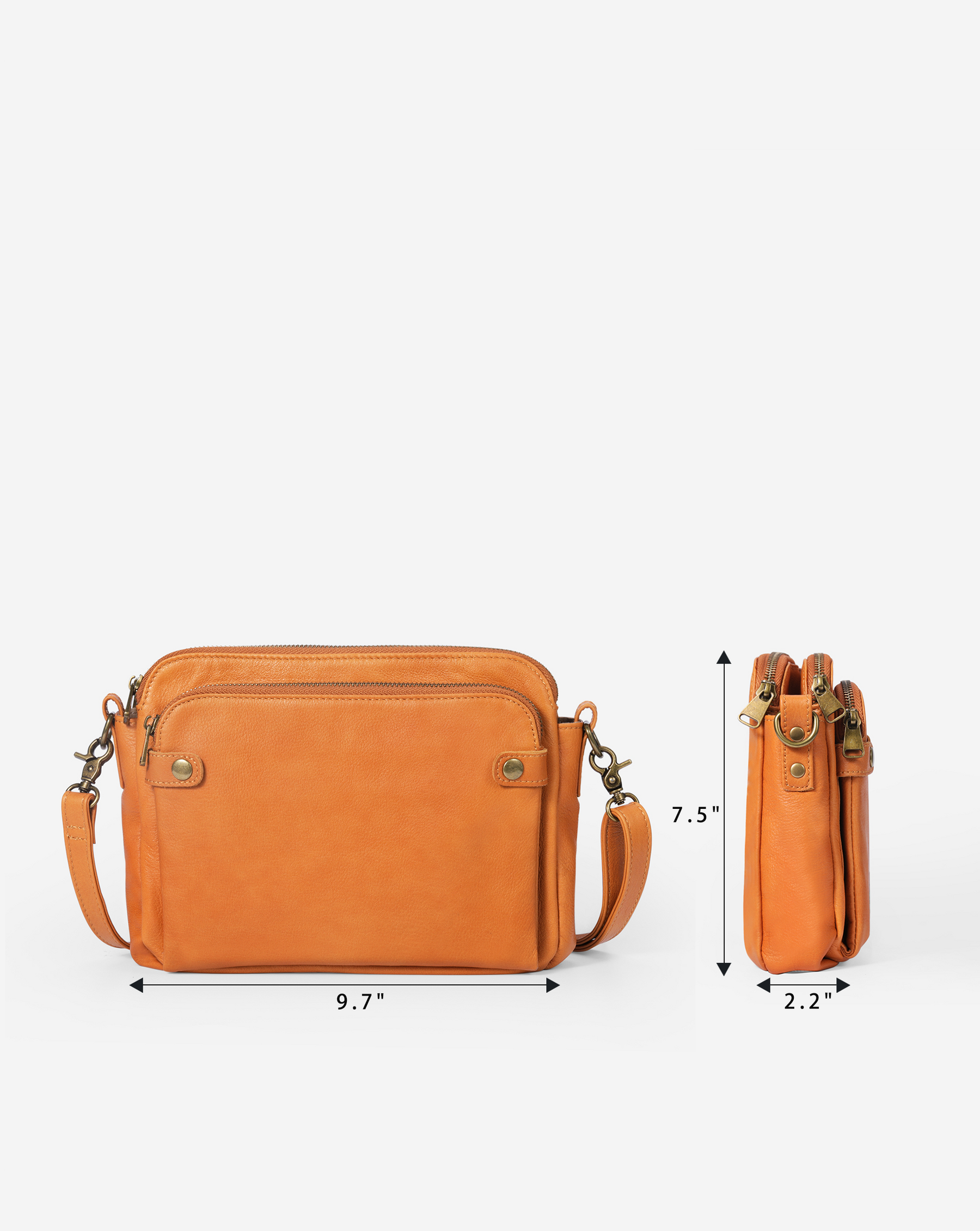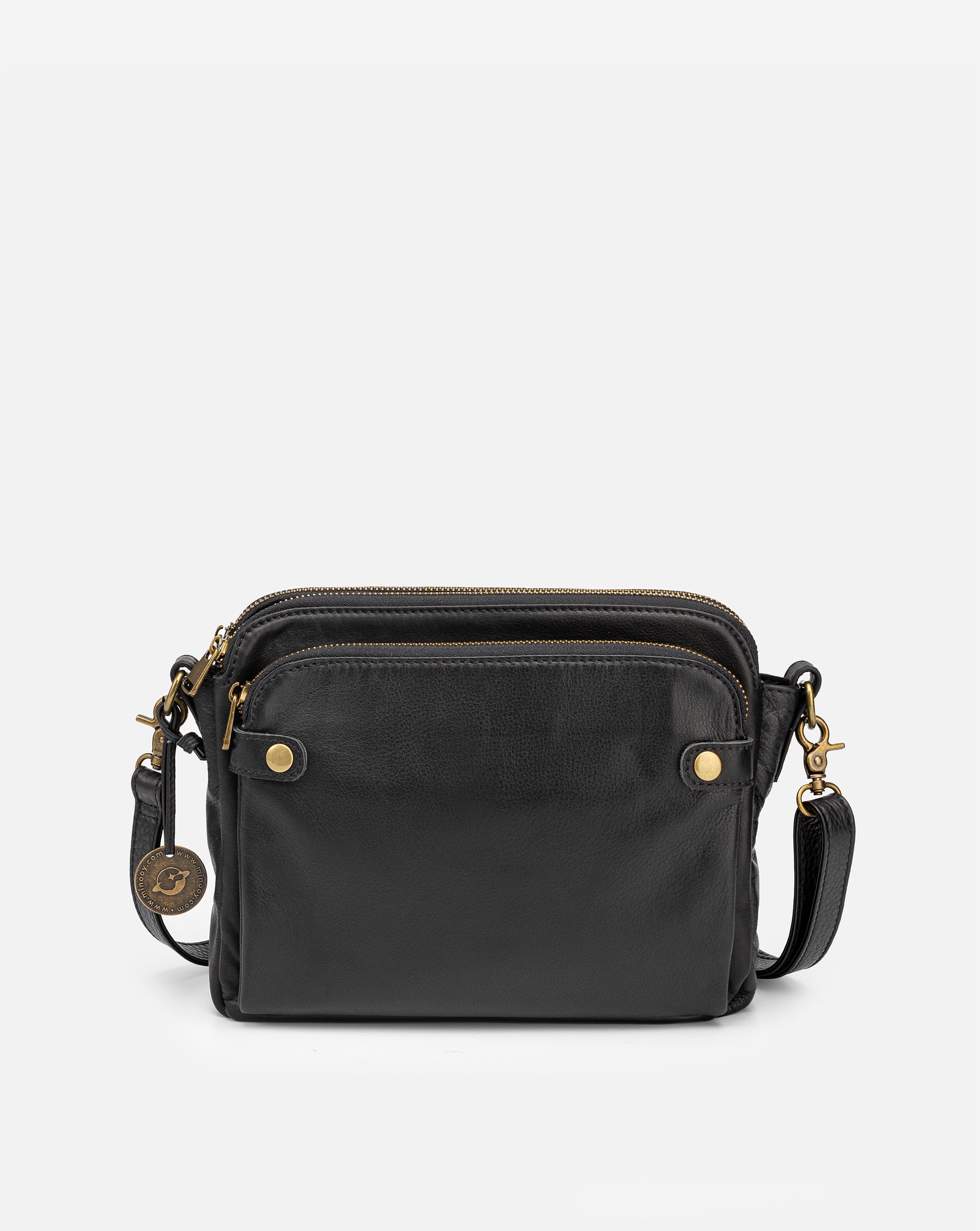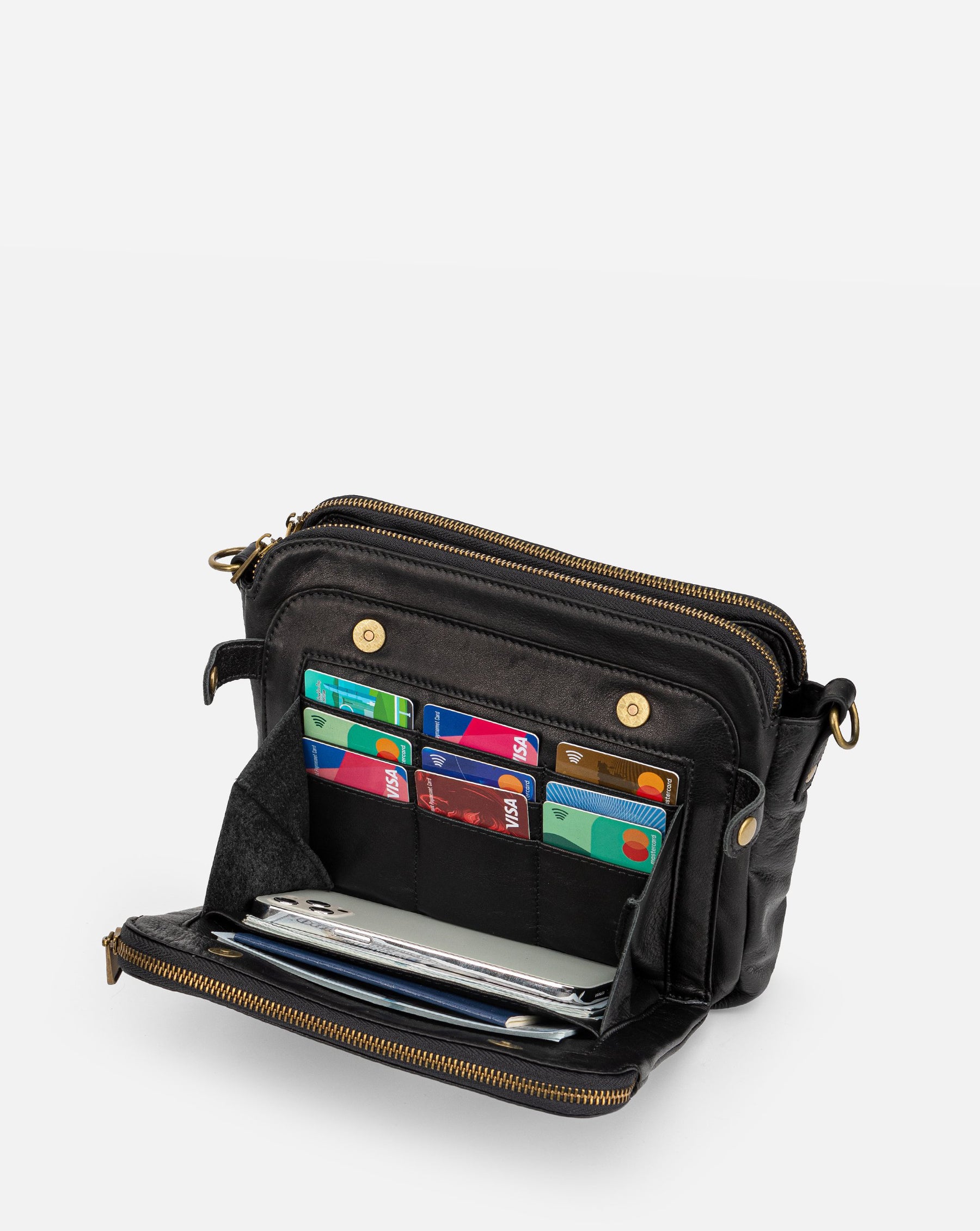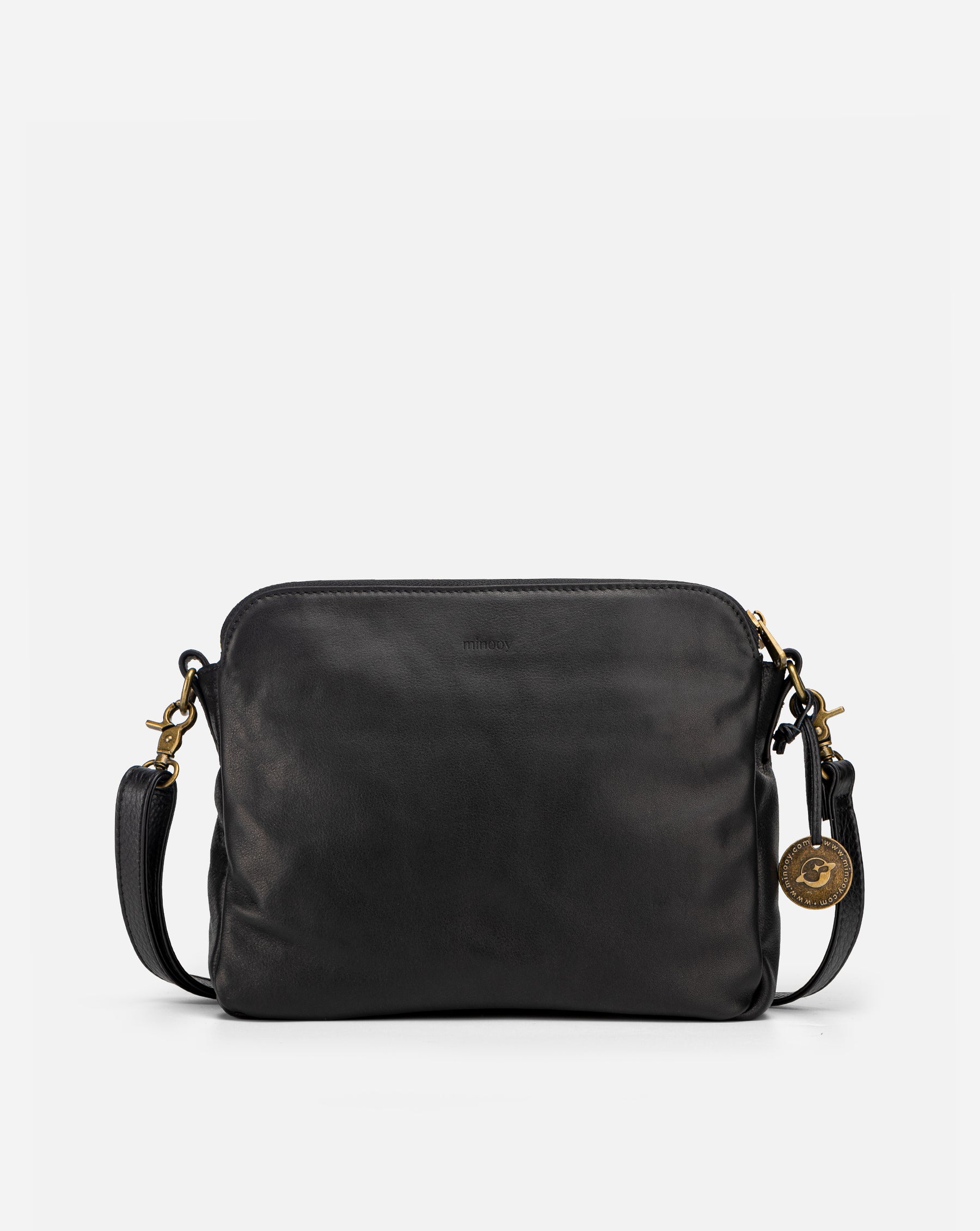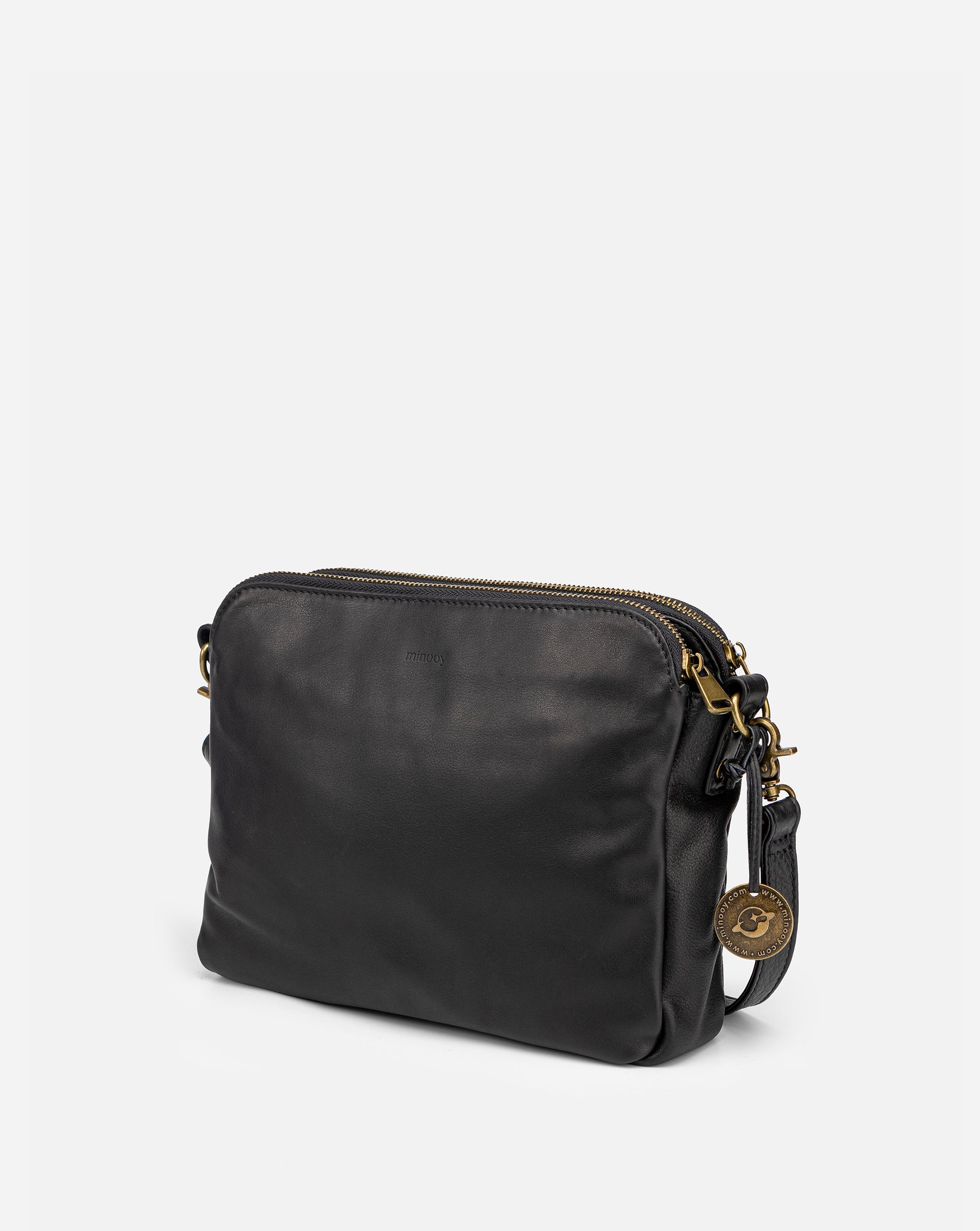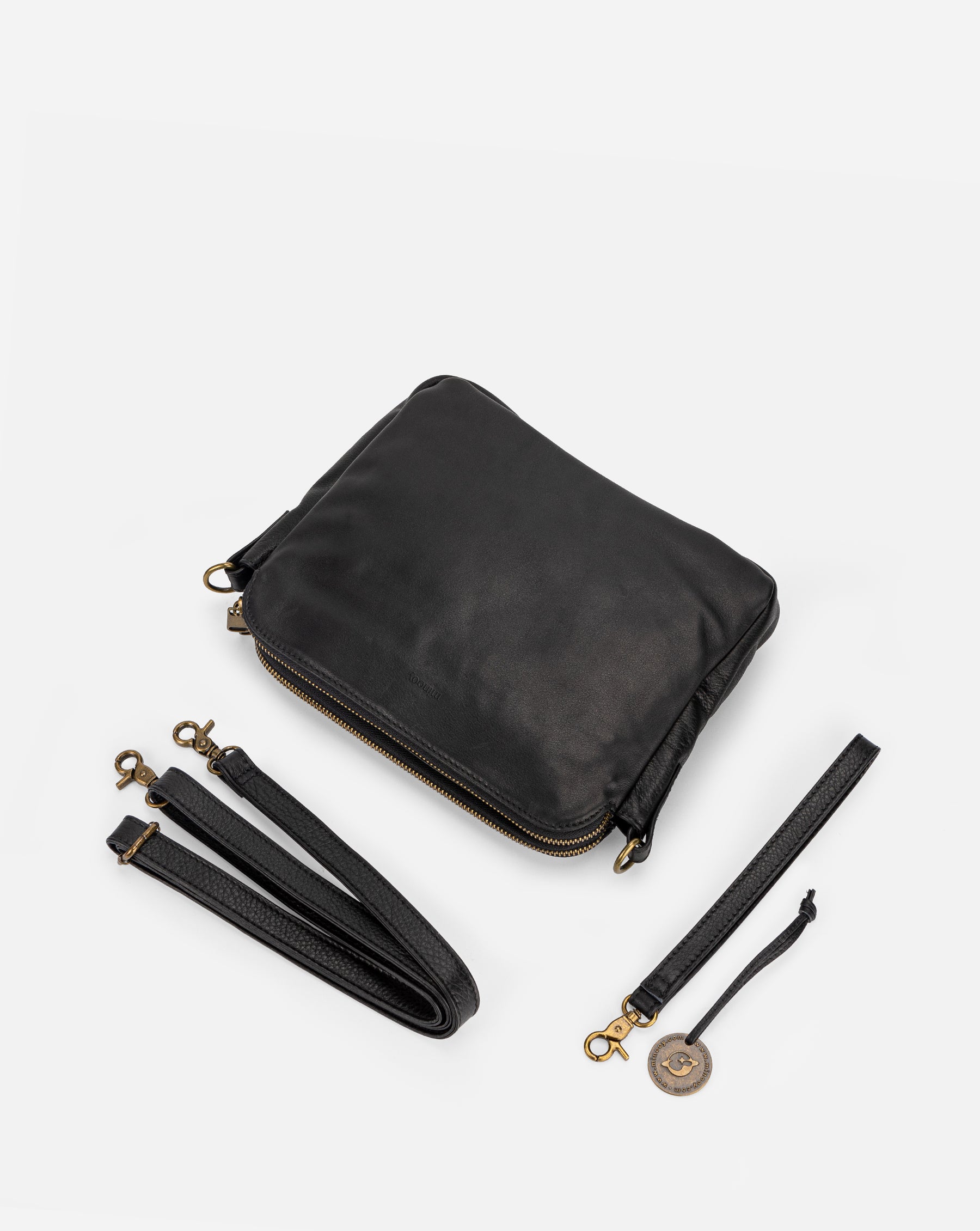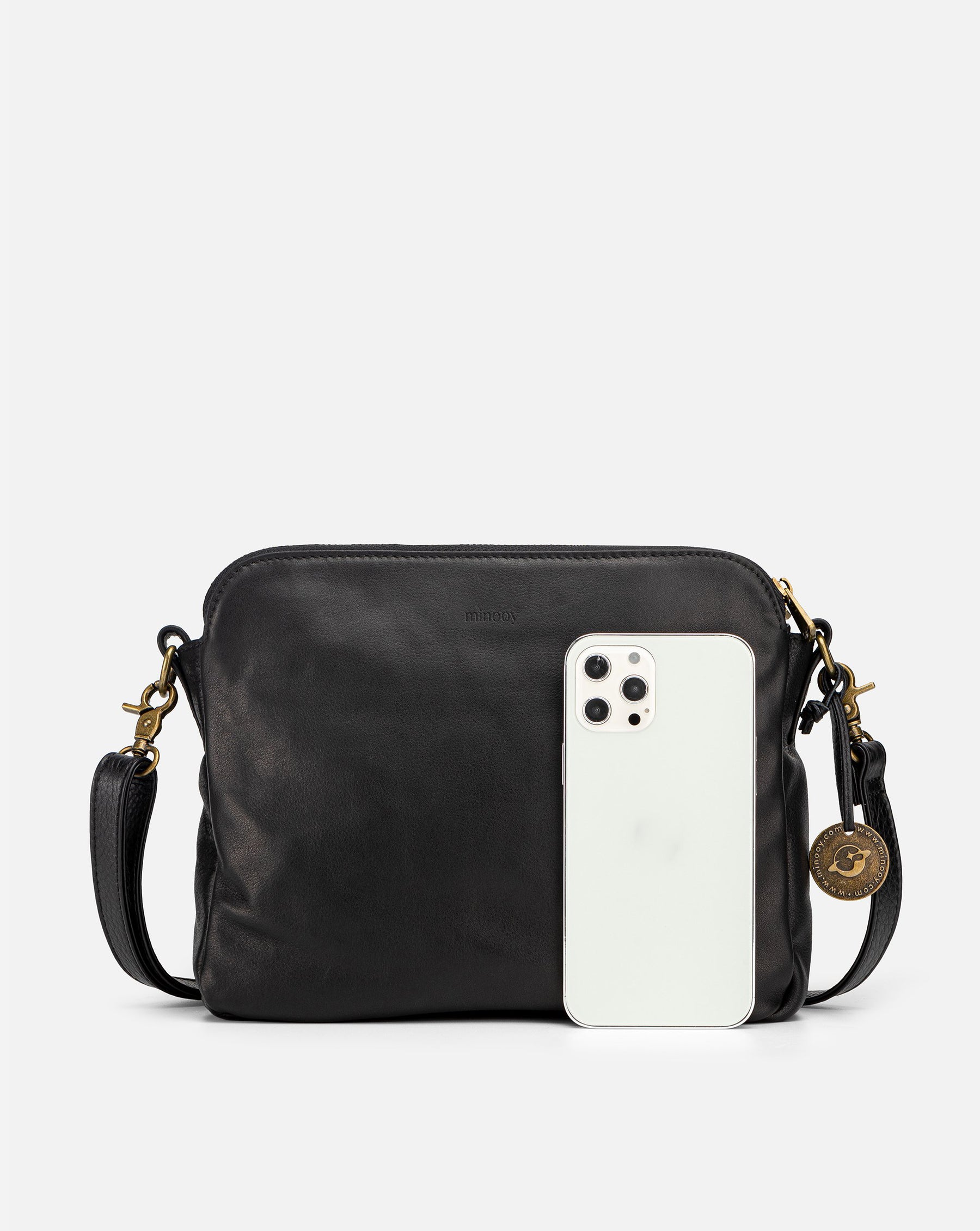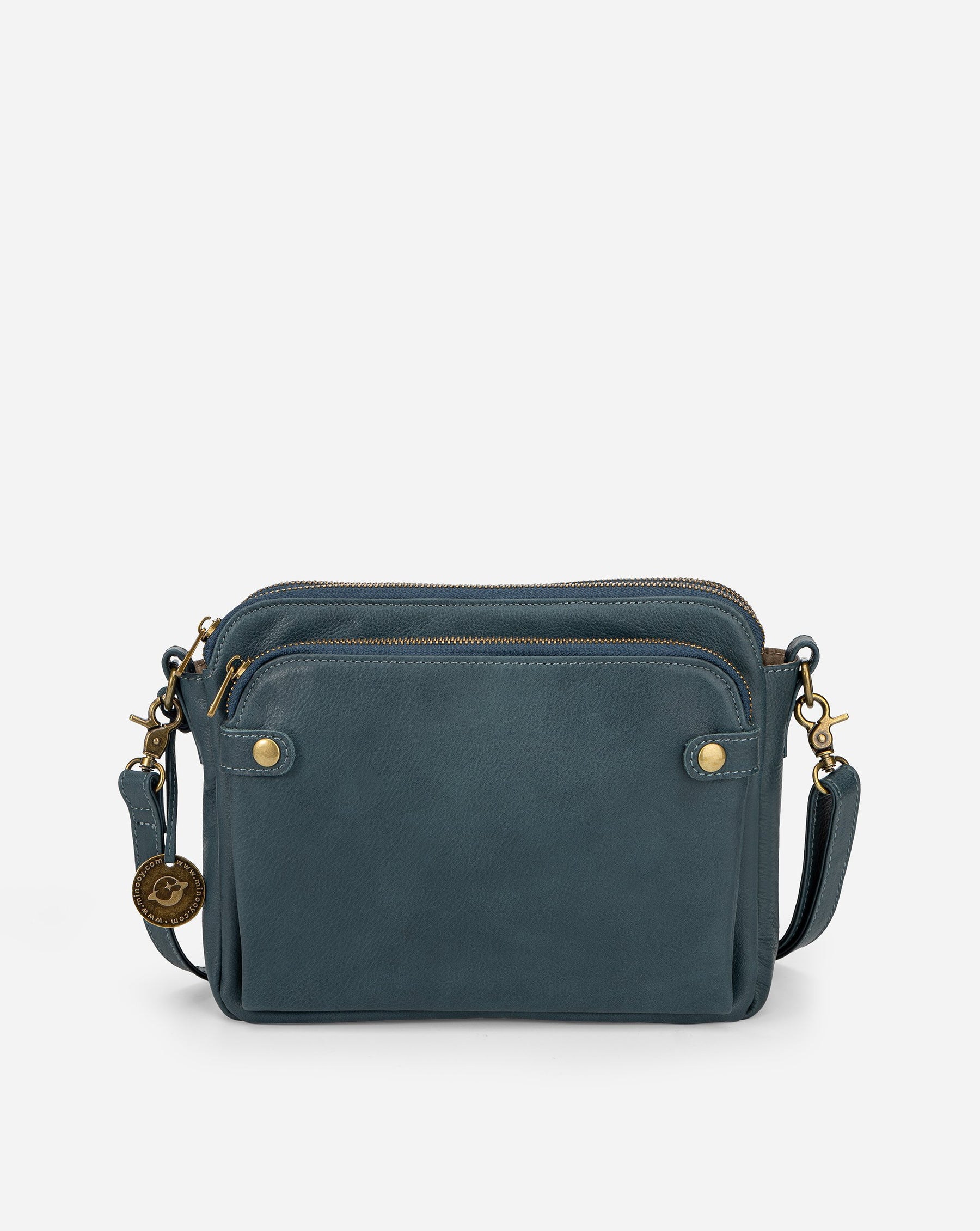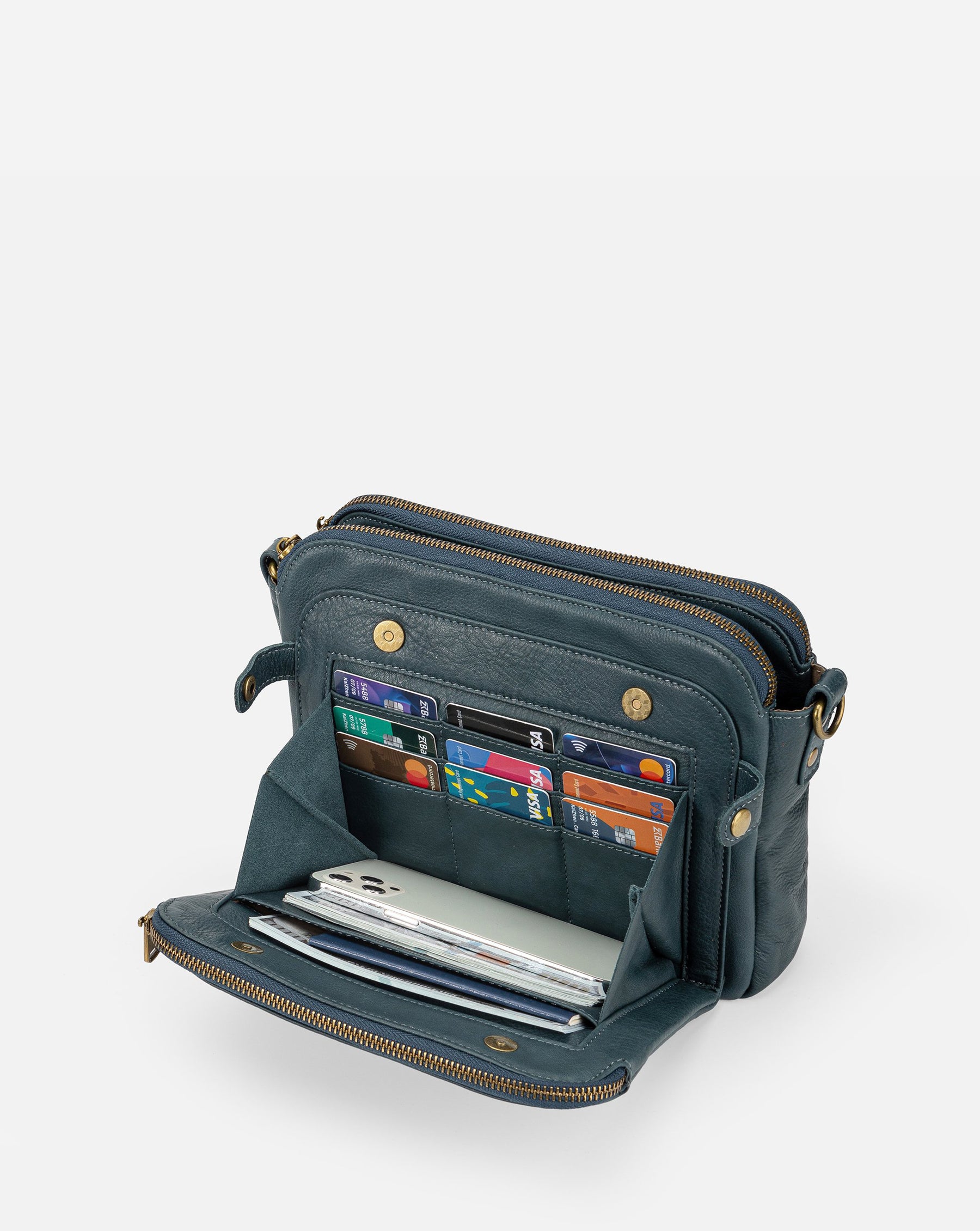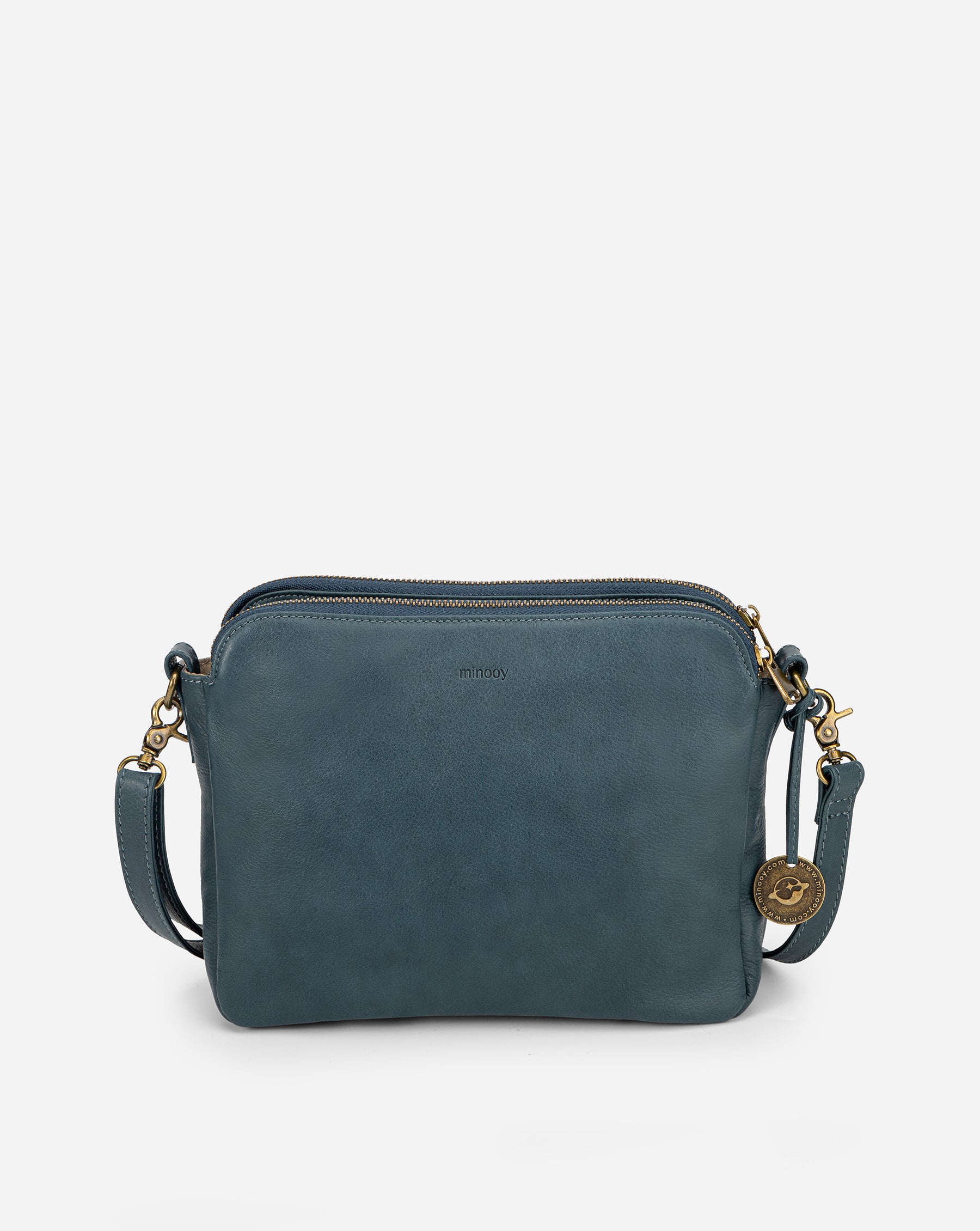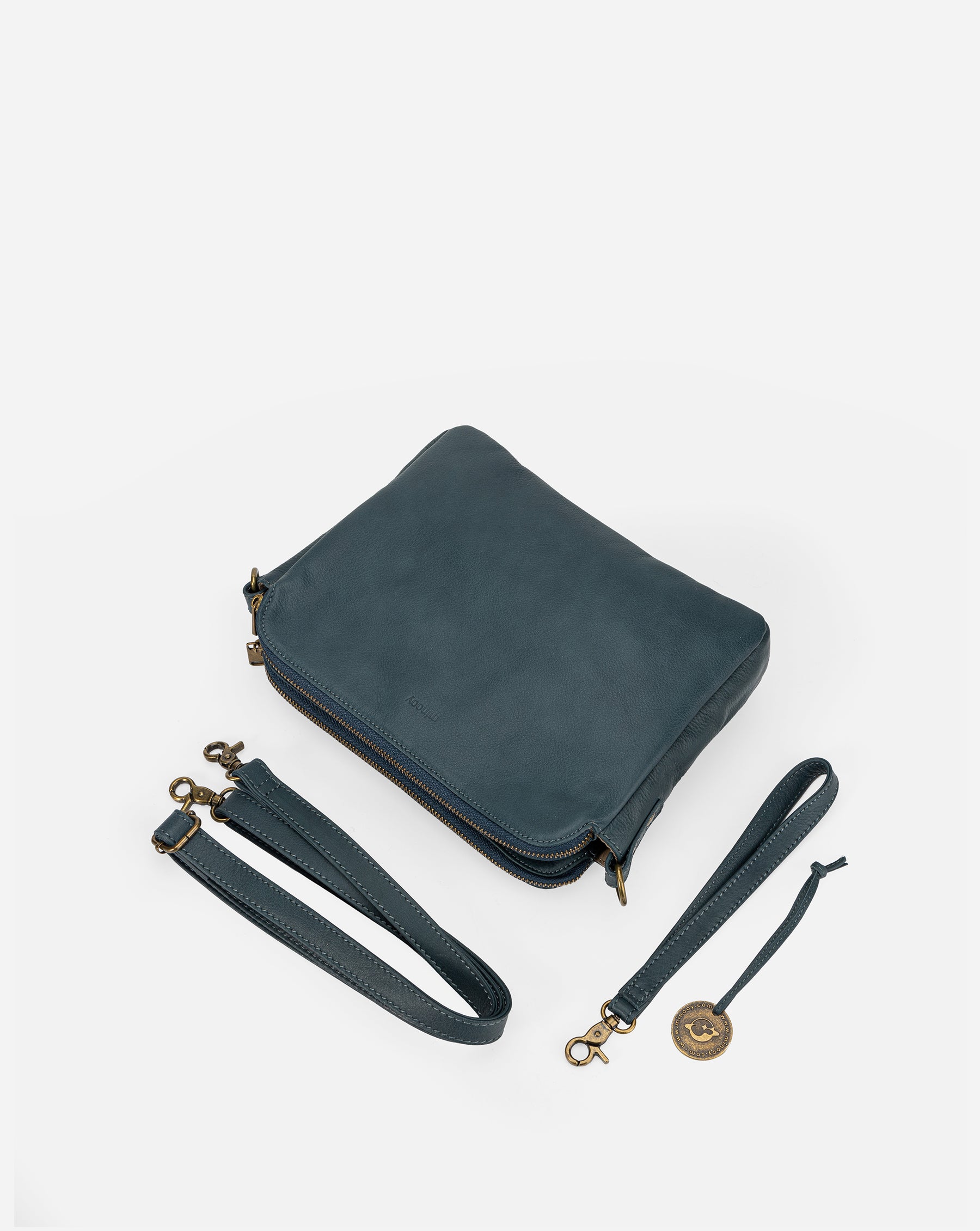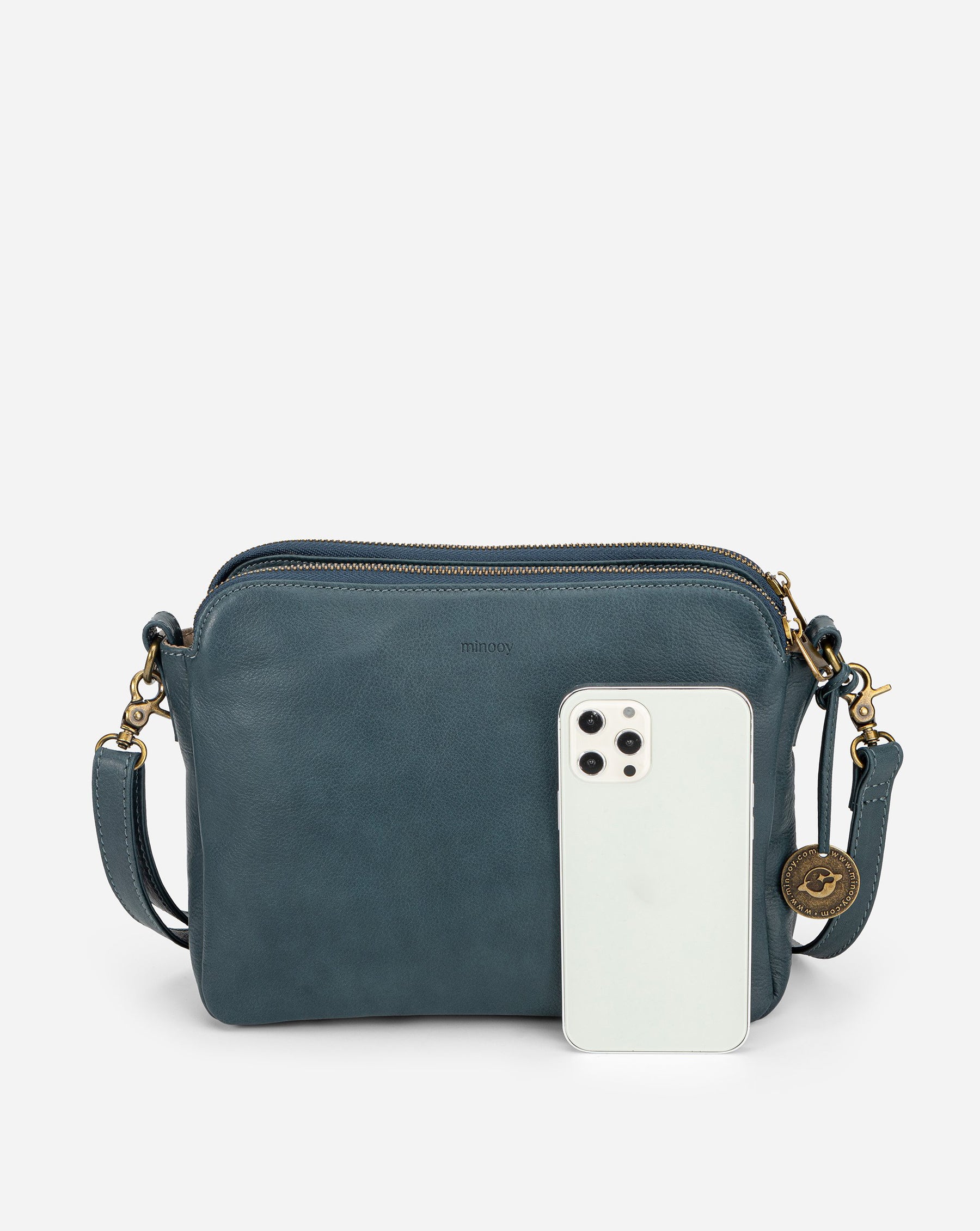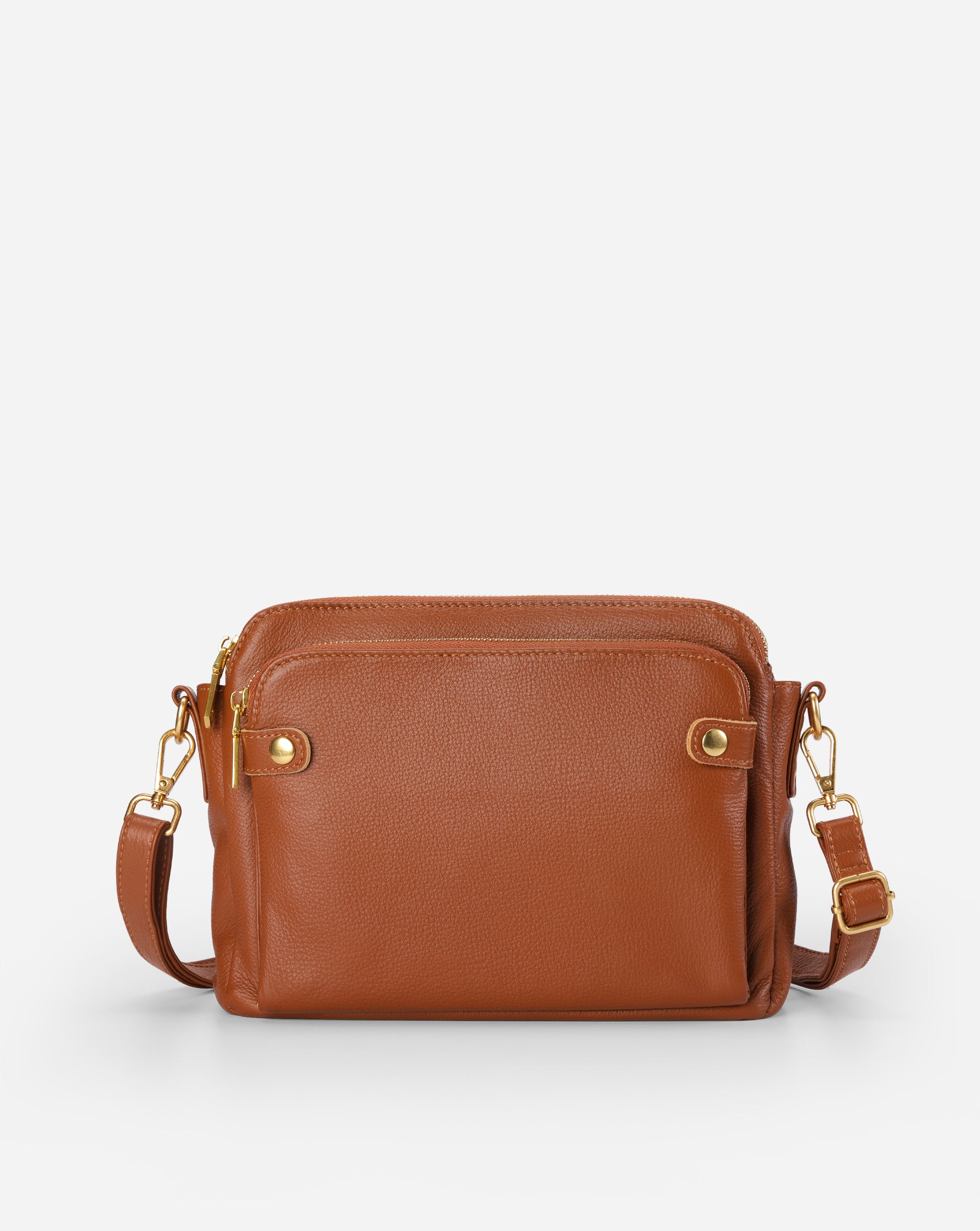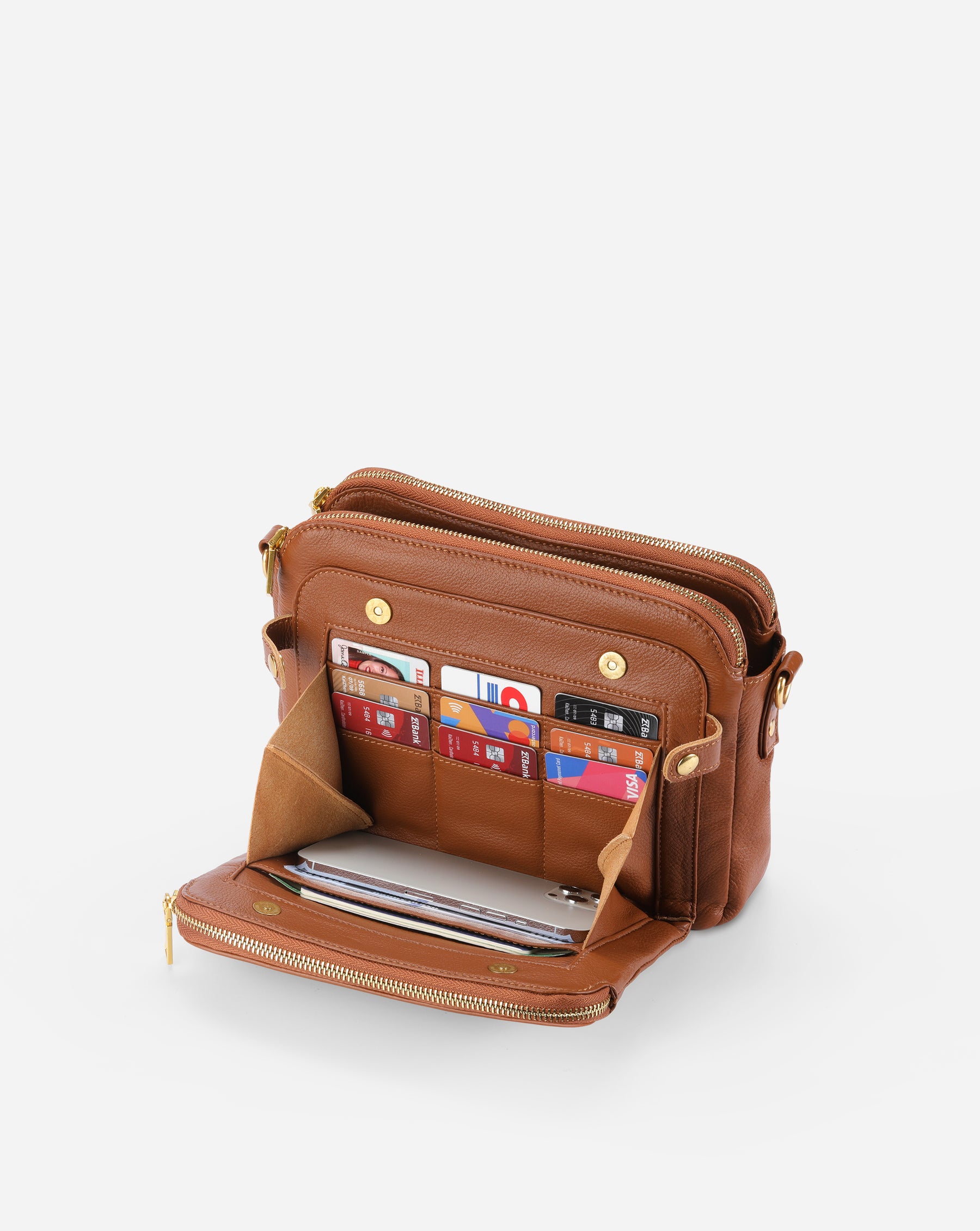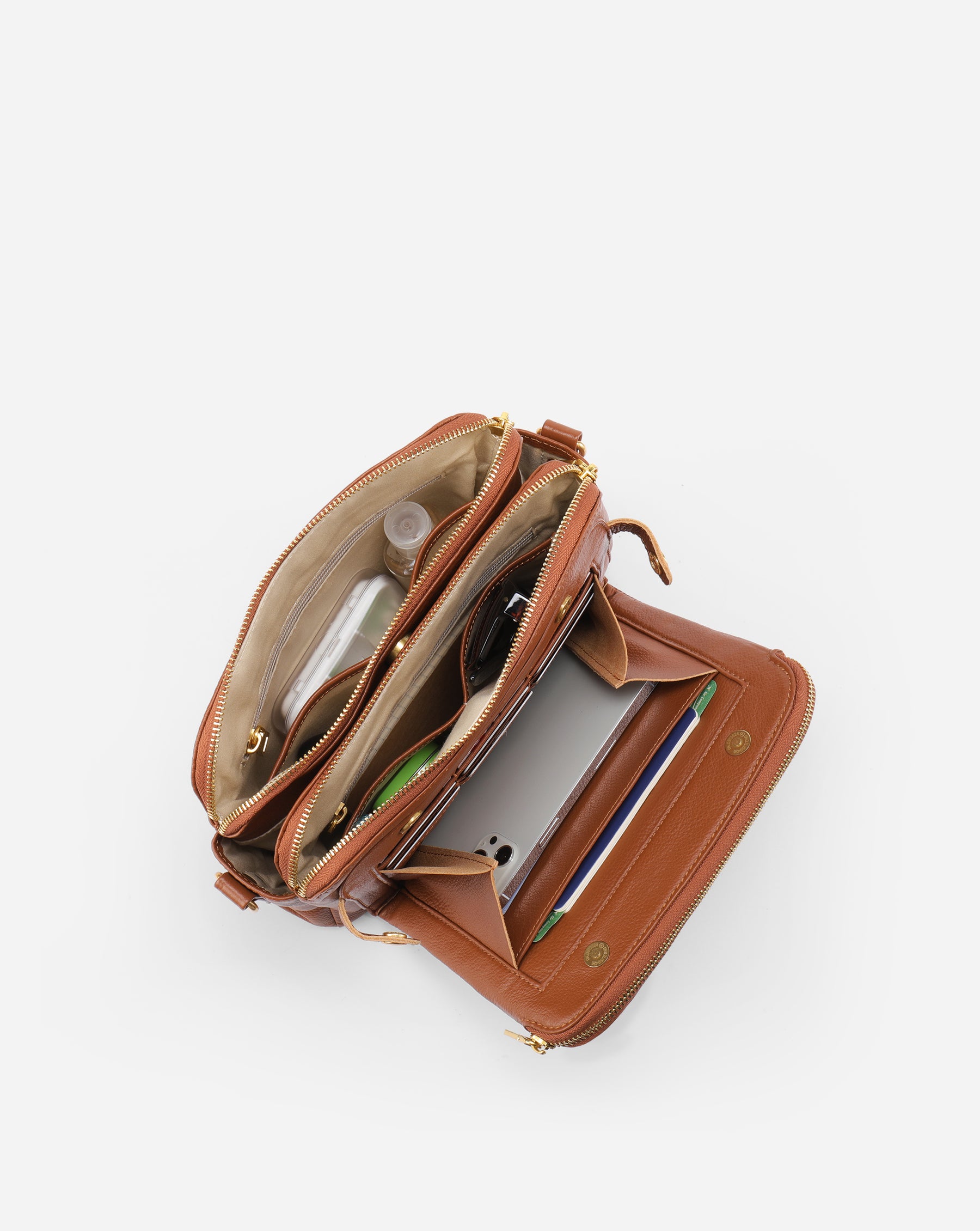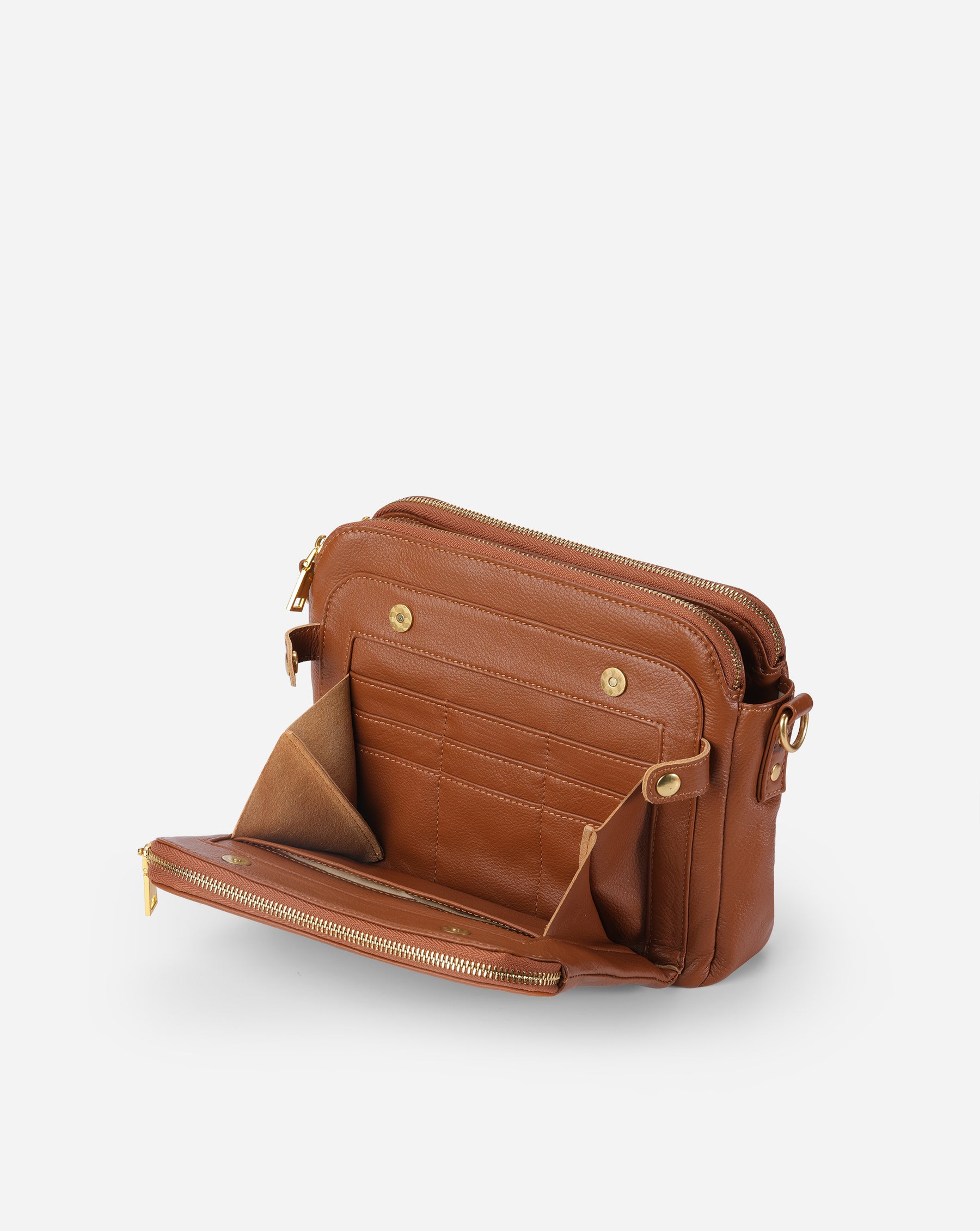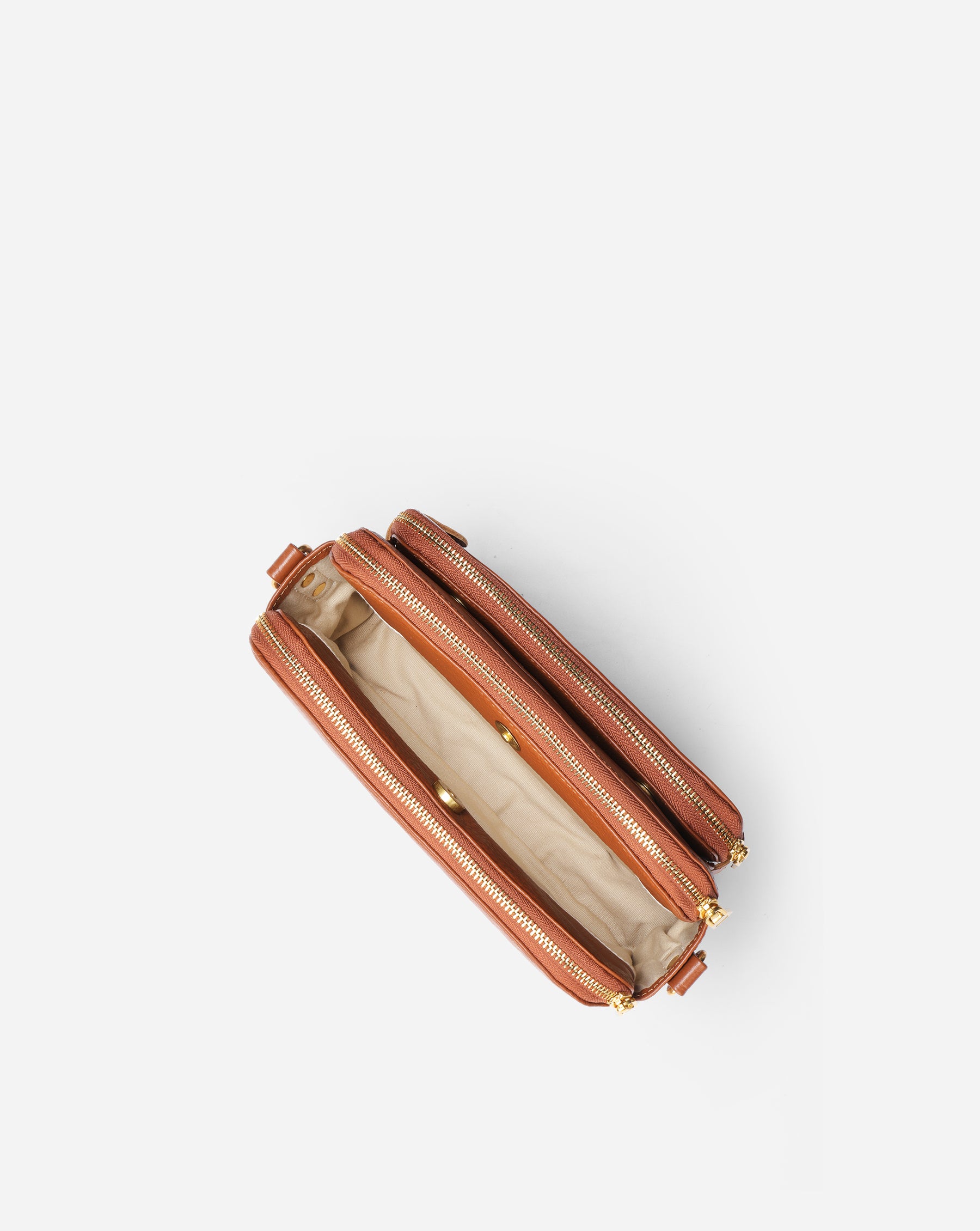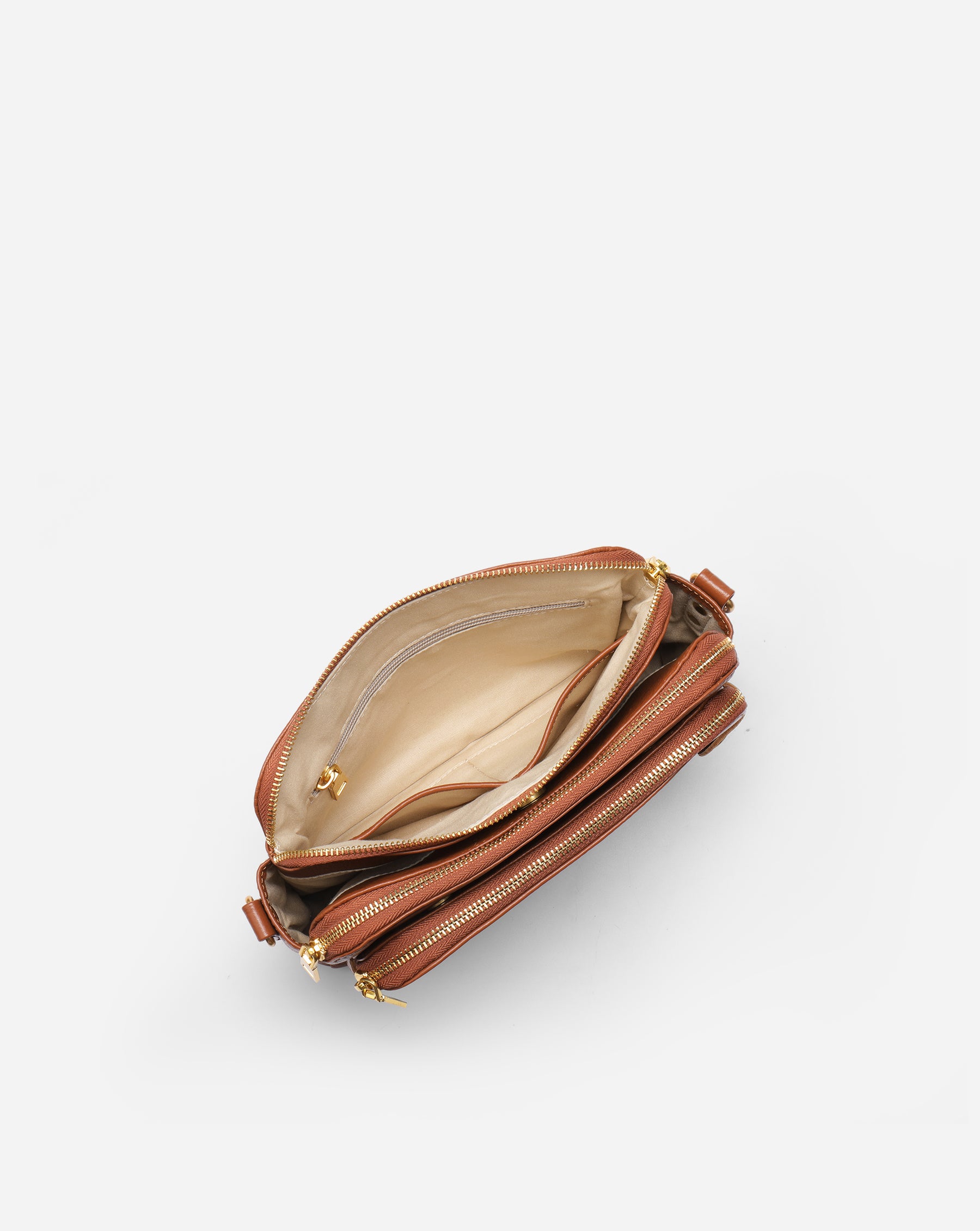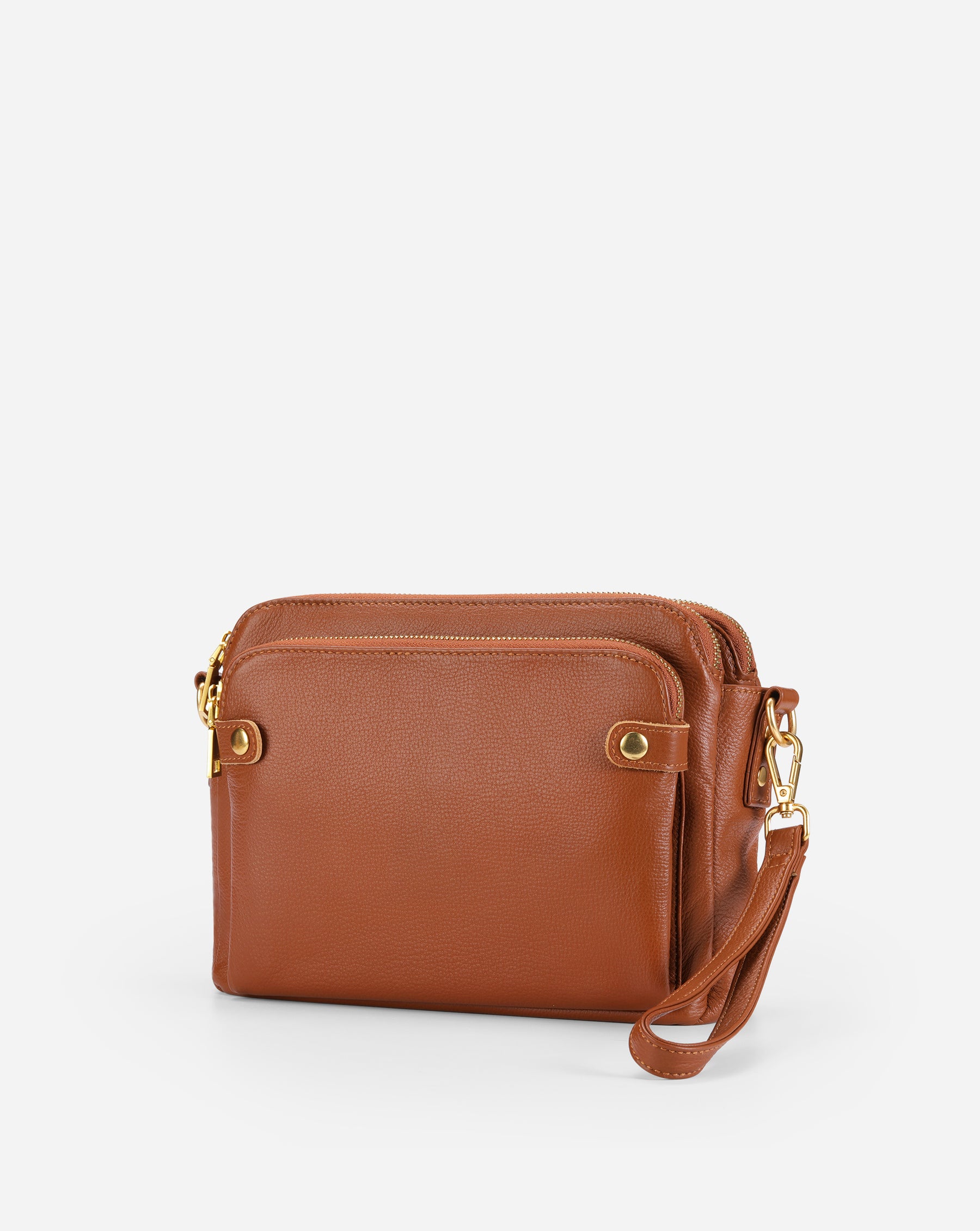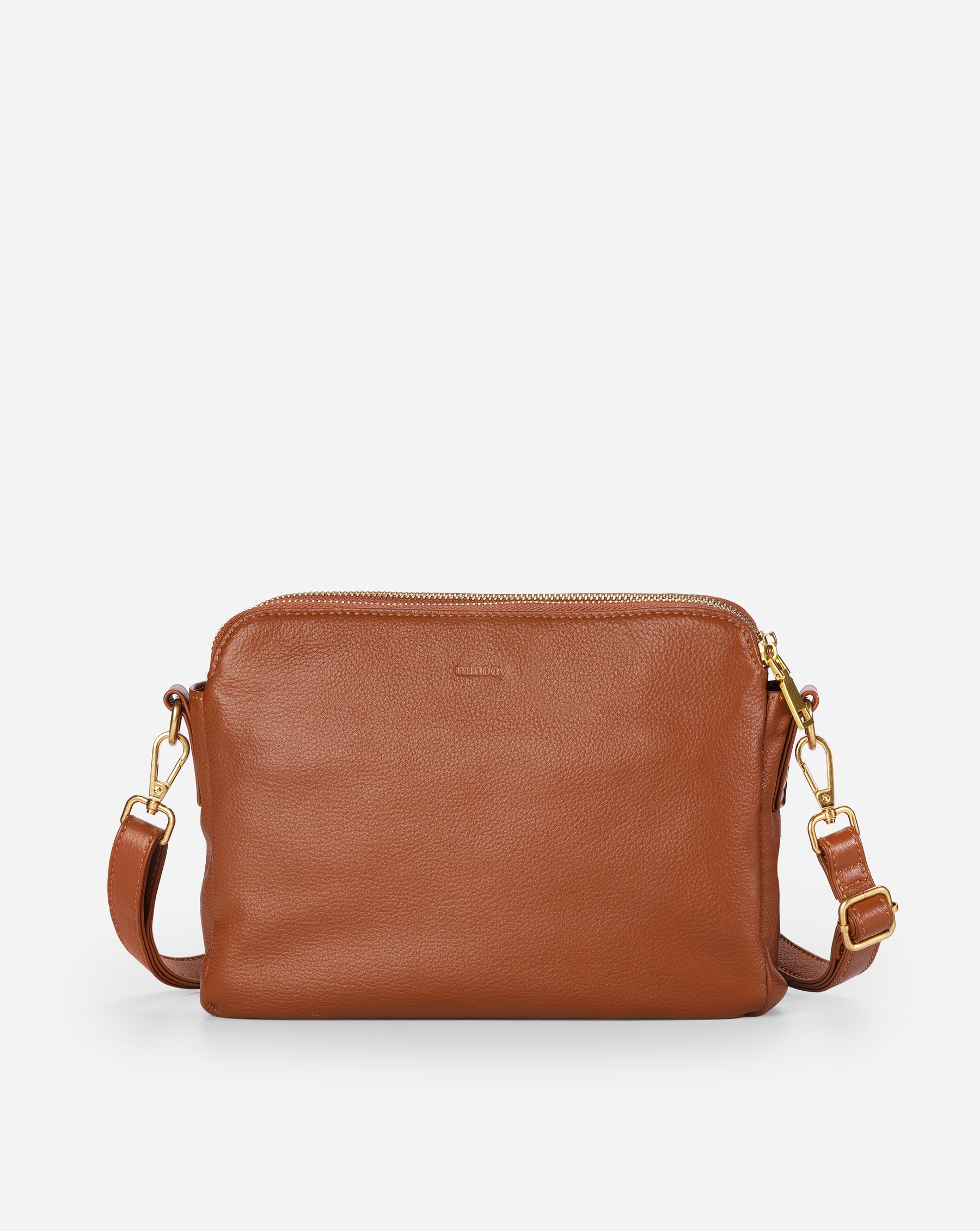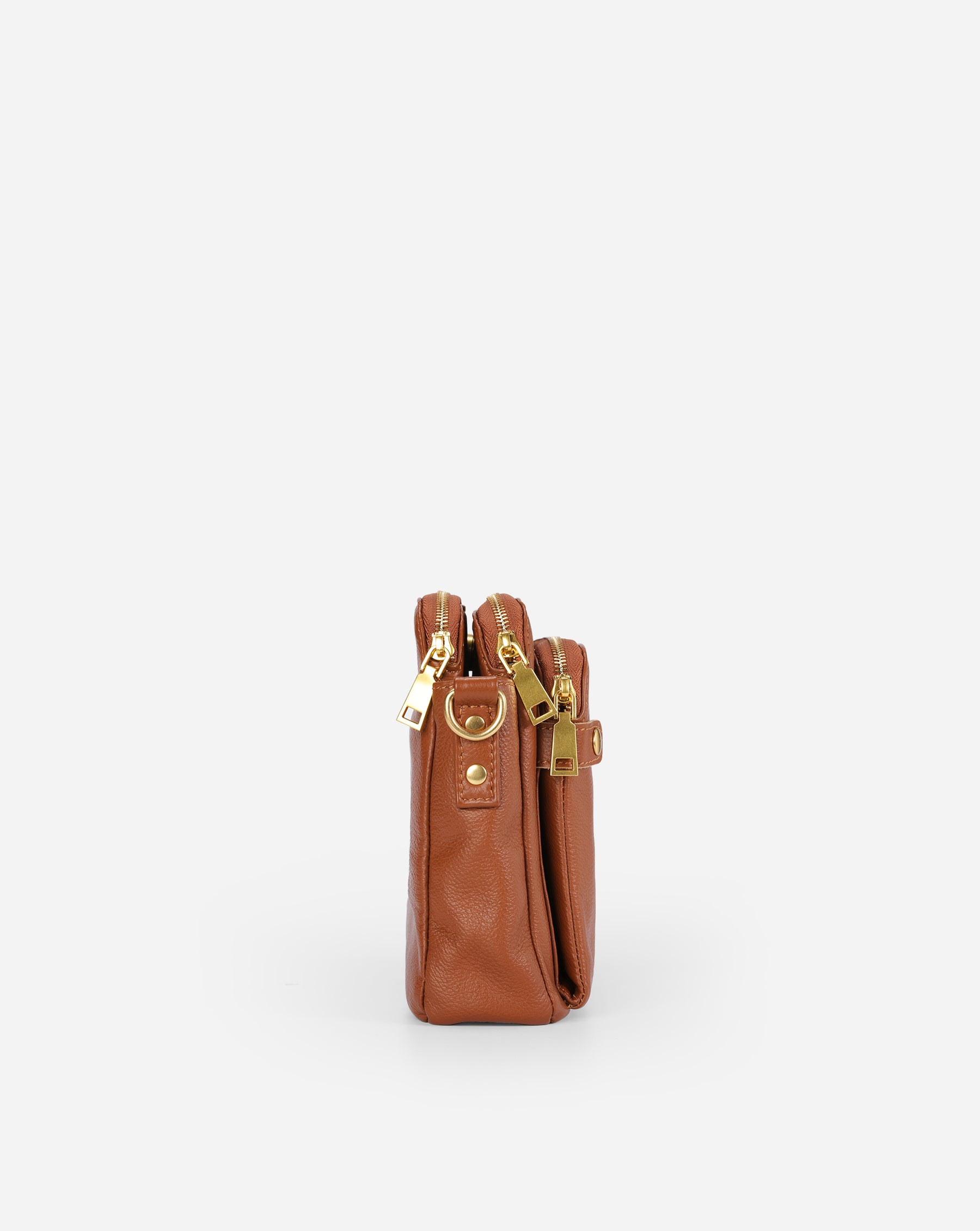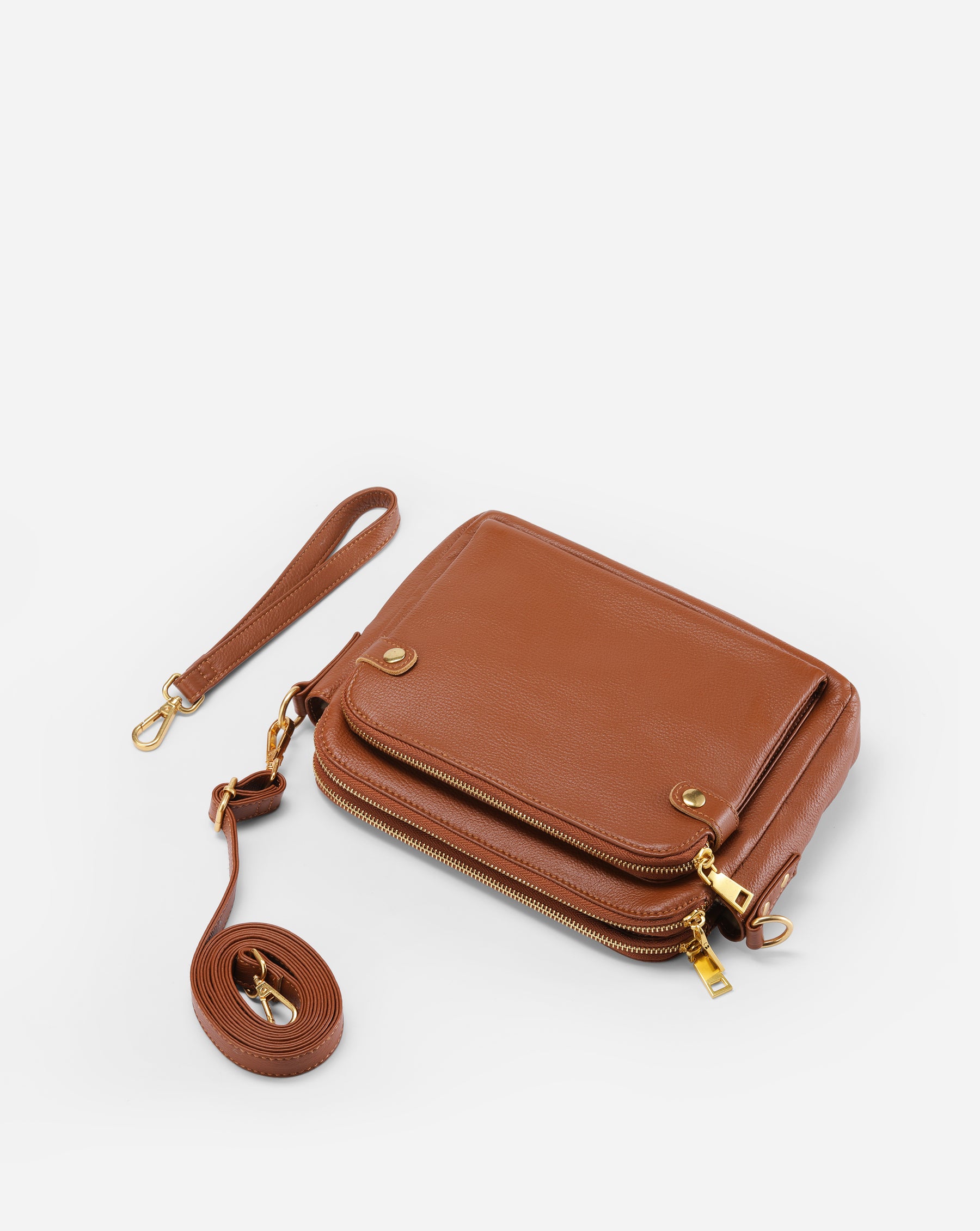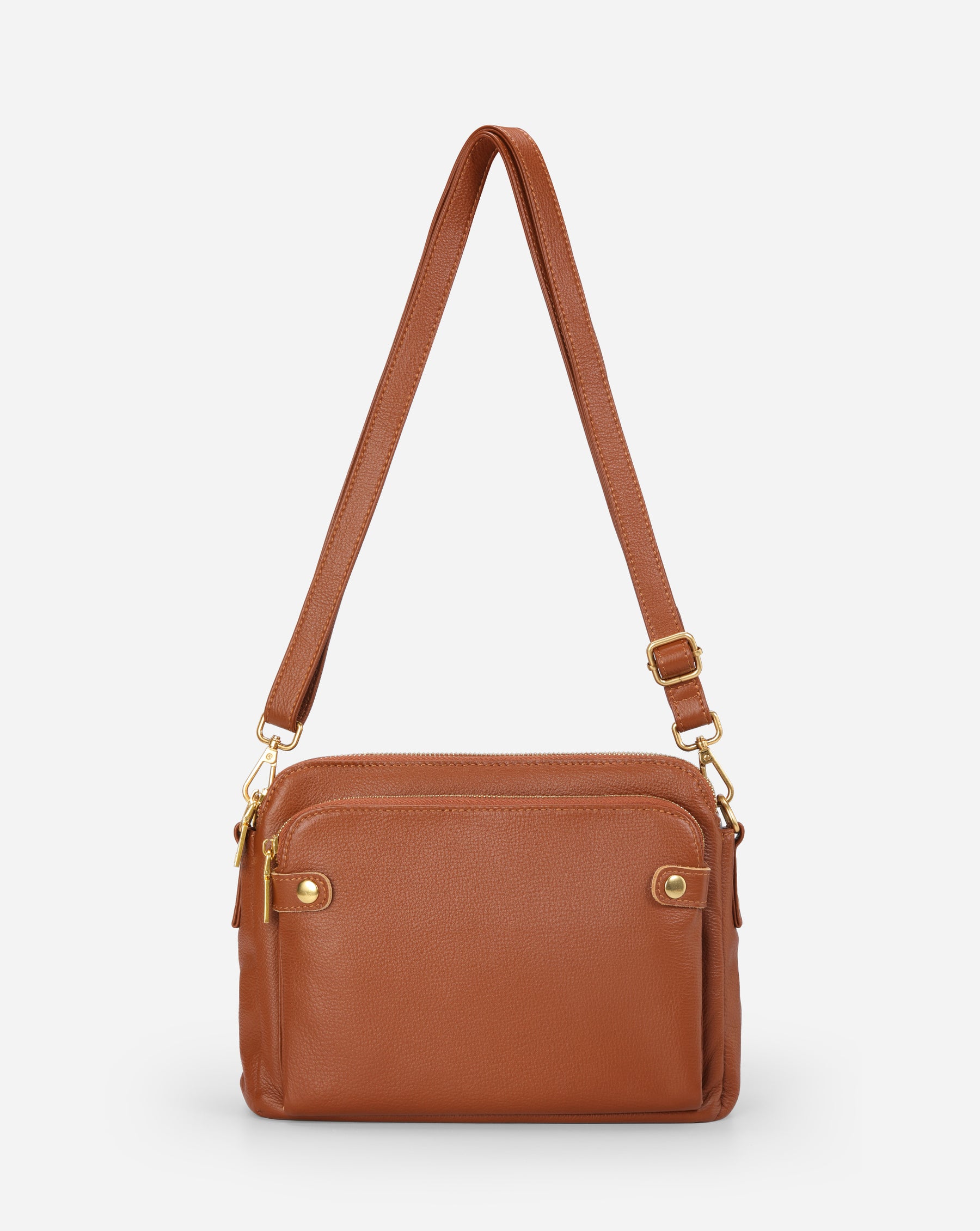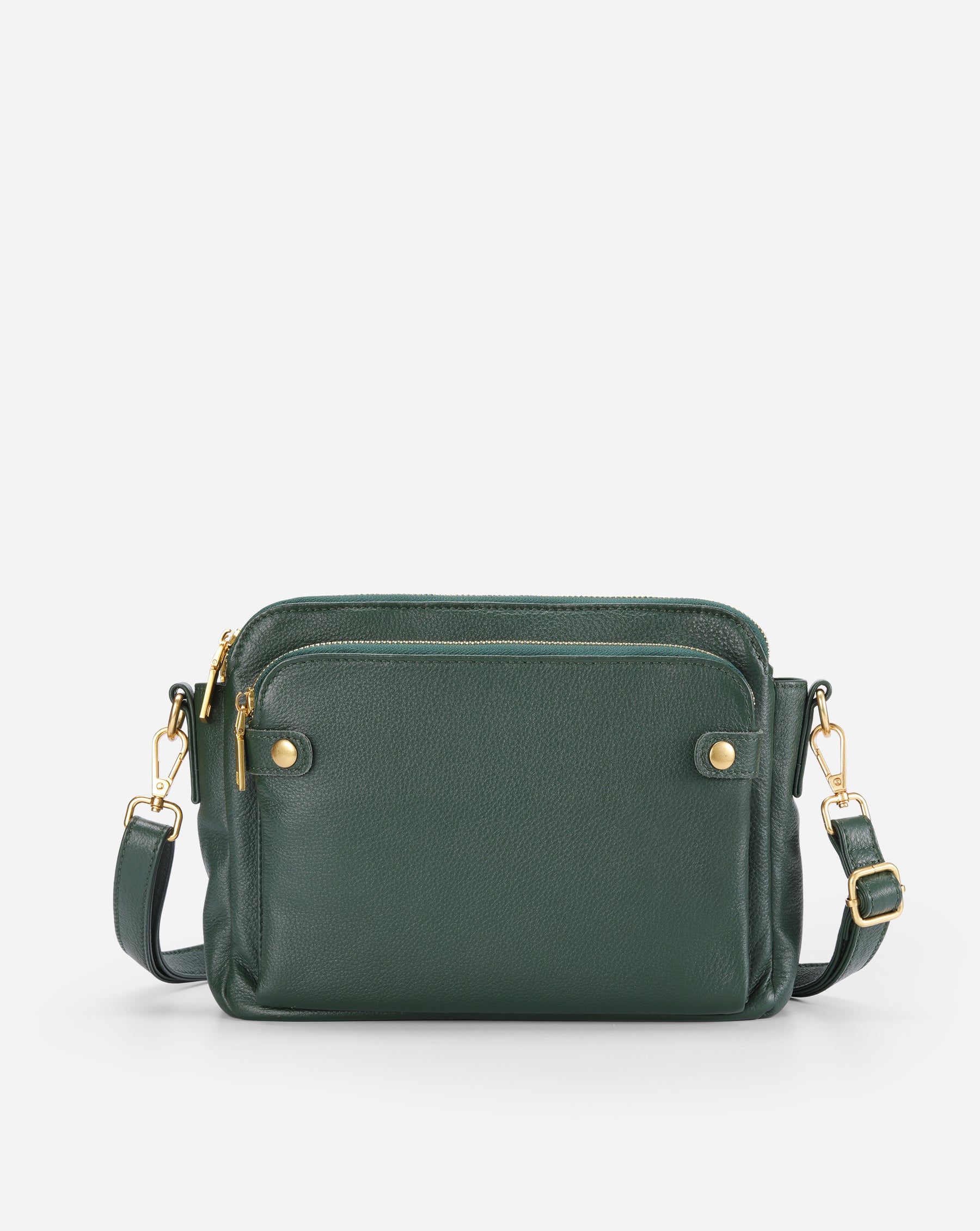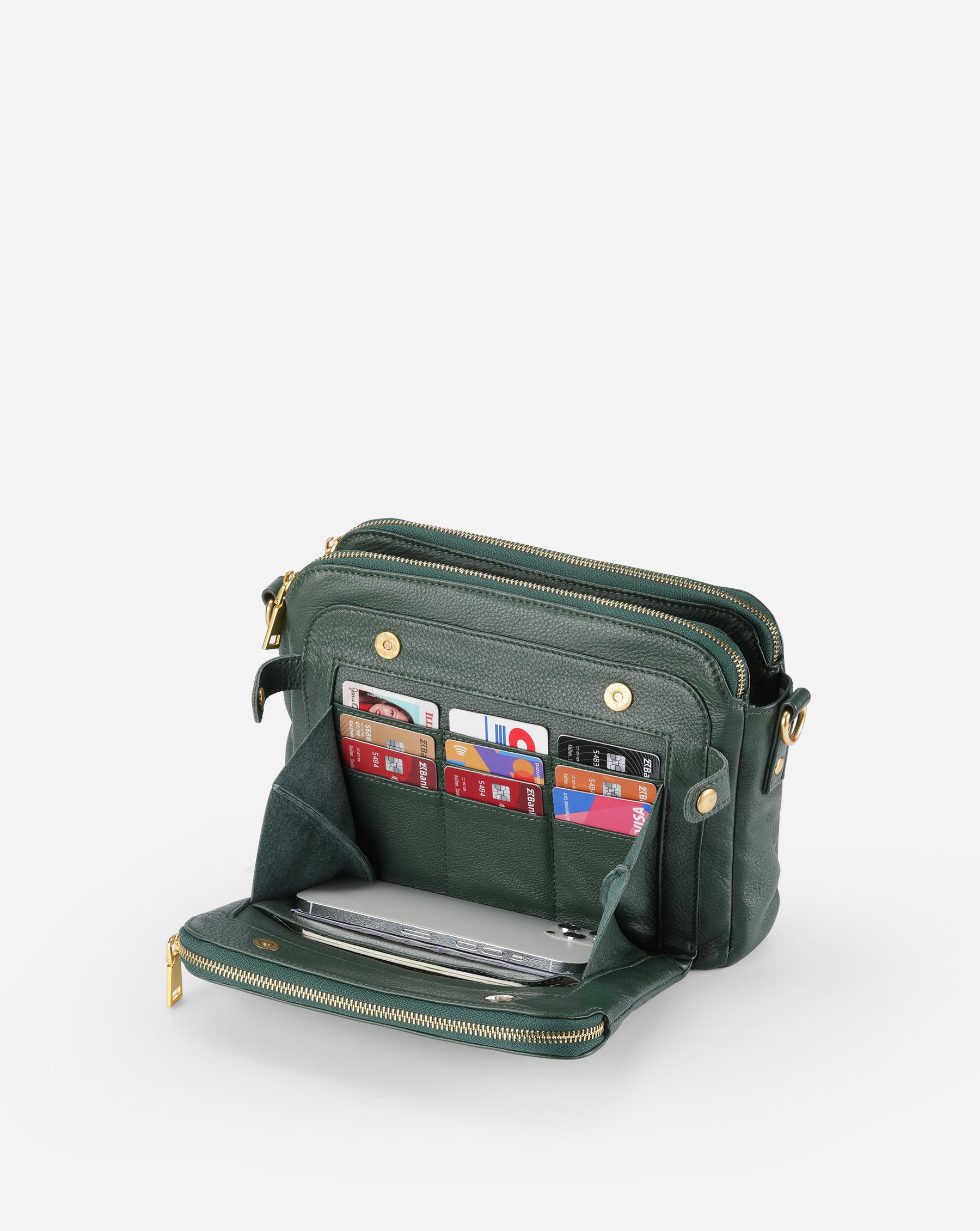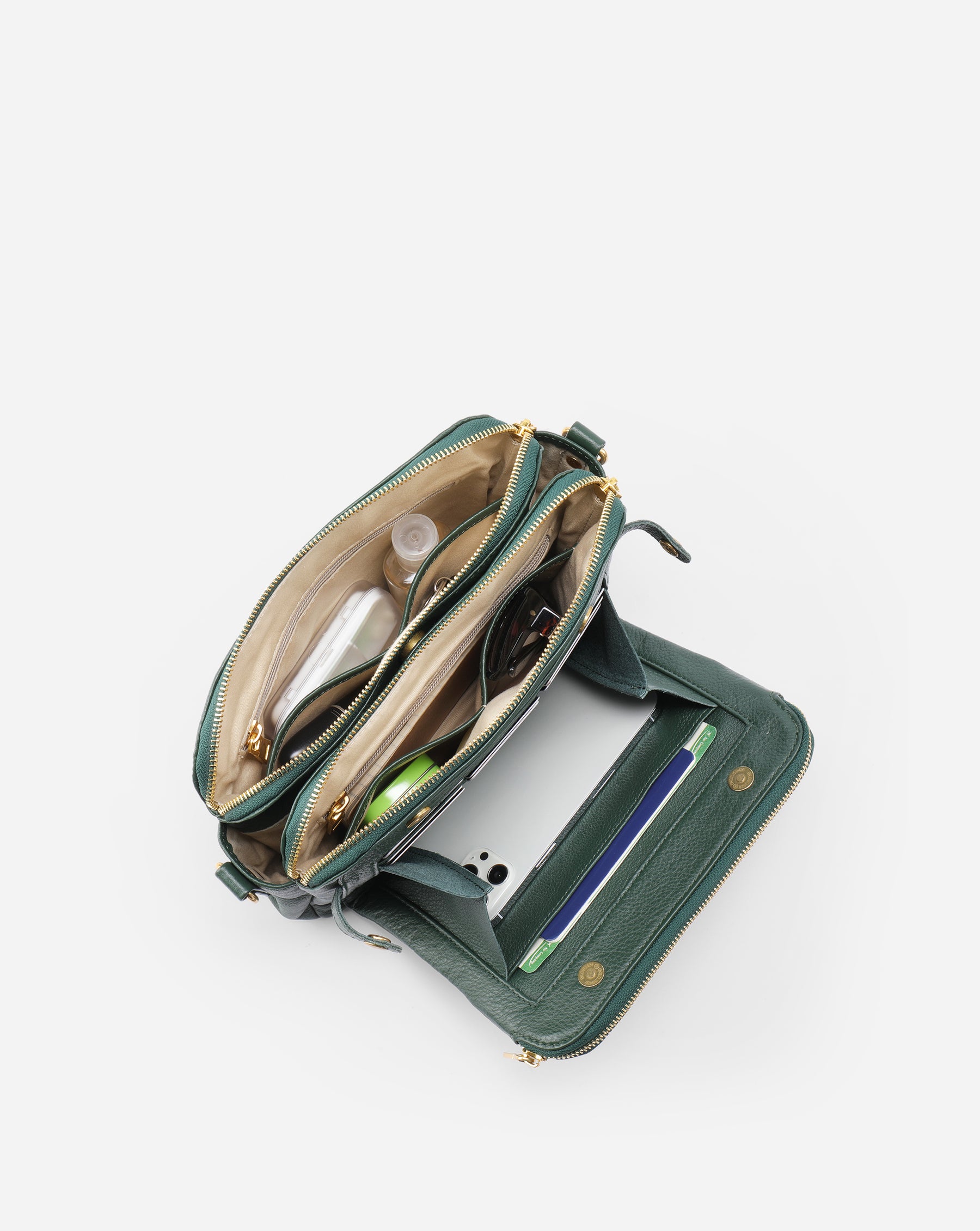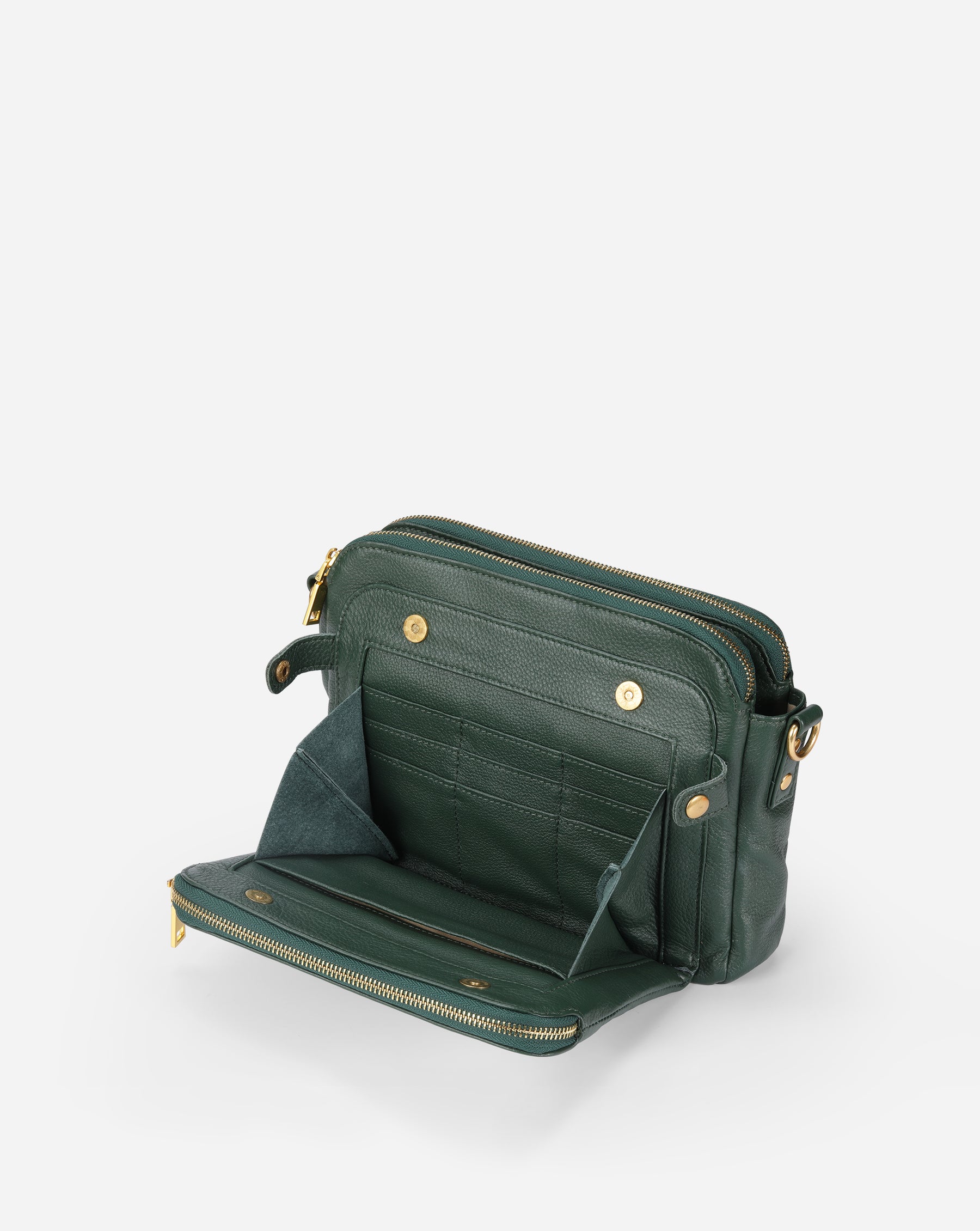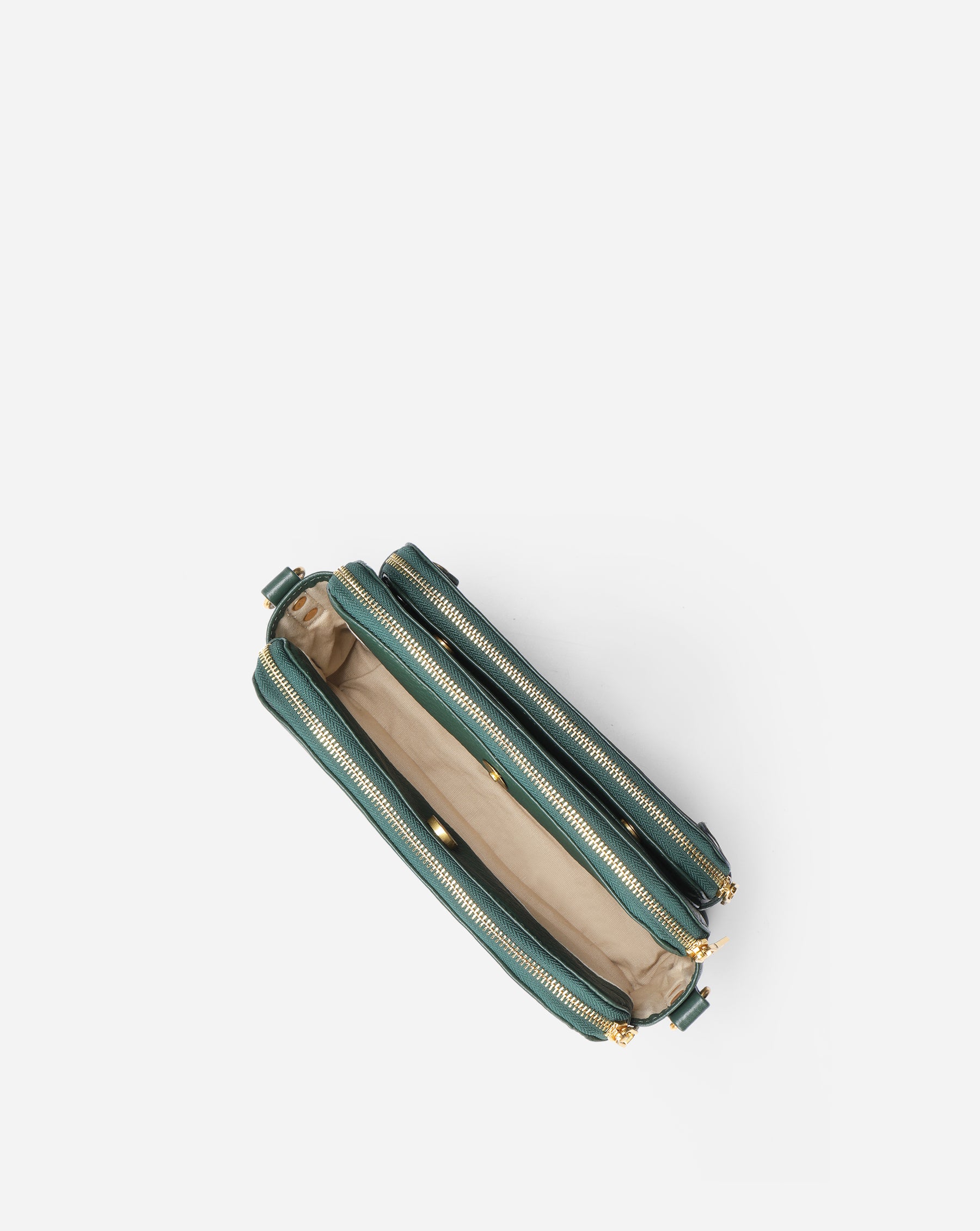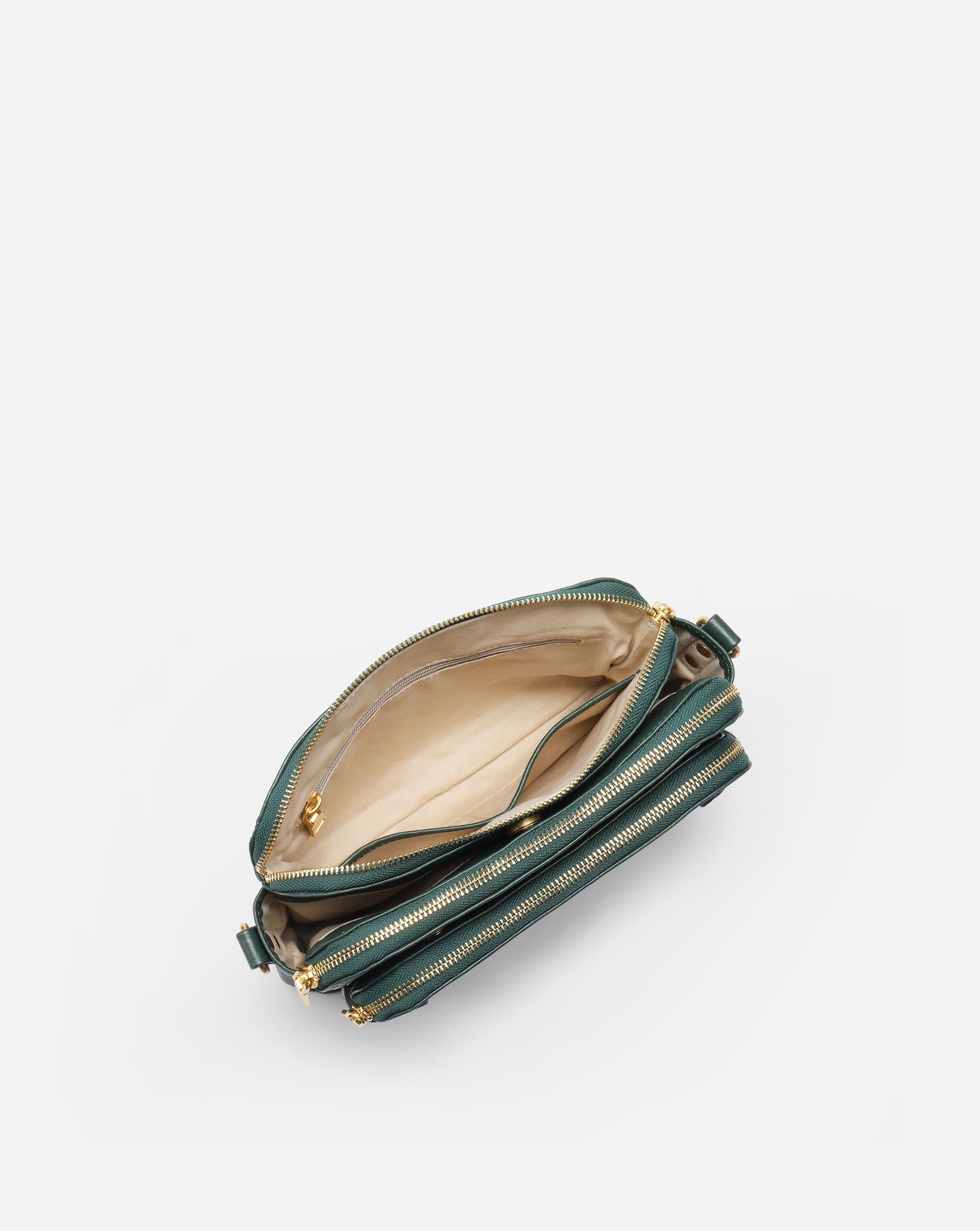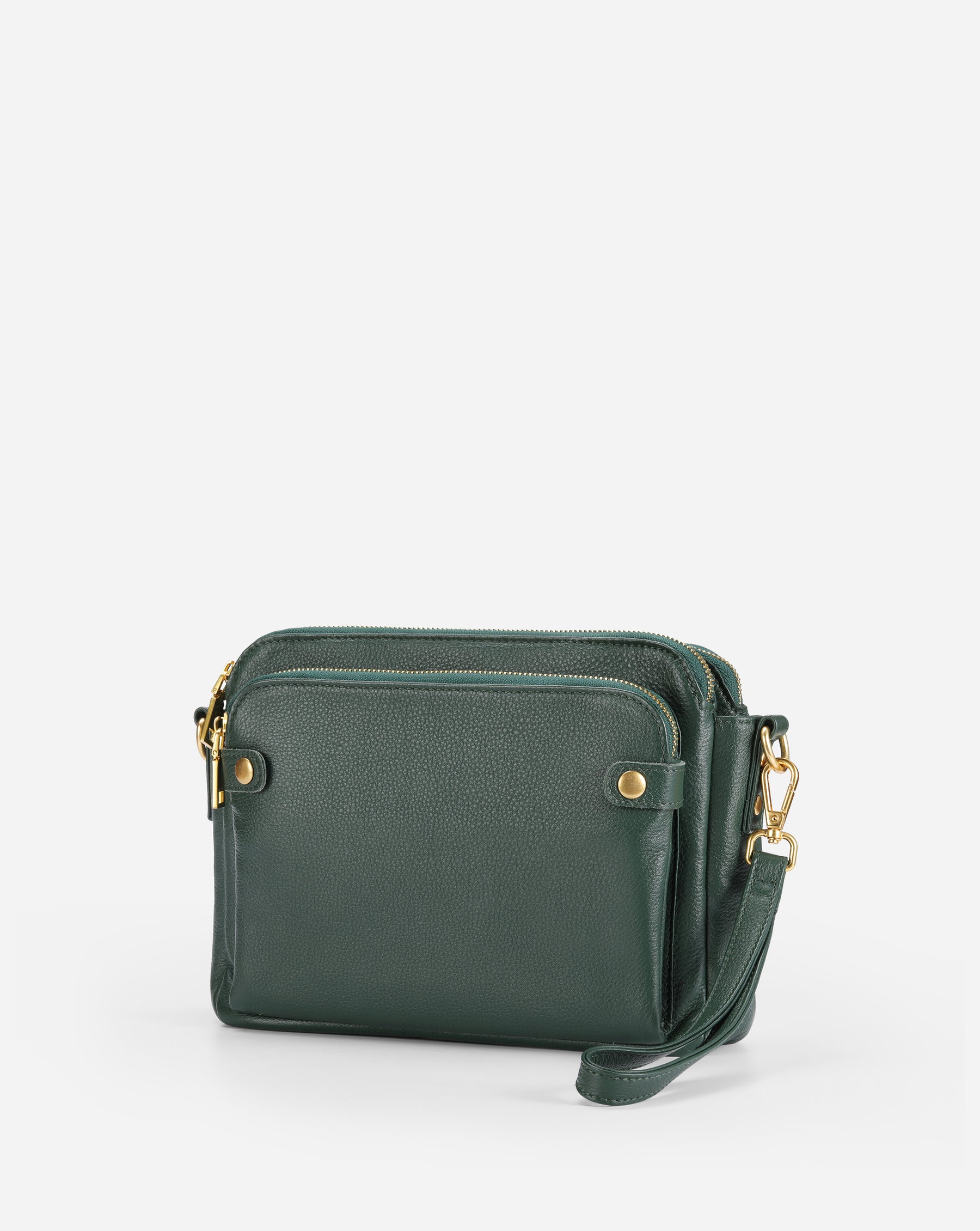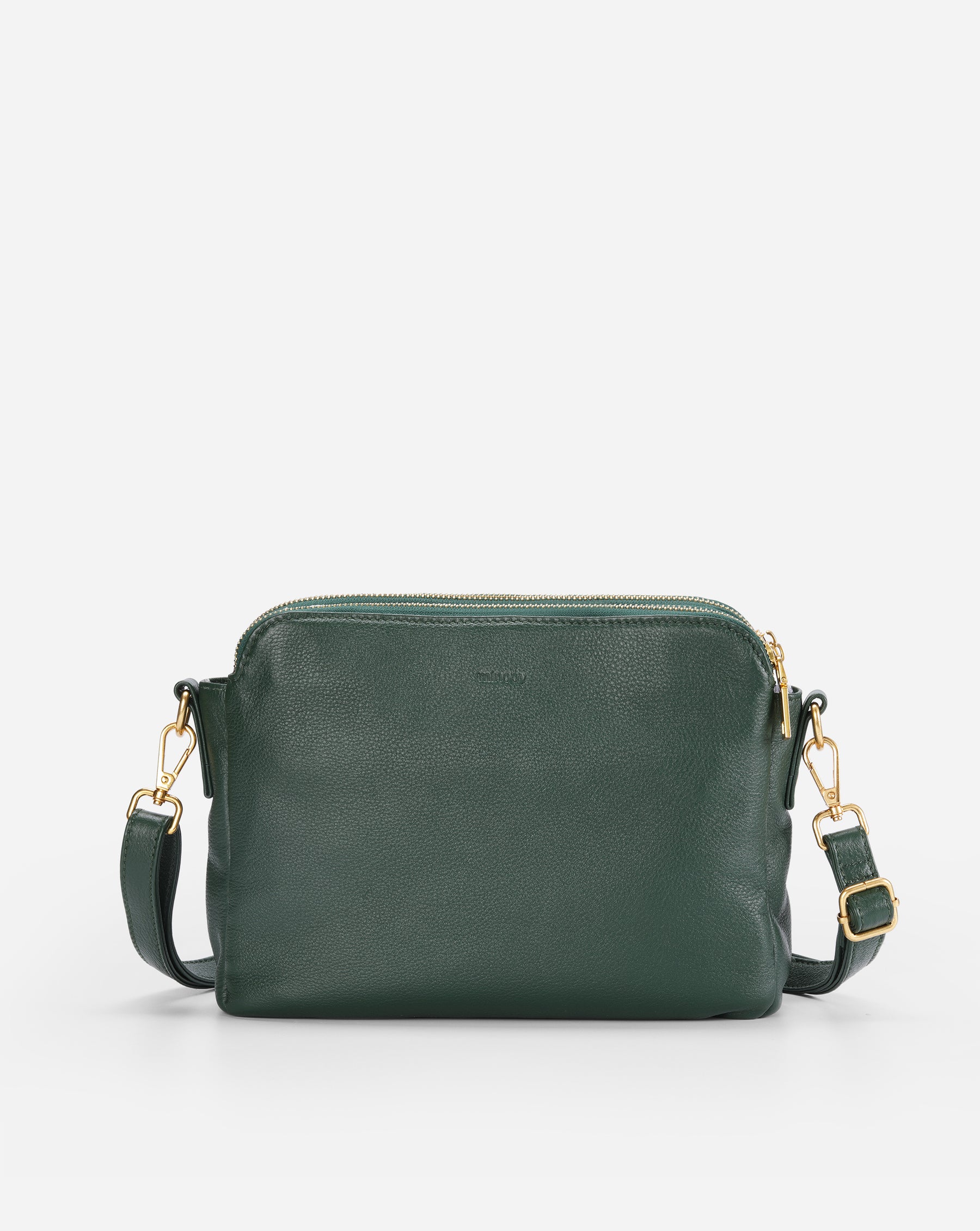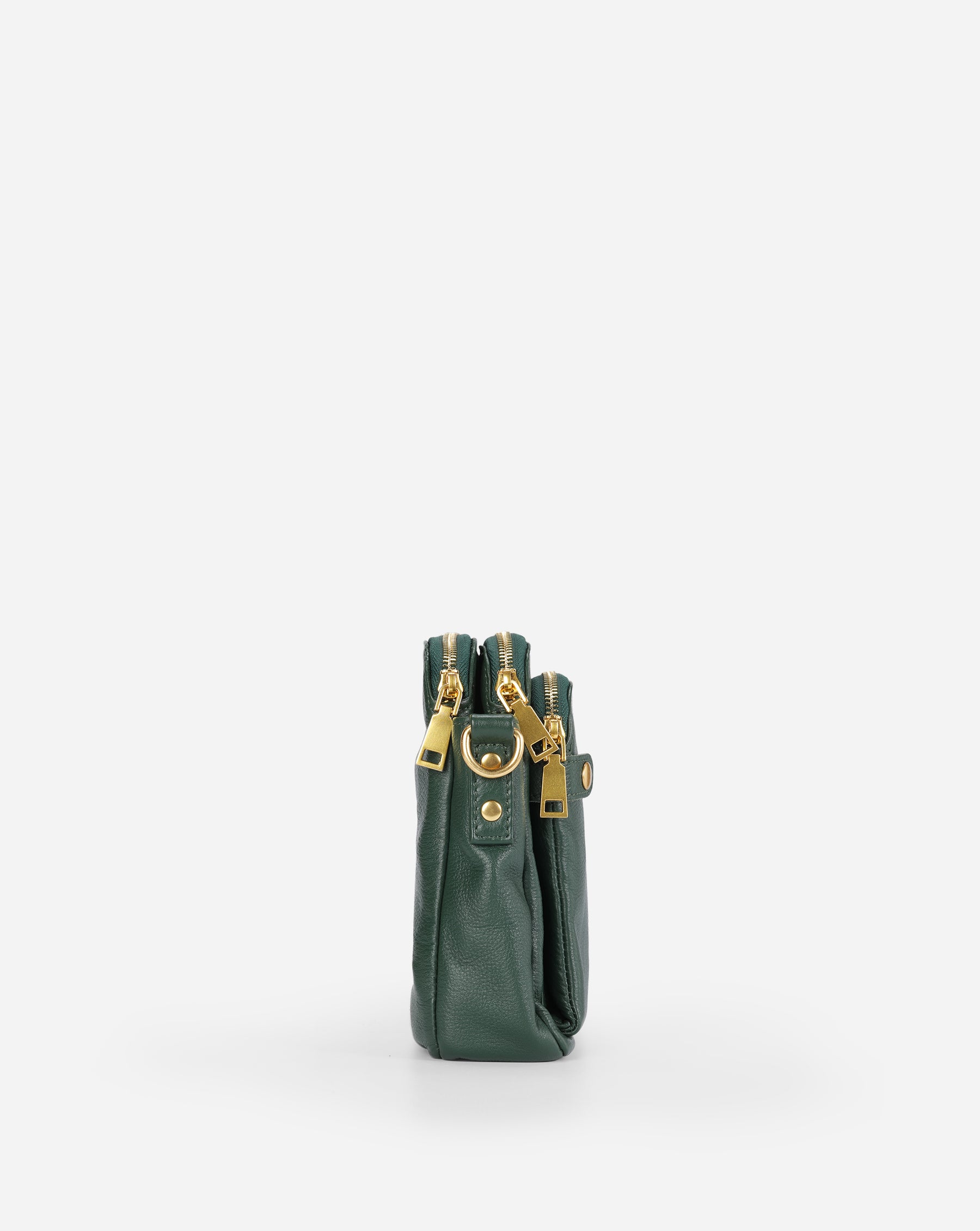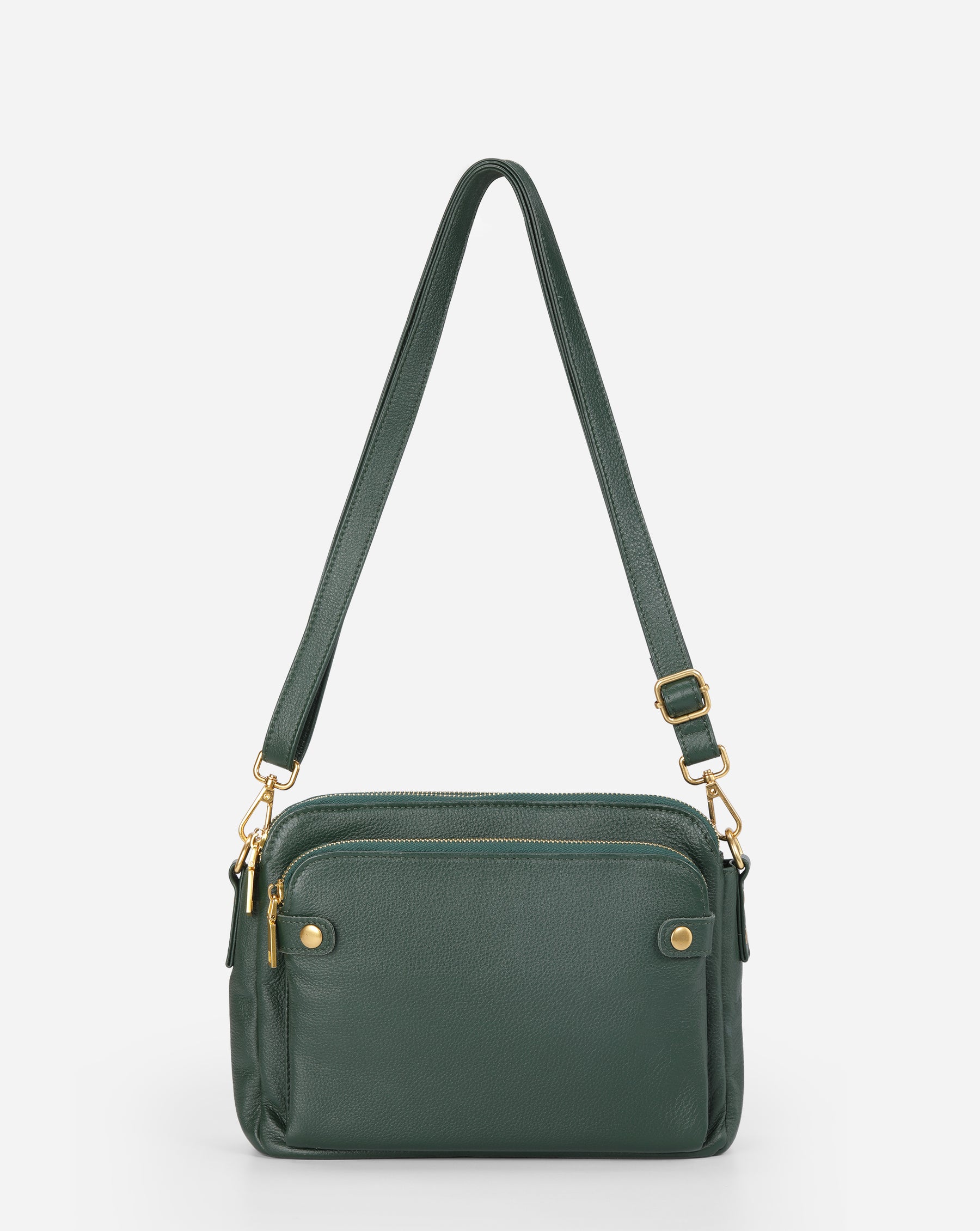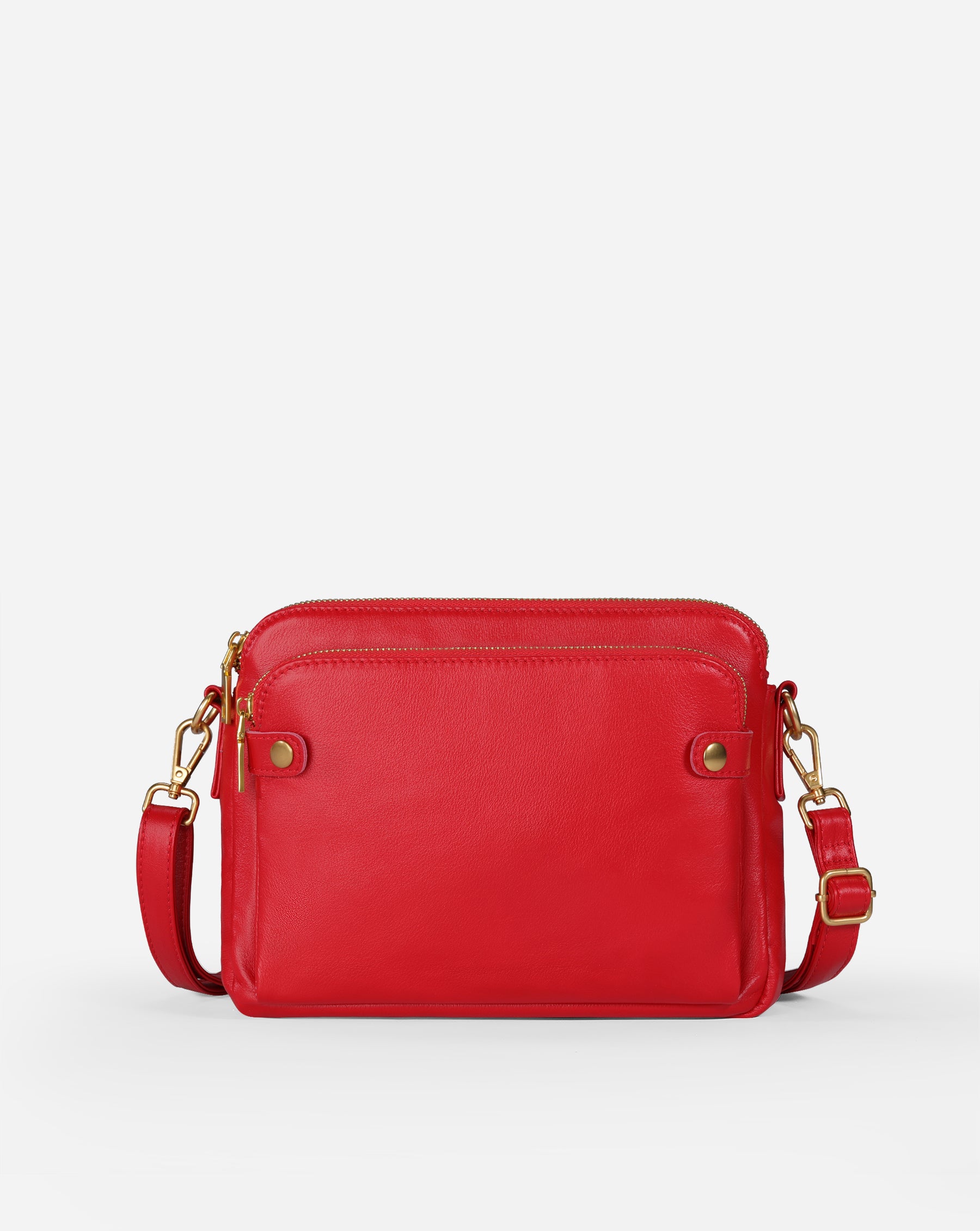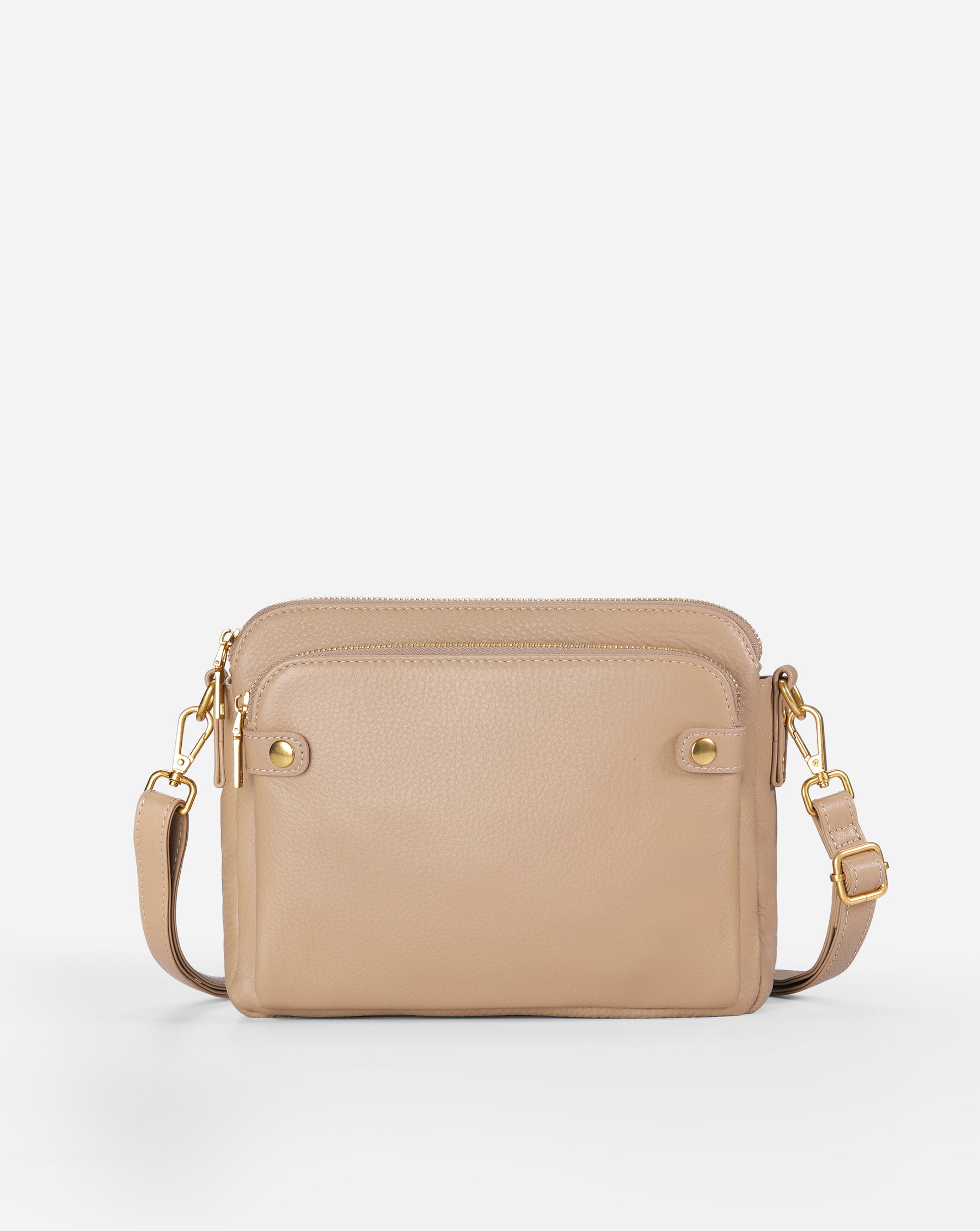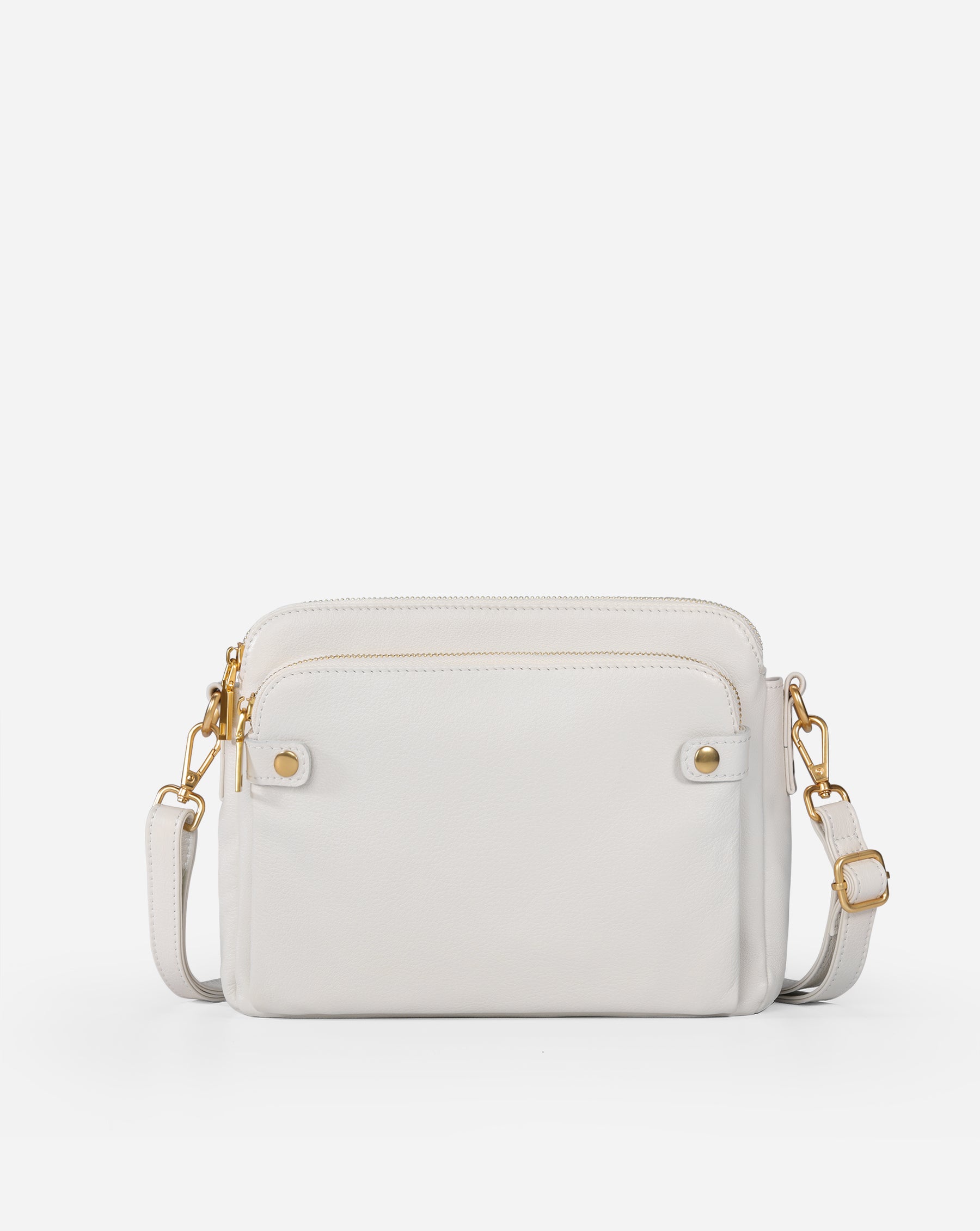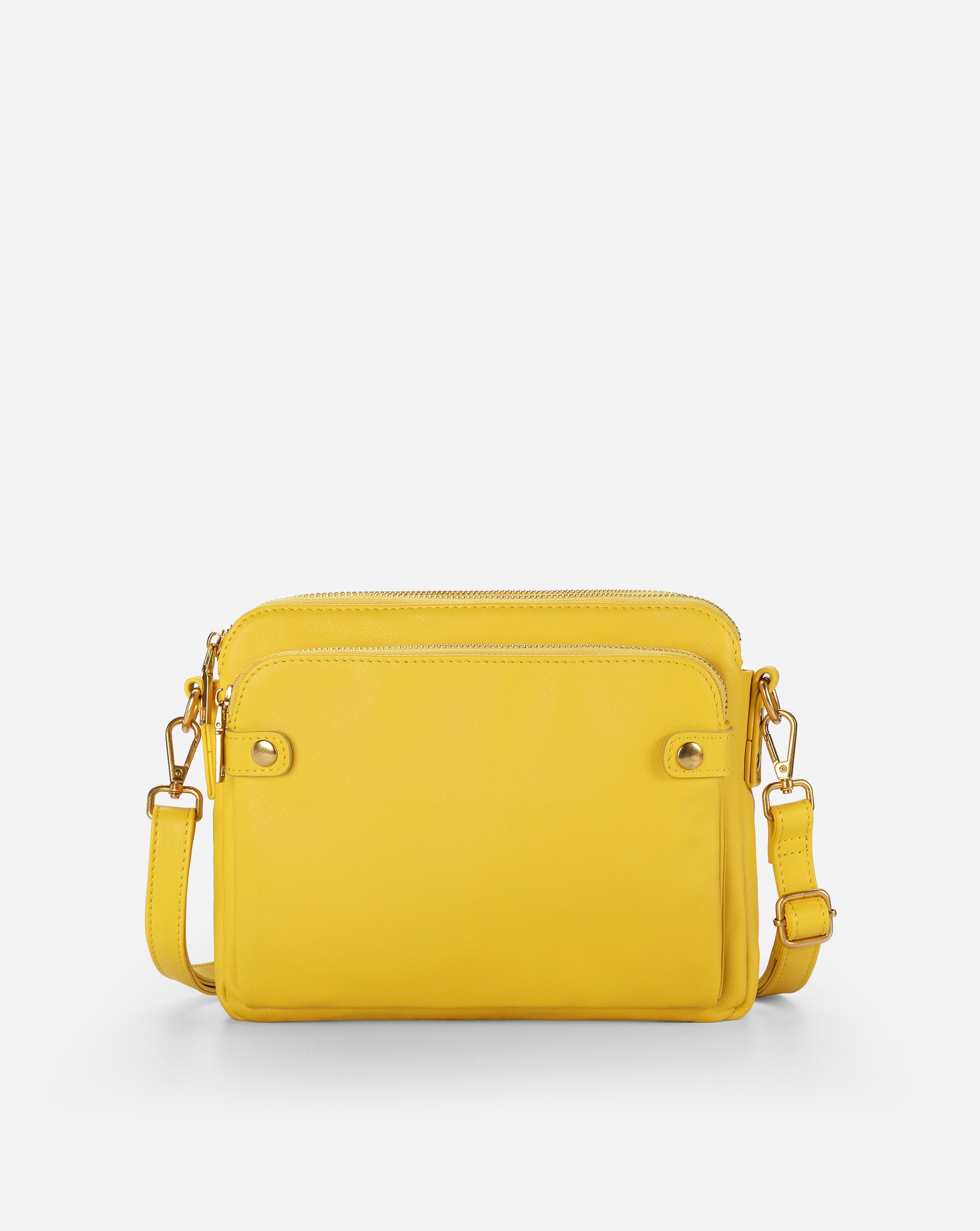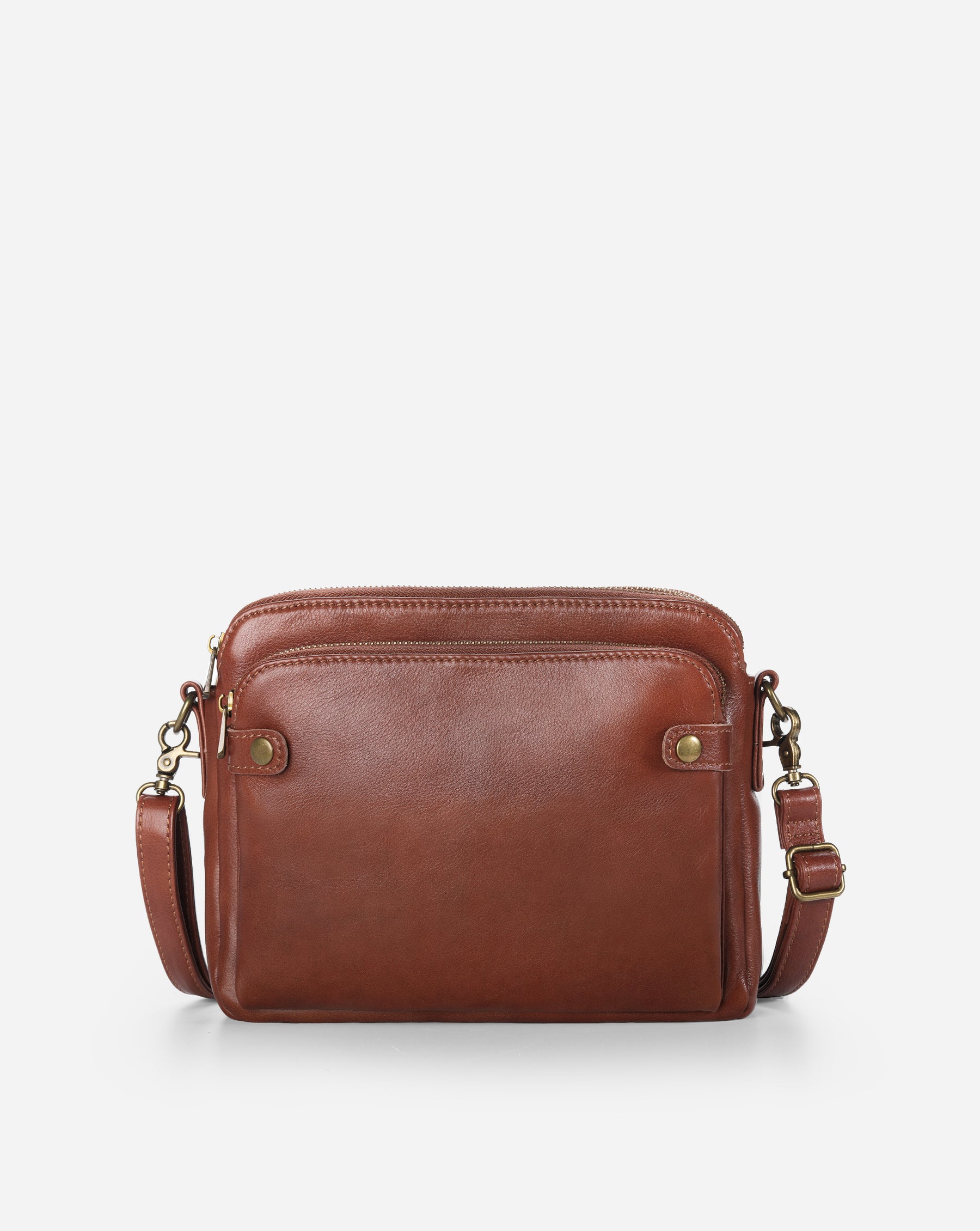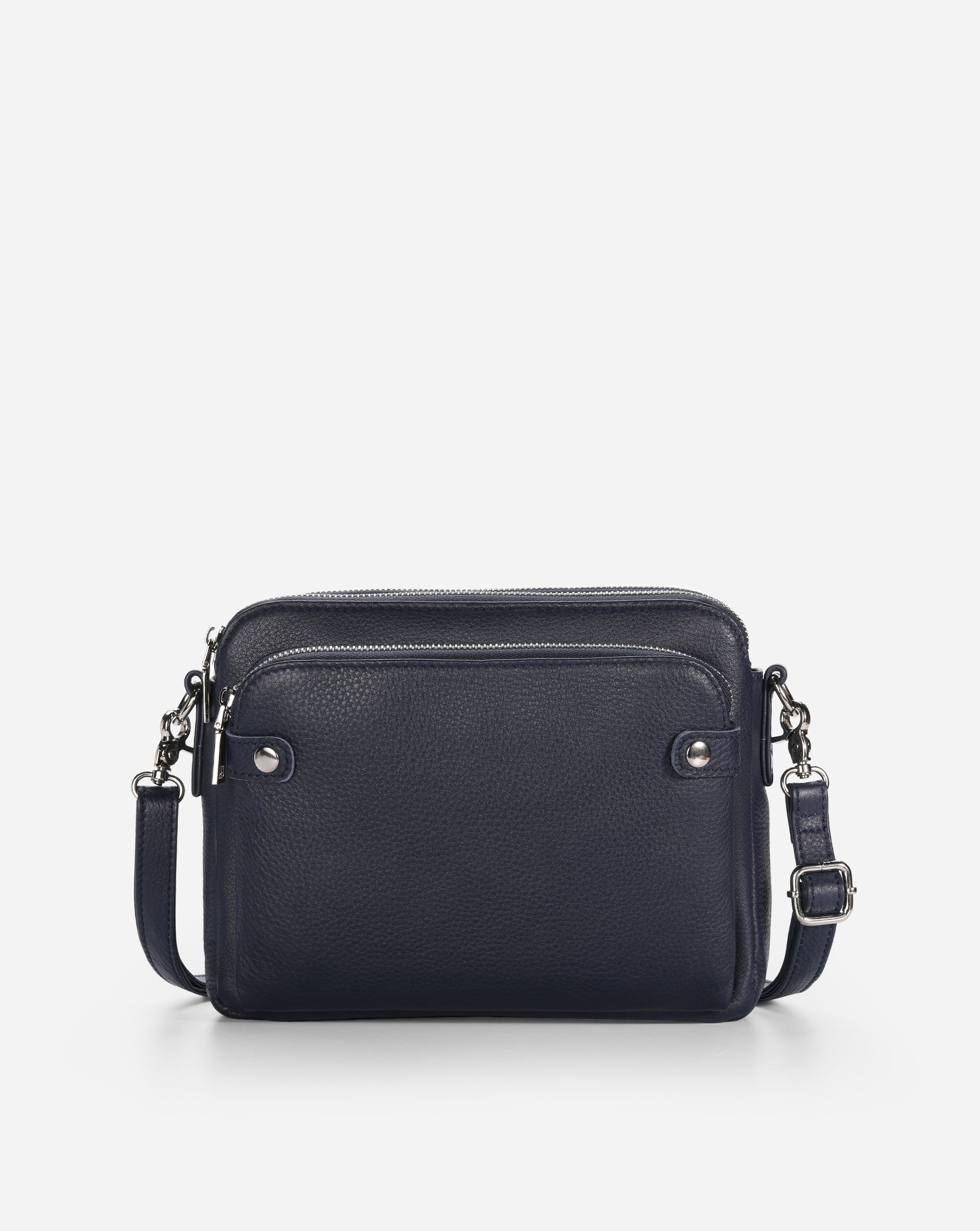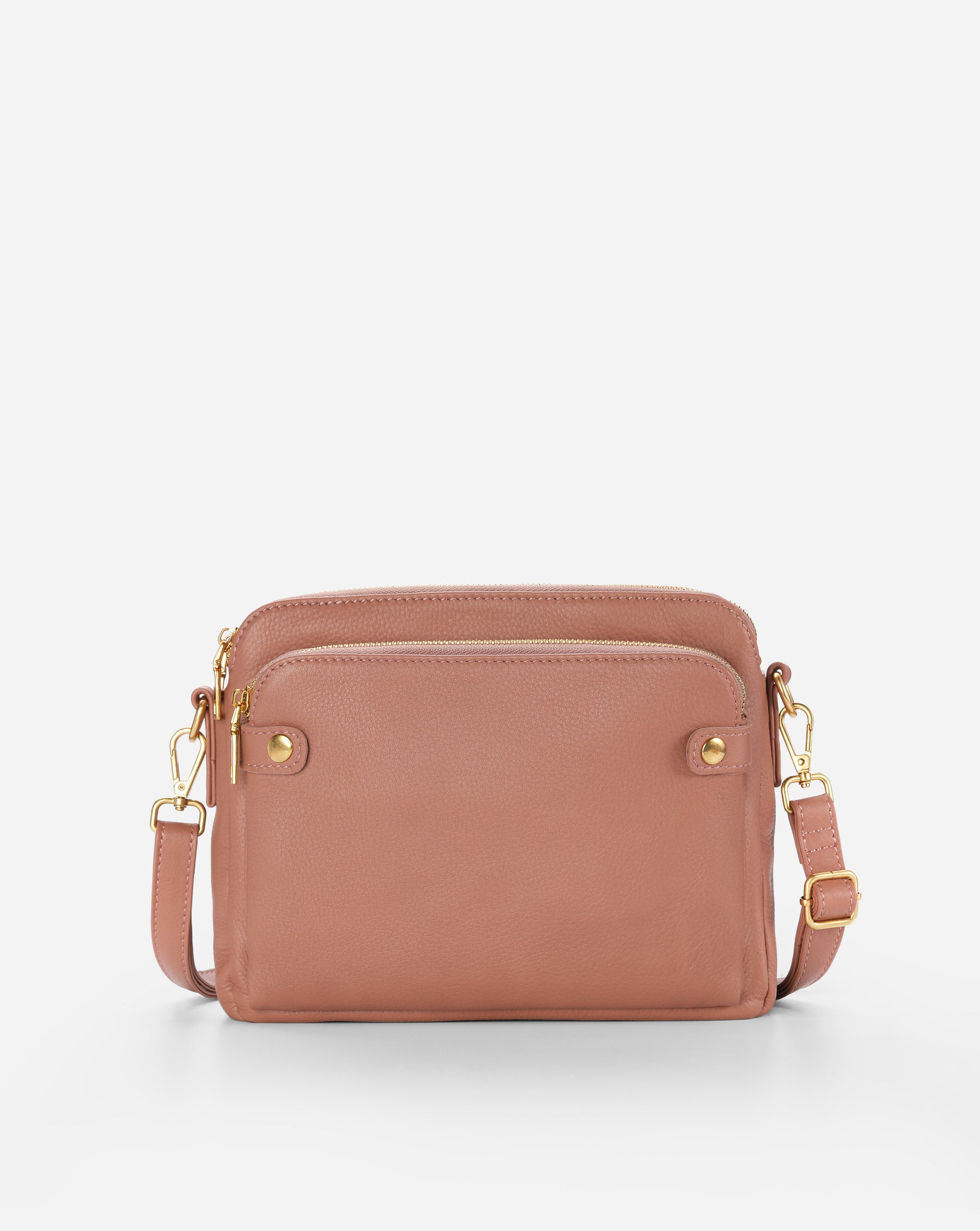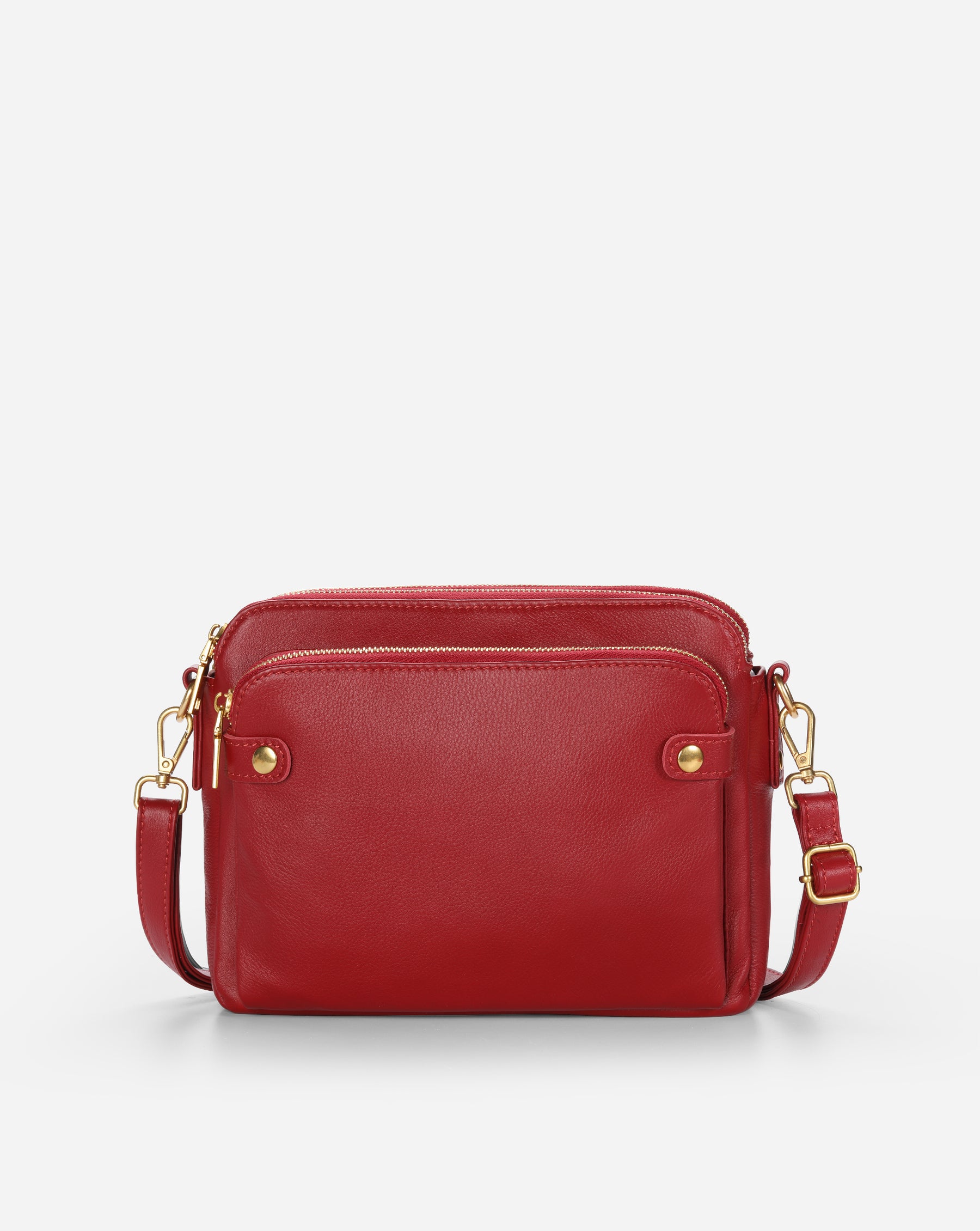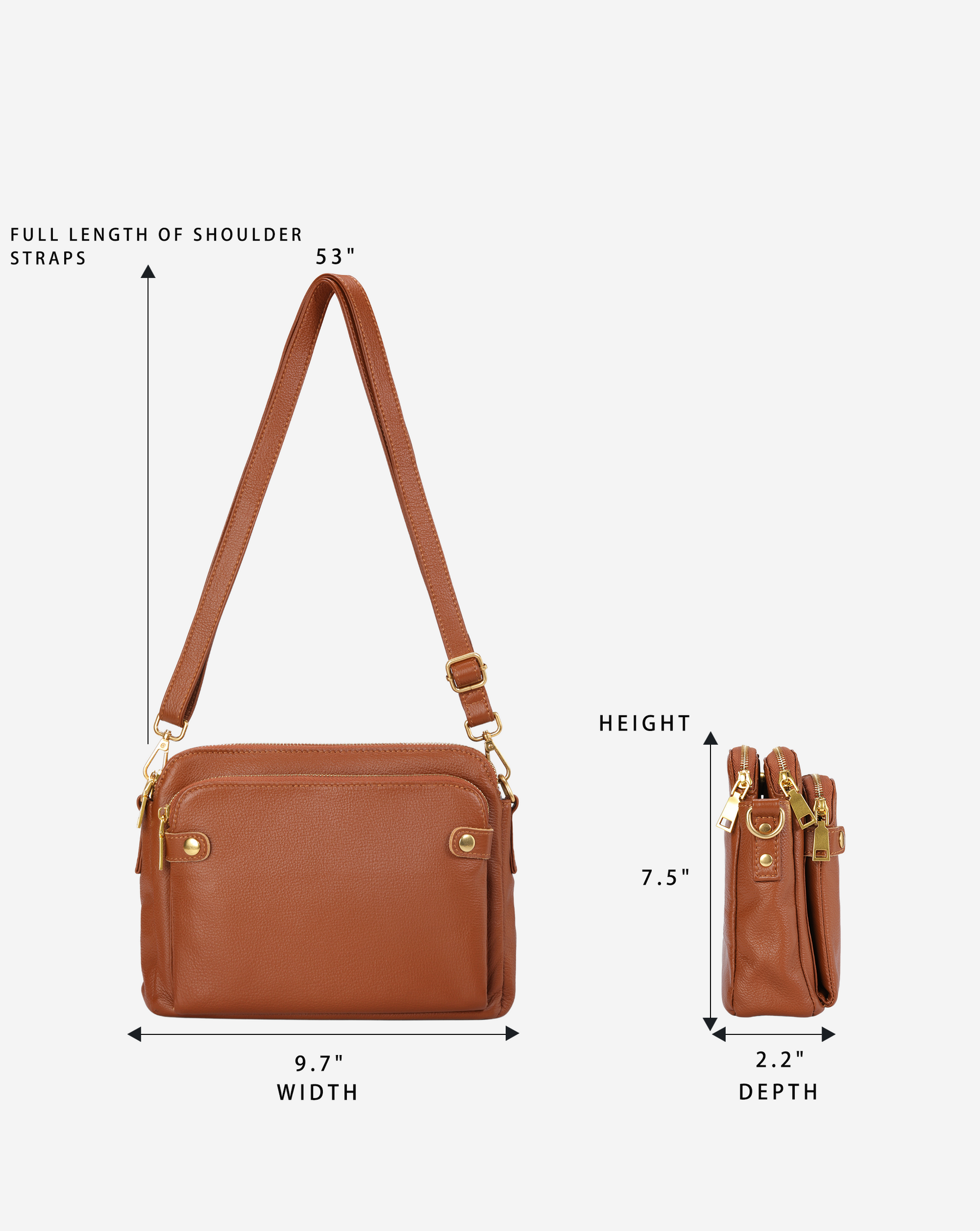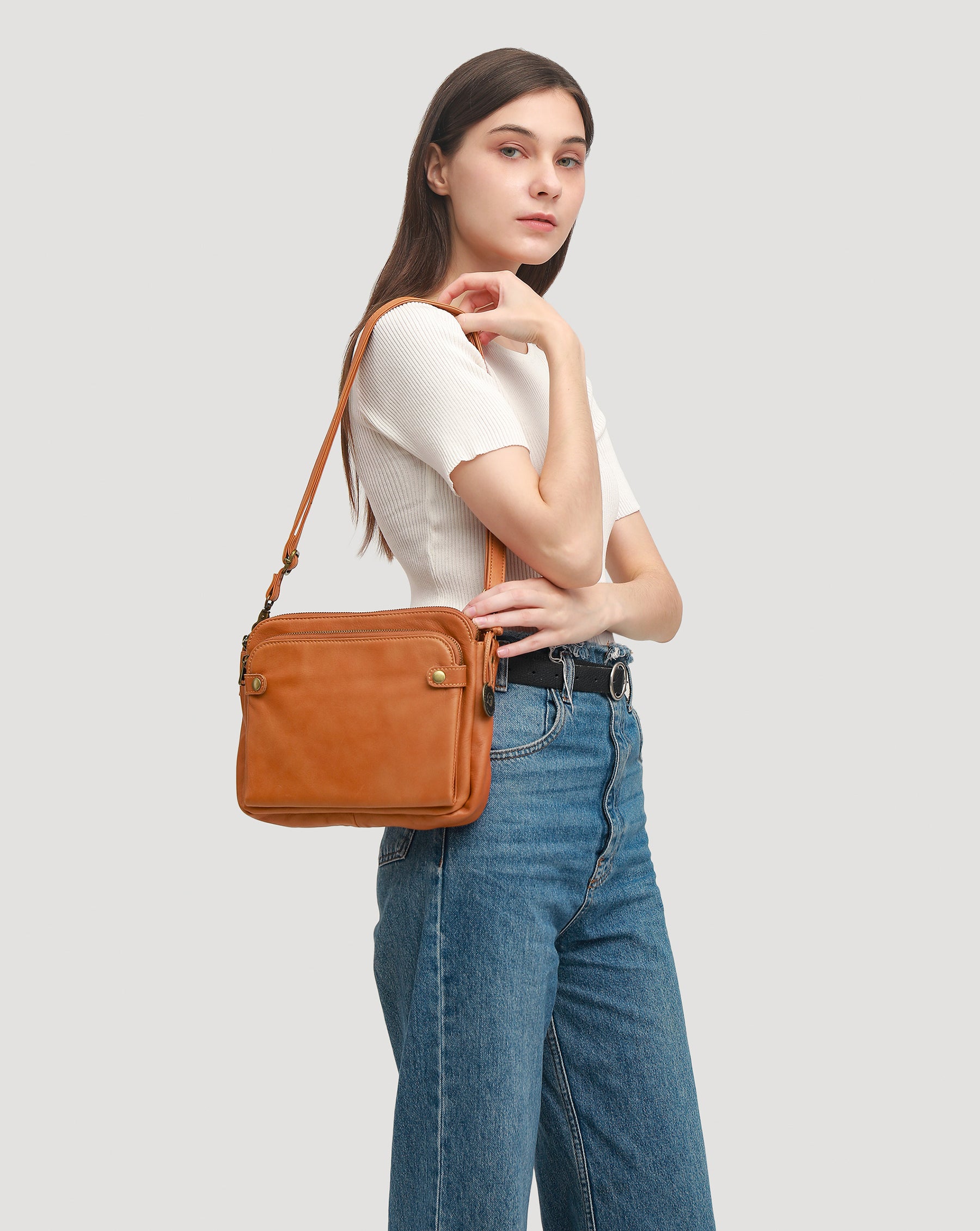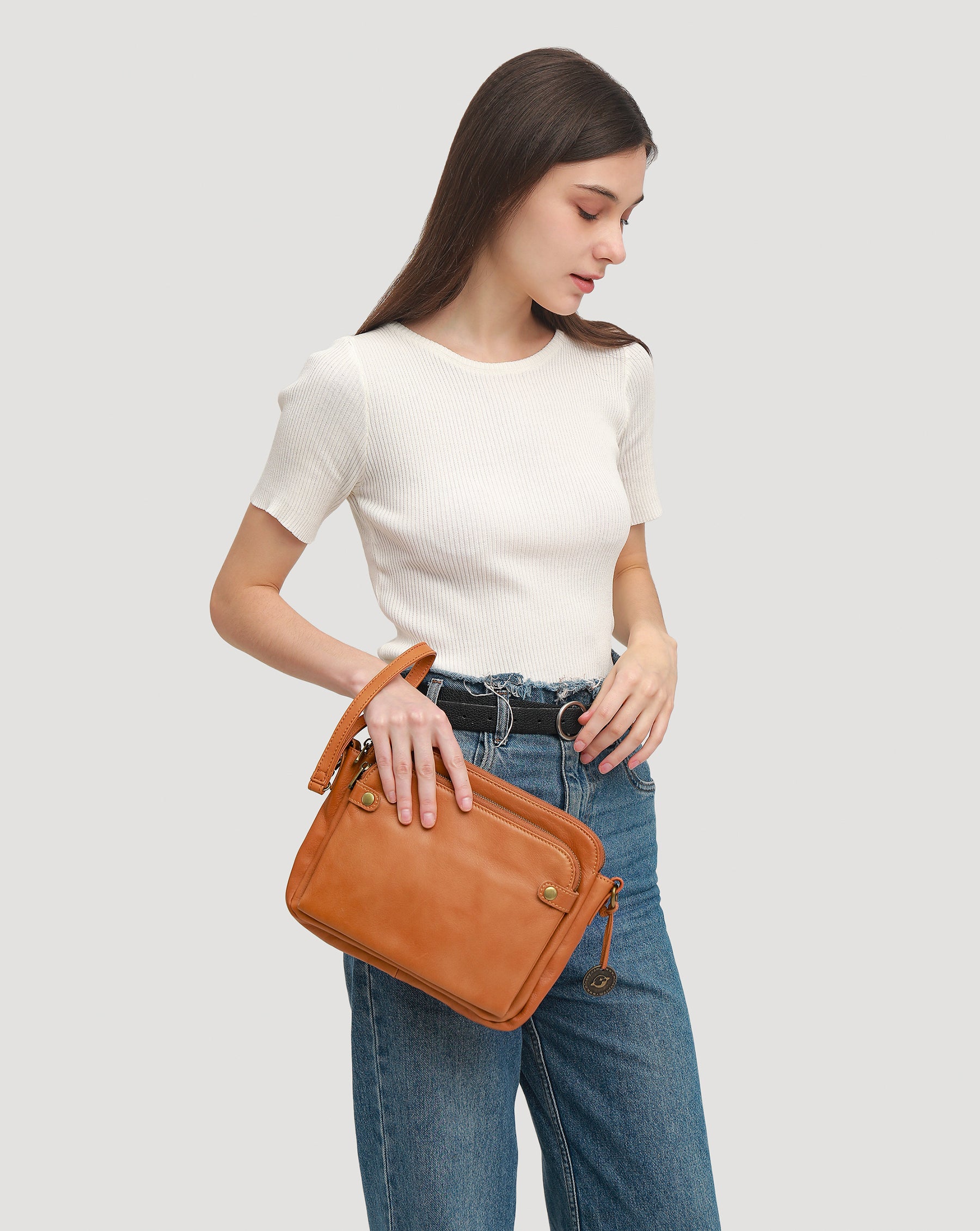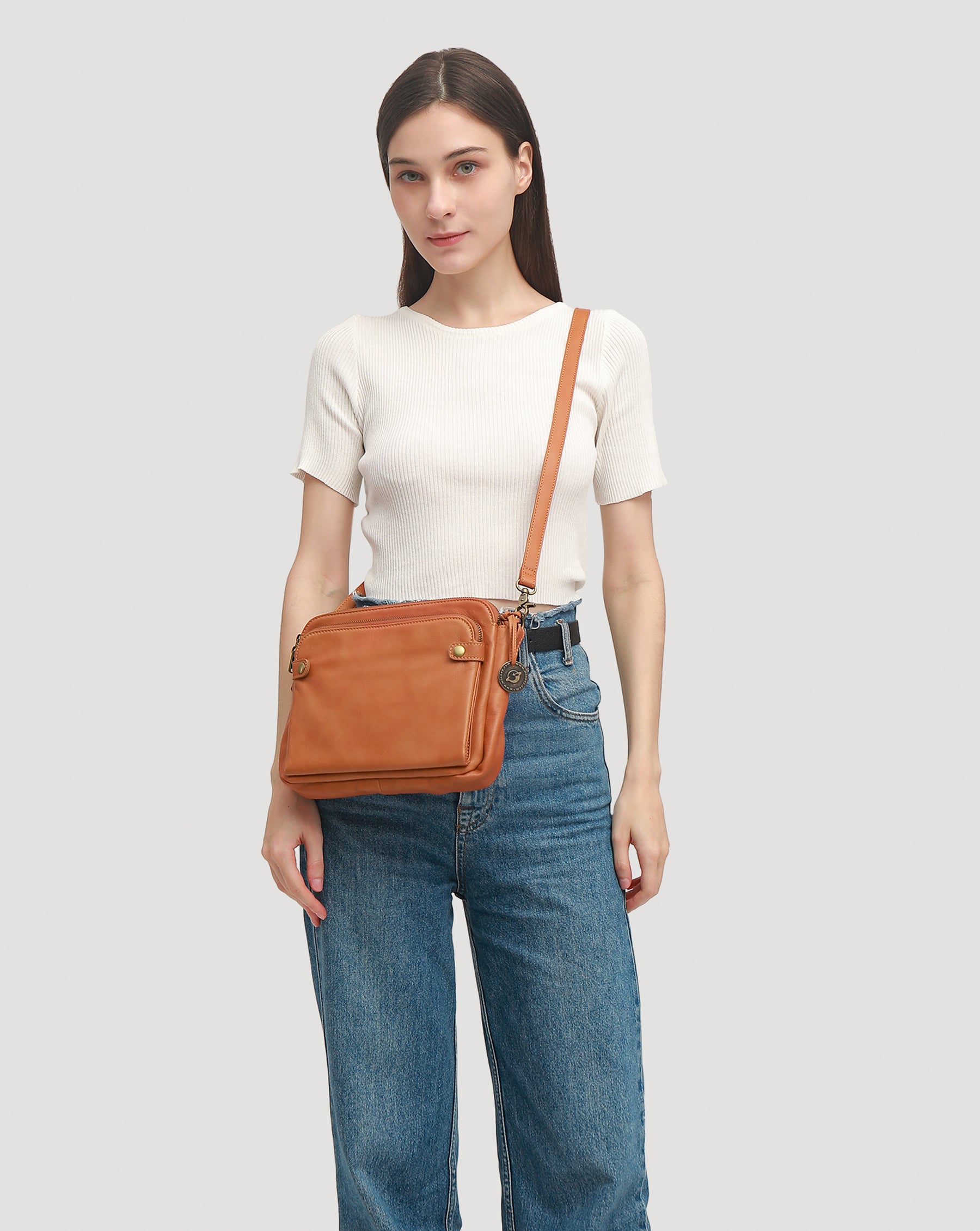 The Bali Three-Layer Leather Crossbody Shoulder & Clutch Bag
*Unfortunately, it has been copied by many other sites with low quality, cheap alternatives. We only use the best materials and genuine leather. This is our original design and we guarantee you will receive excellent service.  We believe you will be satisfied and love our bags.
· Size:H 19.0cm x W 24.5cm x D 5.5cm (7.5" x 9.7" x 2.2")
· Removable, adjustable wide strap :138cm (53")
· Weight 0.605kg (1.34 lb.)
· Material:Soft full-grain leather
· Device Compatibility:
  Mobile:Fits up to an iPhone 14 Pro Max and Galaxy S22 Ultra
  Ipad:iPad 6

Full-grain leather is regarded as the highest quality leather, which is why we choose it for the production of our bag and accessories.
Being the strongest, outermost layer of the hide to be used, and keeping the grain in its entirety, rather than being sanded away to look more 'uniform', full-grain leather lasts much longer. As it ages, it develops a patina, which is the change in color over time. This change occurs faster on untreated pieces and is considered to be a highly desirable characteristic of leather.
On the smooth, unaltered surface, you can even see the pores and small hair follicles (if you use a magnifying glass), which indicates that the leather is of high quality. Other characteristics to take note of are fat wrinkles or growth lines, natural variations in the grain texture, shading, and small scars.

Every hide is unique as it comes from a different animal with different markings and blemishes so when looking at or working with full-grain leather you'll soon realize that no two hides are exactly the same.
Due to the recent novel coronavirus (COVID-19), which has affected logistics in some controlled areas, logistics delivery times may deviate from estimated times. Actual shipping and delivery times may be delayed. We apologize for any inconvenience caused.
Delivery Time = Processing Time + Shipping Time
Shipping From: ShenZhen(Our bags are shipped from Shenzhen, but don't worry we have a US warehouse, if you are unsatisfied with the order when you receive, you can feel free to return the order to our US address)
Processing Time:
Items in stock: 24-48 Working Hours
Items Pre-Order: Please check ETA (estimate arrive time on website)
Shipping Time to US/CA/AU:
Method
Shipping Time
Shipping Cost
Standard Shipping
10-15 Working Days
 Free(Over

US

$109)

Standard Shipping

10-15 Working Days

 US

$10

DHL Express Shipping

4-7 Working Days

 US$20
 30-Day RETURN:
We want you to feel comfortable and confident when shopping at Minooy, that's why we offer an easy 30-day return & exchange policy.
· Size:H 19.0cm x W 24.5cm x D 5.5cm (7.5" x 9.7" x 2.2")
· Removable, adjustable wide strap :138cm (53")
· Weight 0.605kg (1.34 lb.)
· Material:Soft full-grain leather
· Device Compatibility:
Mobile:Fits up to an iPhone 14 Pro Max and Galaxy S22 Ultra
Ipad:iPad 6

External Structure:
1*outside slip pocket
3*separated zipper pockets Holds iPad mini)
1*Slotted Bag
9*card slots
1*bill position

Internal Structure:
4*slit pockets
2*small zipper pockets
Leather coin attached
Metal hardware
RFID Blocking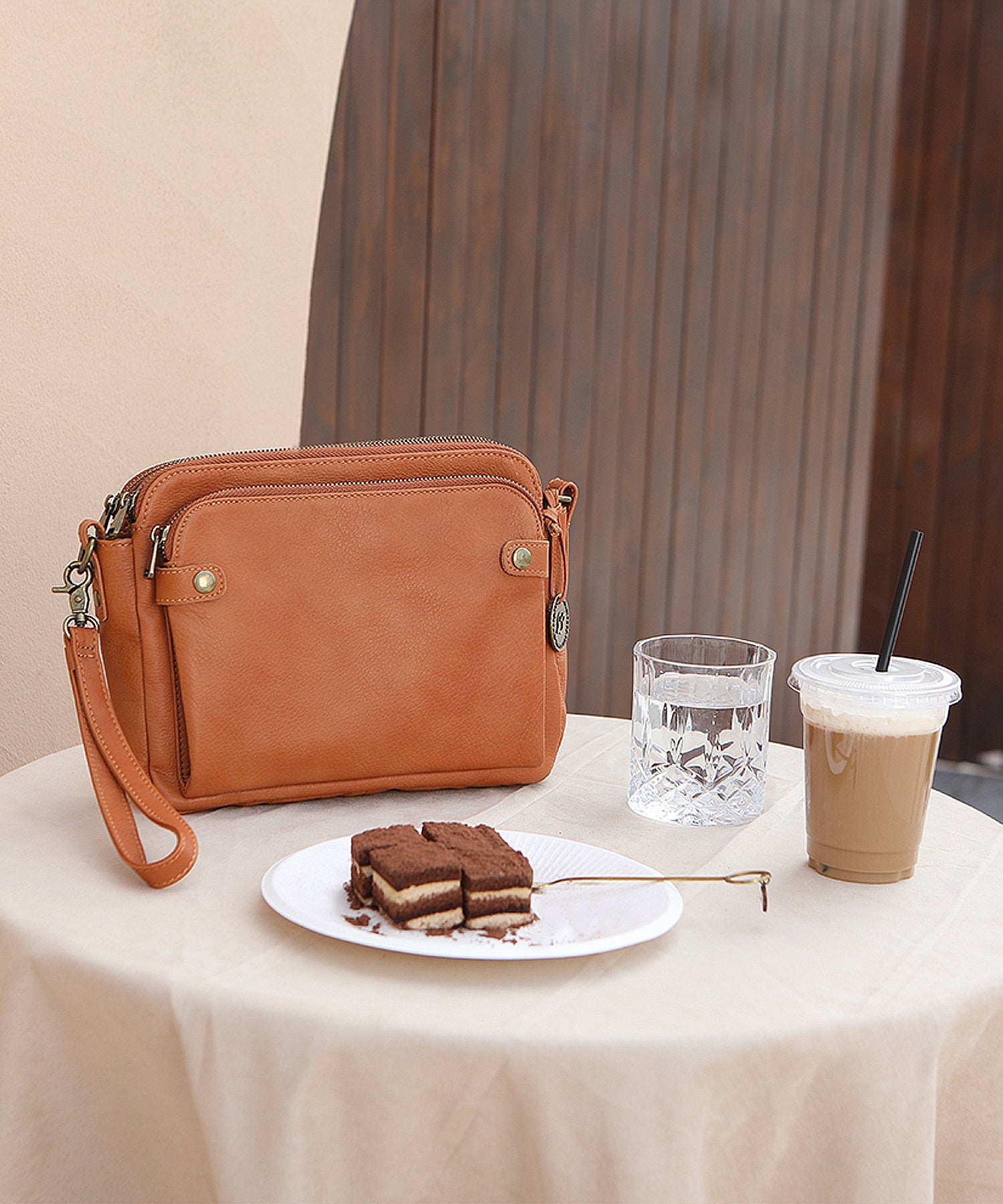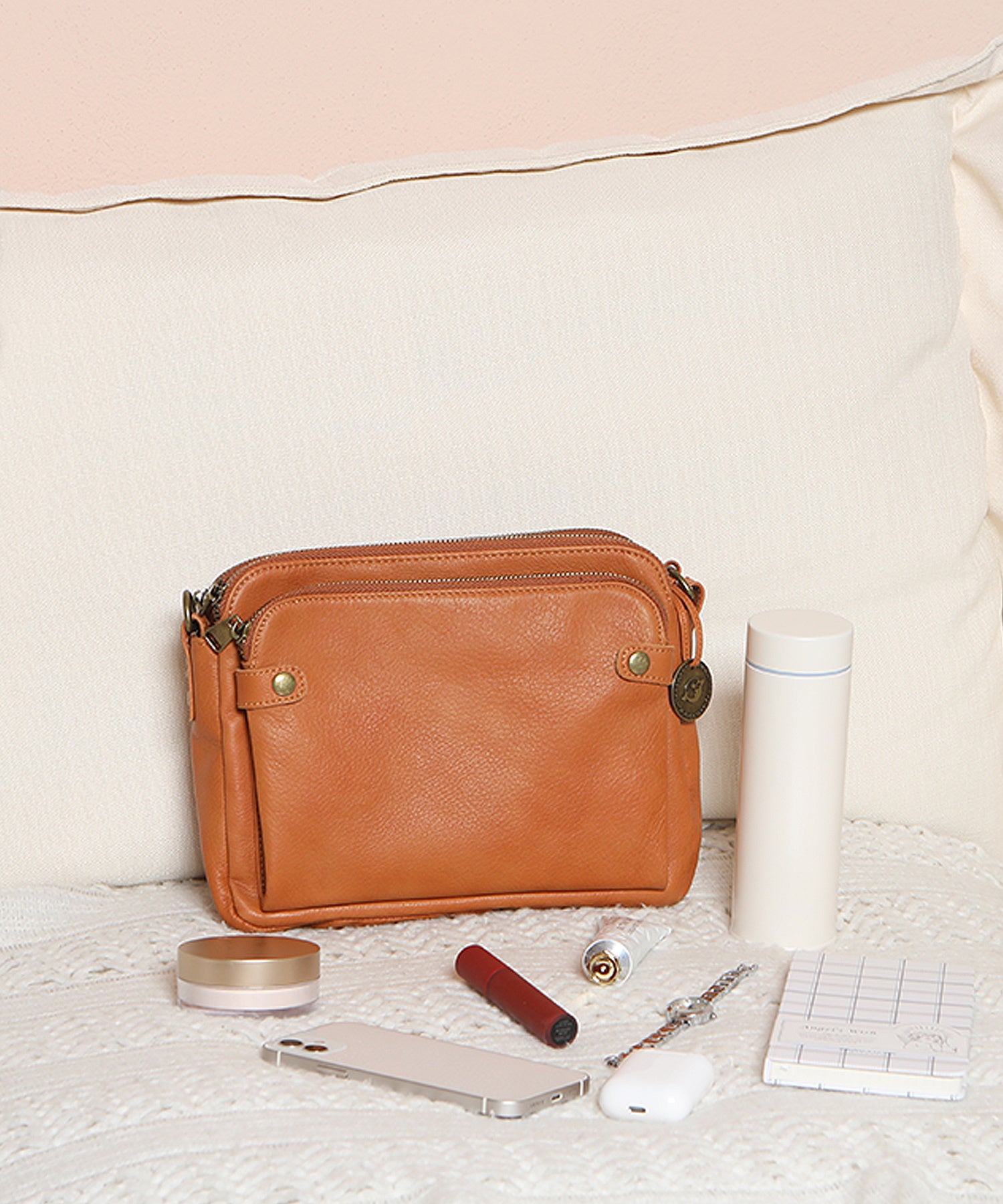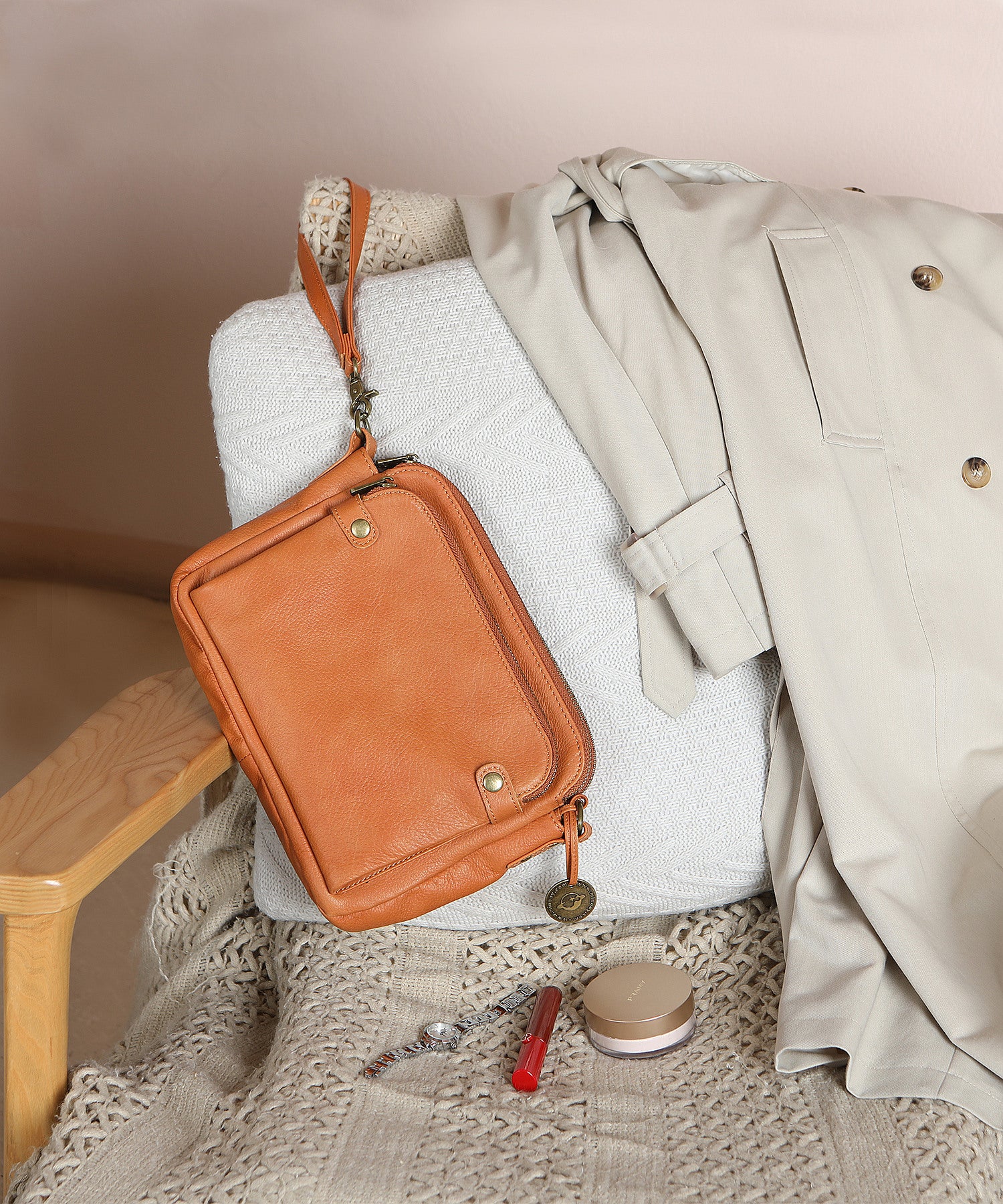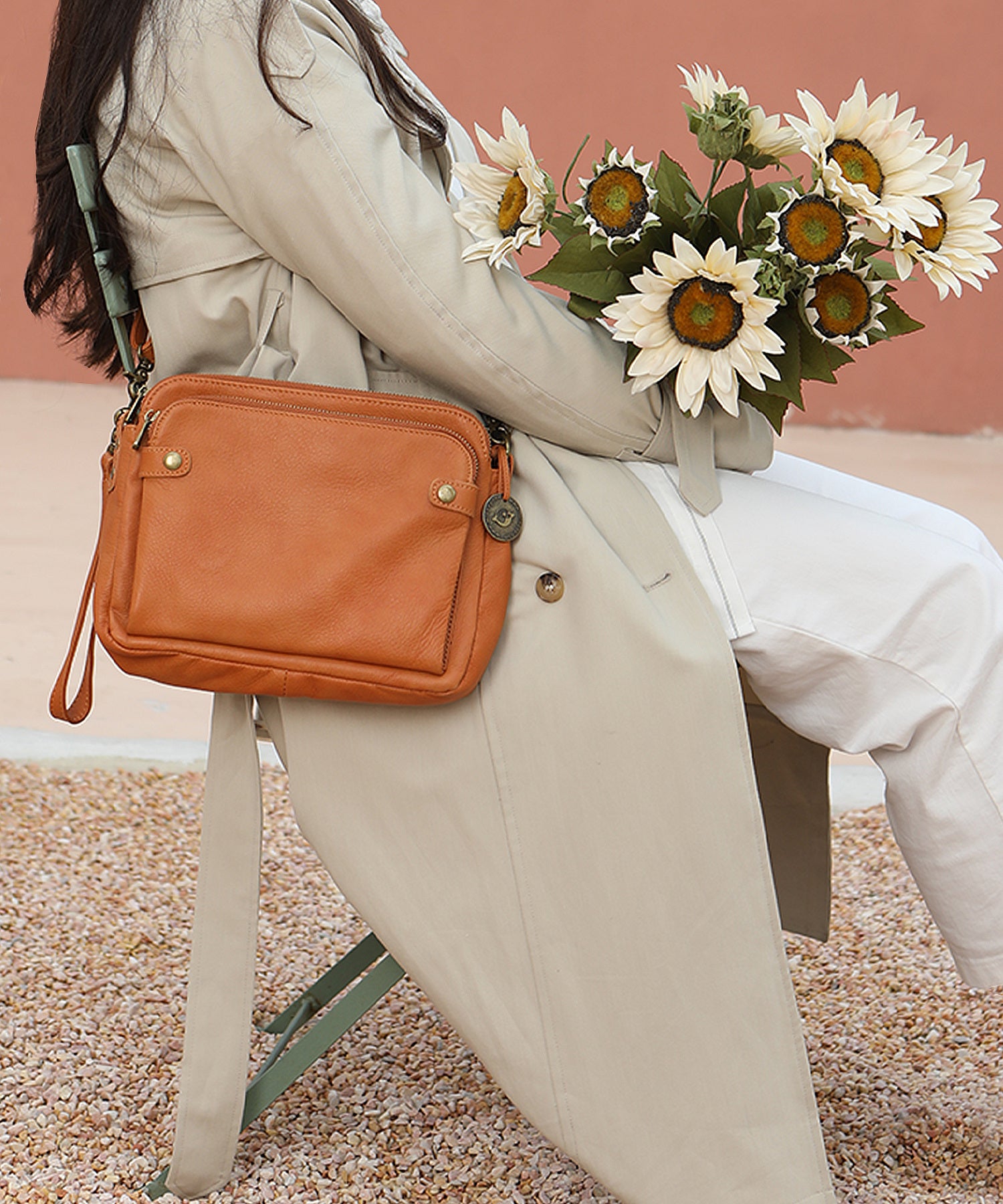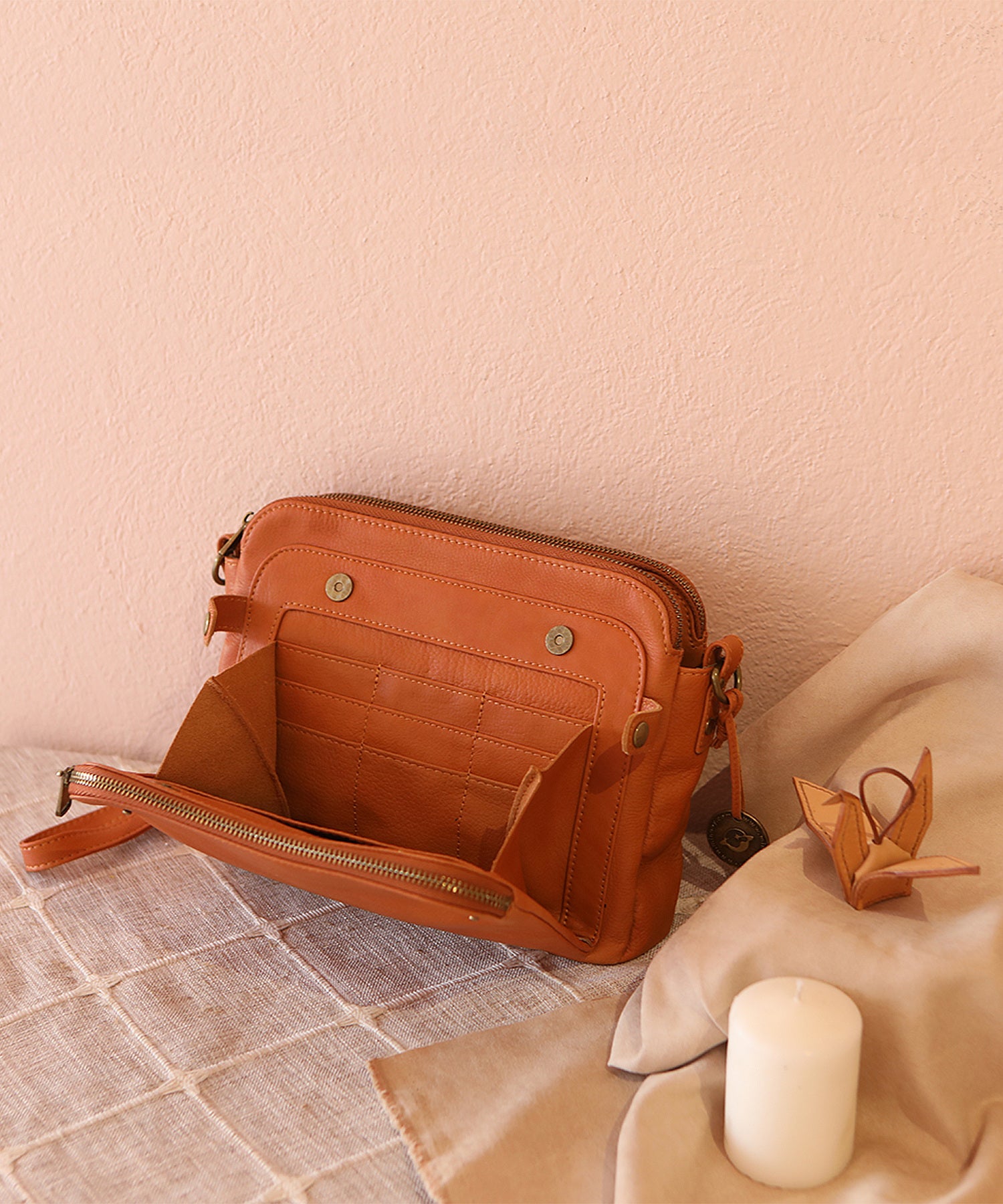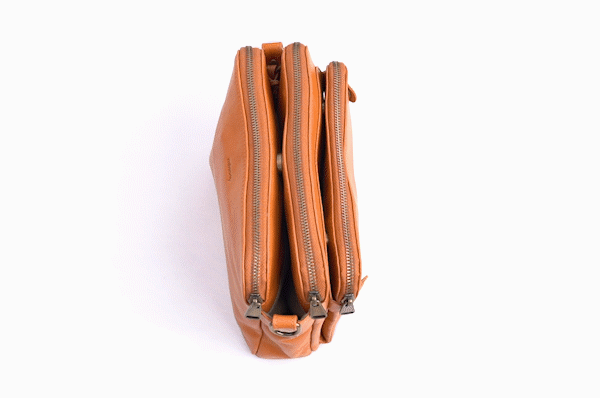 Large capacity in small body
This leather bag is lightweight in appearance, yet large in capacity. Perfect for carrying your iPad mini, wallet, keys, cell phone, perfume, umbrella, sunglasses, cosmetics, scarf, and other daily essentials. Strong magnetic snaps plus external snaps on both sides for double protection, multiple card slots and bill positions, zippered insert pockets, multiple independent compartments to meet your daily travel needs.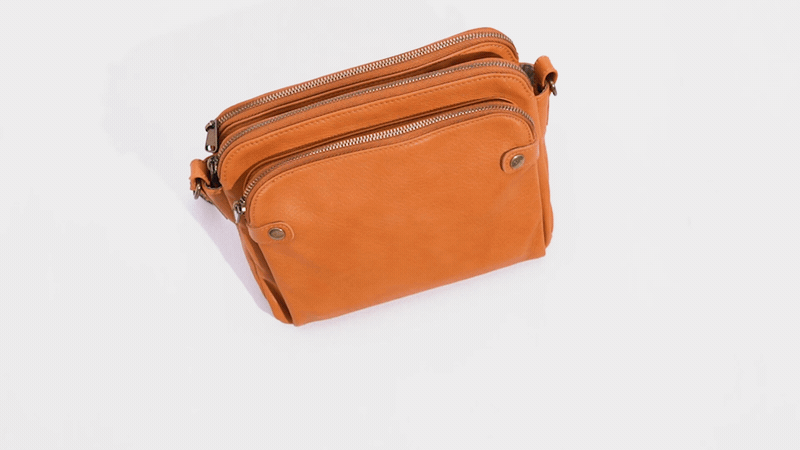 Built-in wallet with RFID blocking
The bag has 9 card slots, two metal clasps on the outside and a sturdy metal magnetic clasp for added security, and comes with RFID functionality to better protect your personal information. This allows for added security while meeting the convenience of use.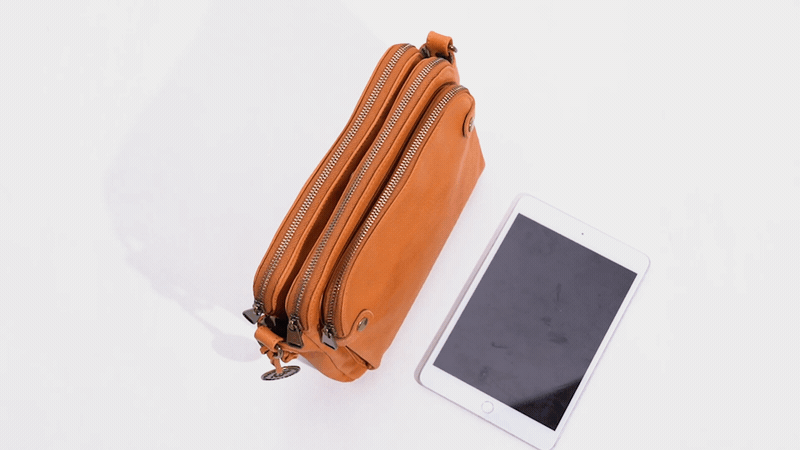 Convenient compartment
The middle compartment has a metal magnetic clasp for quick access to your essentials, and the bag can hold tablets ranging in size from ipad mini to iPad 6 (including ipad mini and iPad 6).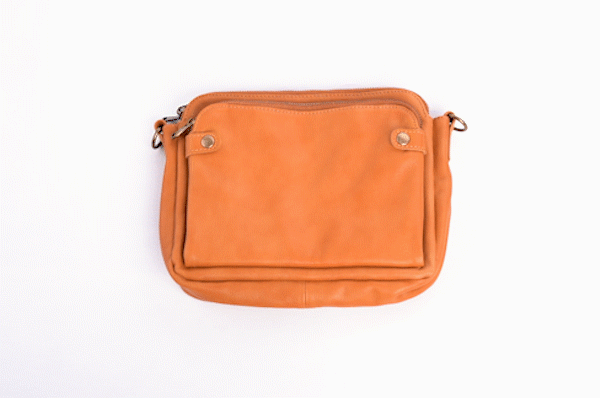 Full grain leather - the highest level of leather

Processed from the finest raw material leather, the natural state of the whole grain surface is well preserved, the coating is thin, showing the natural pattern beauty of animal skin. High brightness and surface with a layer of natural waxy feeling, clear grain surface, smooth surface. This leather is not only wear-resistant and breathable, but also softens and produces a beautiful luster over time.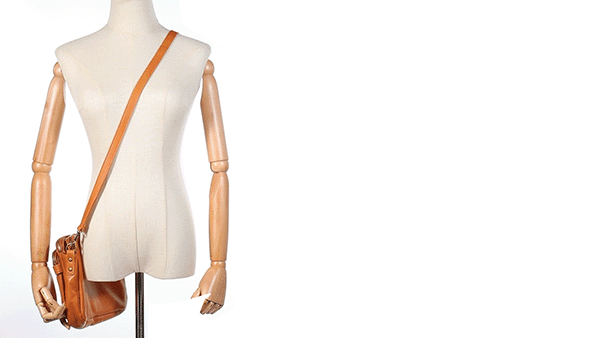 Size measurement
Bag handle height: 26.5 inches, total adjustable strap length: 26.5*2=53 inches,
The front width of the bag is 9.7 inches, the depth is 2.2 inch, and the height is 7.5 inches.
Great Purchase
My purse is awesome! I was worried that what was shown in the add and advertising was not what I would really receive, but pleasantly surprised that it is exactly what you see. Leather is soft and more than enough space for all my things (in a small package). I've been on the search for a purse that could fit all my stuff (money, coins, cards, and cash) in an easy to reach section of my purse with enough pockets for all other things (phone, keys, and sundries). I finally found it…worth the price!
LOVE my Minooy Bag!!
This bag is perfect; I bought a cheap knock-off because I didn't want to spend over $100 for a purse; but after using the knock off and the velcro closures quit working, I decided to go for it and I got the REAL DEAL!! Now I'm shopping for a wallet!
Beautiful purse
I am so happy with this purse. It's the perfect size if you don't want a large purse to lug around. I love pockets and there are plenty of them to organize all your stuff. Also, a built in wallet is fantastic. Perfect for travel. I have neck issues so the weight is great. The quality of the leather is superb. I got the brown, which is saddle brown. The picture depicts it perfectly.
I had a small shipping issue and emailed Minooy. They got back to me quickly and were very kind and understanding. All is well! Highly recommend the service and quality of their brand.
Bag Connoisseur Strikes Again
I LOVE this bag! I've been looking for MONTHS for the perfect "everyday" bag. It has so much storage/pockets a woman could dream of. It's definitely worth every penny spent. The quality is amazing and the packaging was beautiful. Don't hesitate to buy! This bag will last me for sure
LOVE it!
I'm SO happy I spent the extra money on this purse, it's worth every penny! Even the packaging was extra special. It's simple and classically beautiful, which should last for years and years.
The leather is so soft & flexible; right out of the box it feels like a purse I've had for 10 years but without the wear and tear. I was drawn to it because 1) it can be worn in 3 different ways so the long straps can be removed completely & replaced with something wider & more fun if I want, and 2) it has TONS of pockets for all my pens, pins & hair ties, masks, hand sanitizer, wallet stuff, sunglasses, etc. without essentially dumping it all into a bucket. I looove the built-in wallet; it's SO handy & easy to use!
I love my Sak wallet but I always struggle to get cards out of the slots; the card slots in this purse are in the upright position making them way easier to grab & pull out of their slots. The inner snaps are magnetic & open/shut easily, the outer ones aren't, which helps keep the area more secure when you want to. The front pocket, right in front of the wallet area, has a zipper where I can store my Vera Bradley wristlet keyring wallet for easy access when all you need are keys, ID, and cards.
I have a ton of stuff in this thing & it doesn't feel bulky or heavy; everything has its place & it's all easy to get to. It shipped right away and I received it within the 10-ish day timeframe that was expected for international shipping, arriving earlier than I'd anticipated.