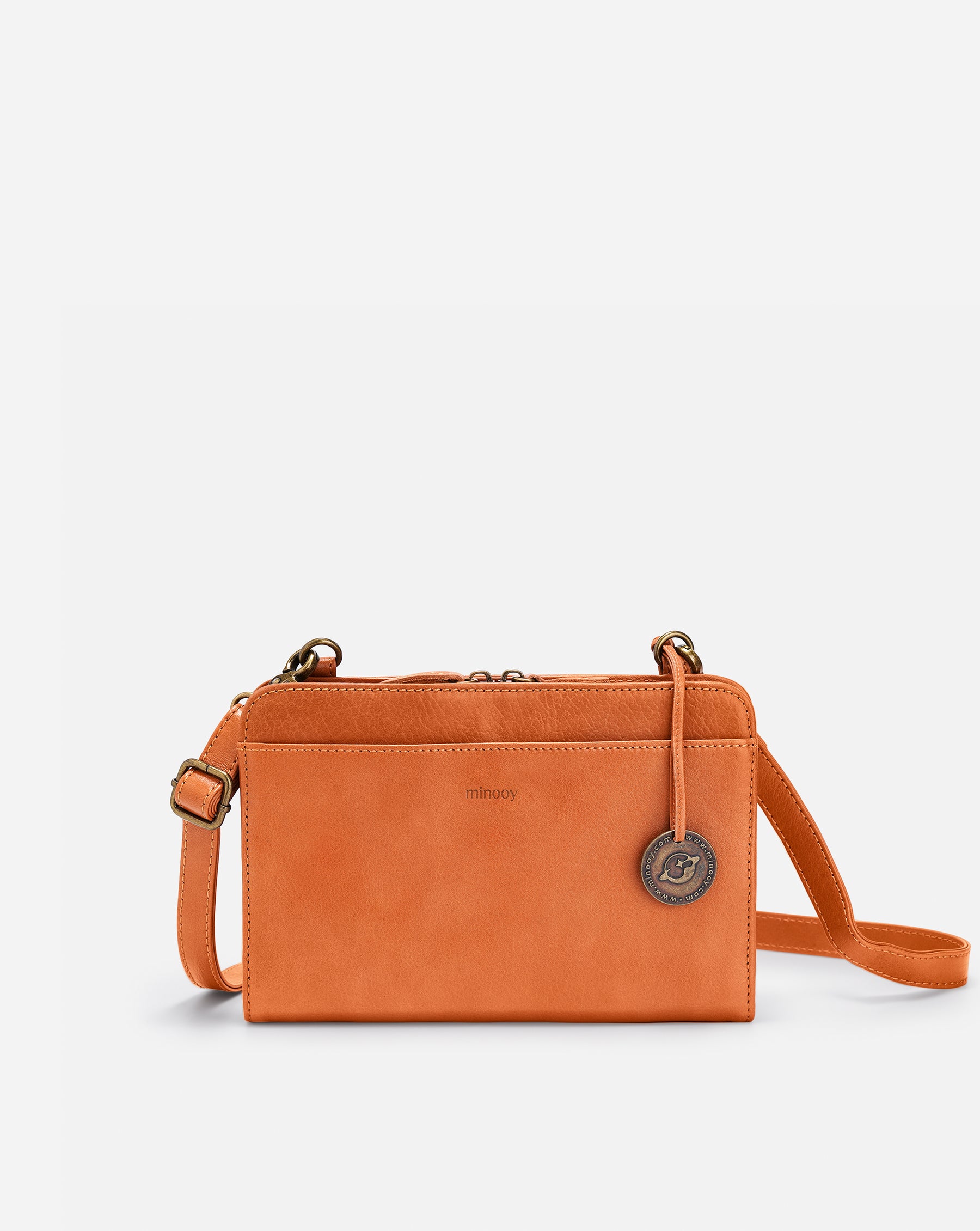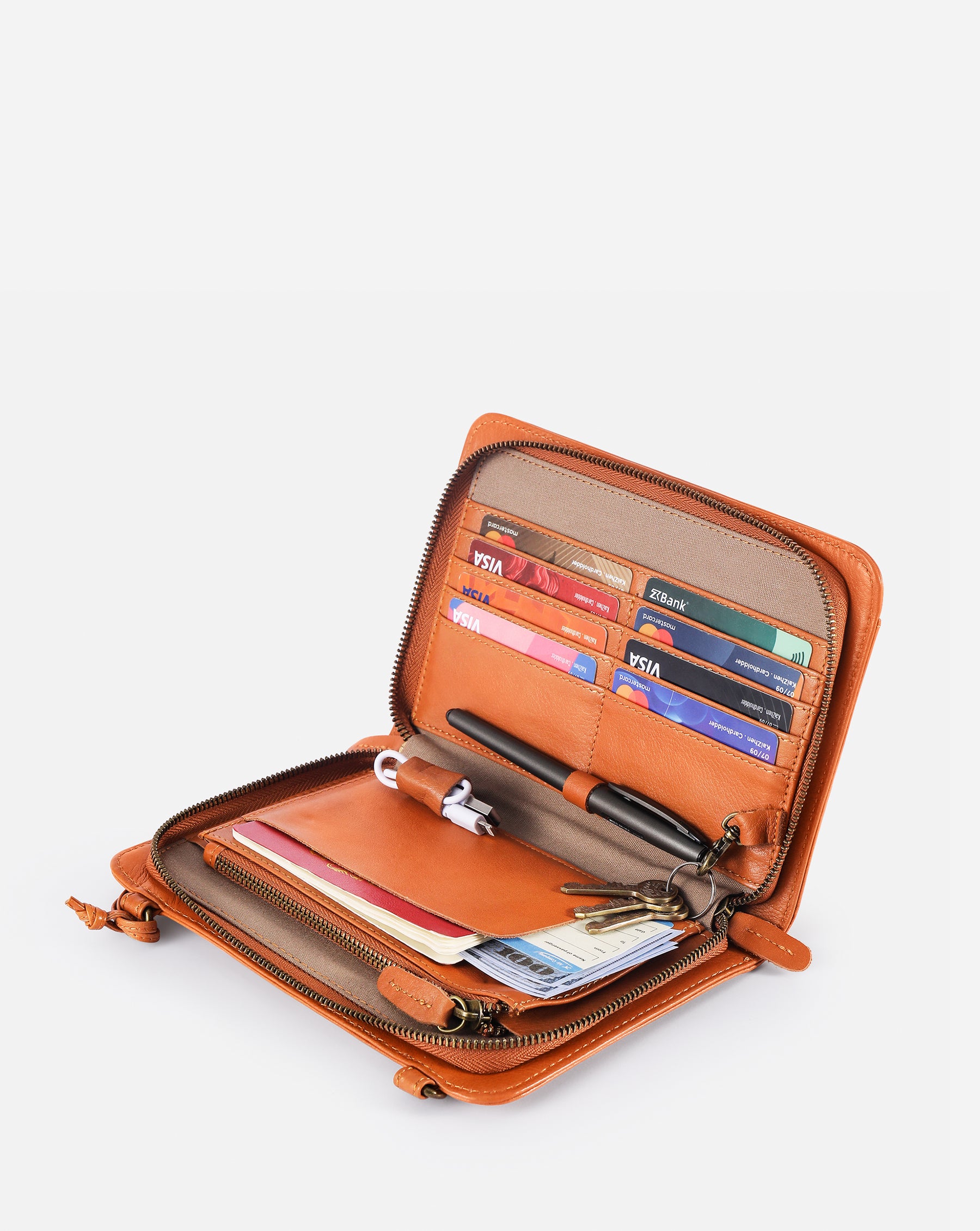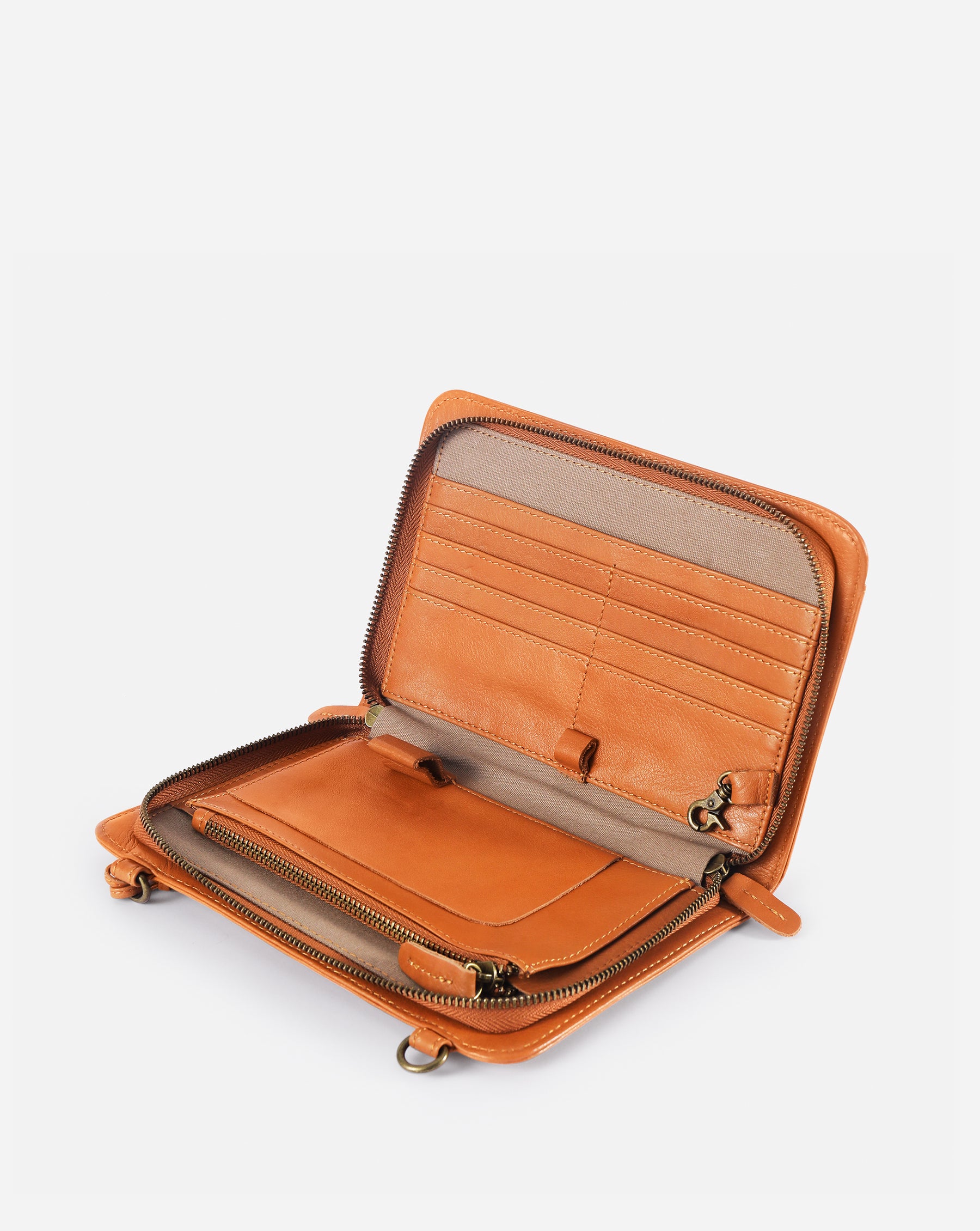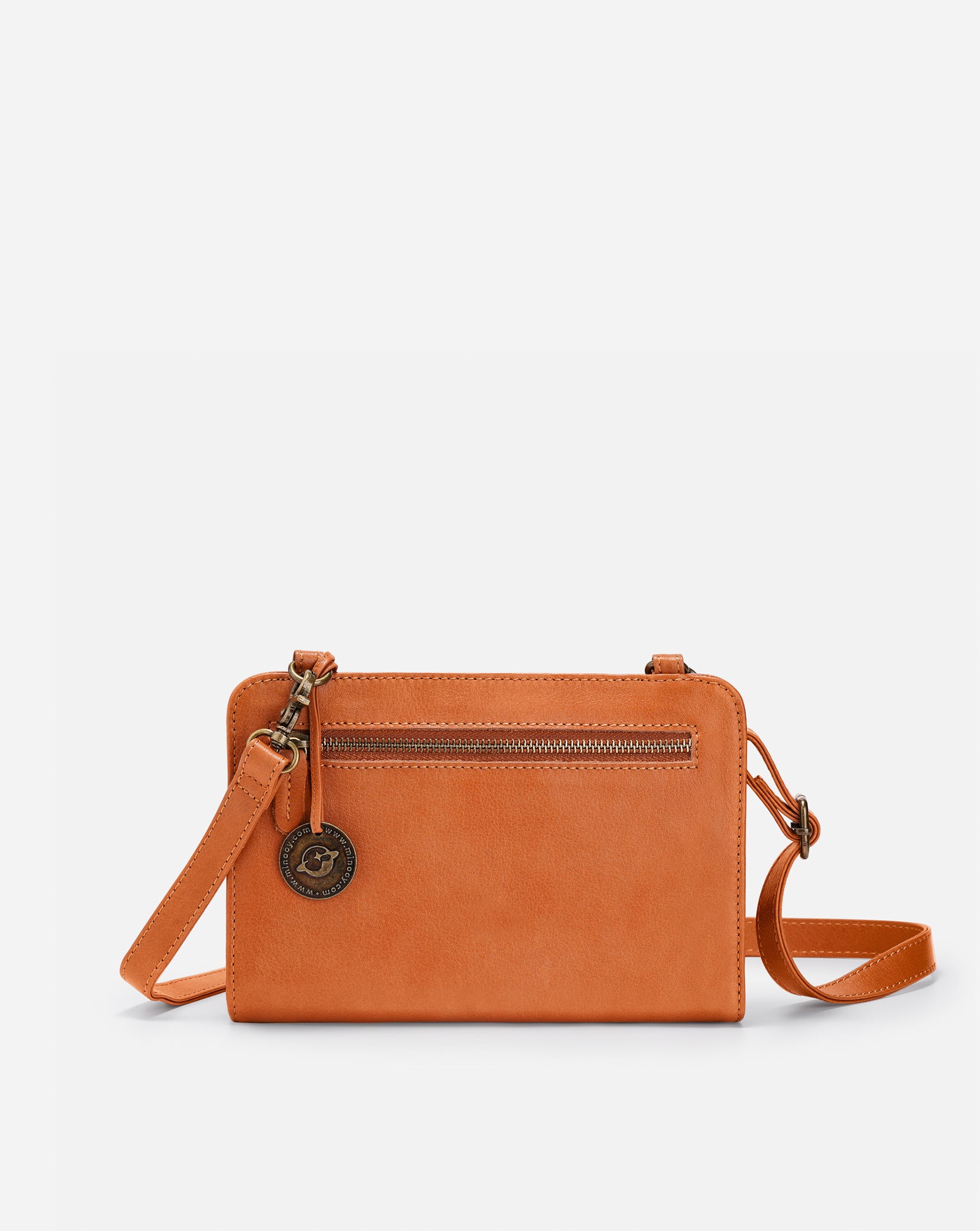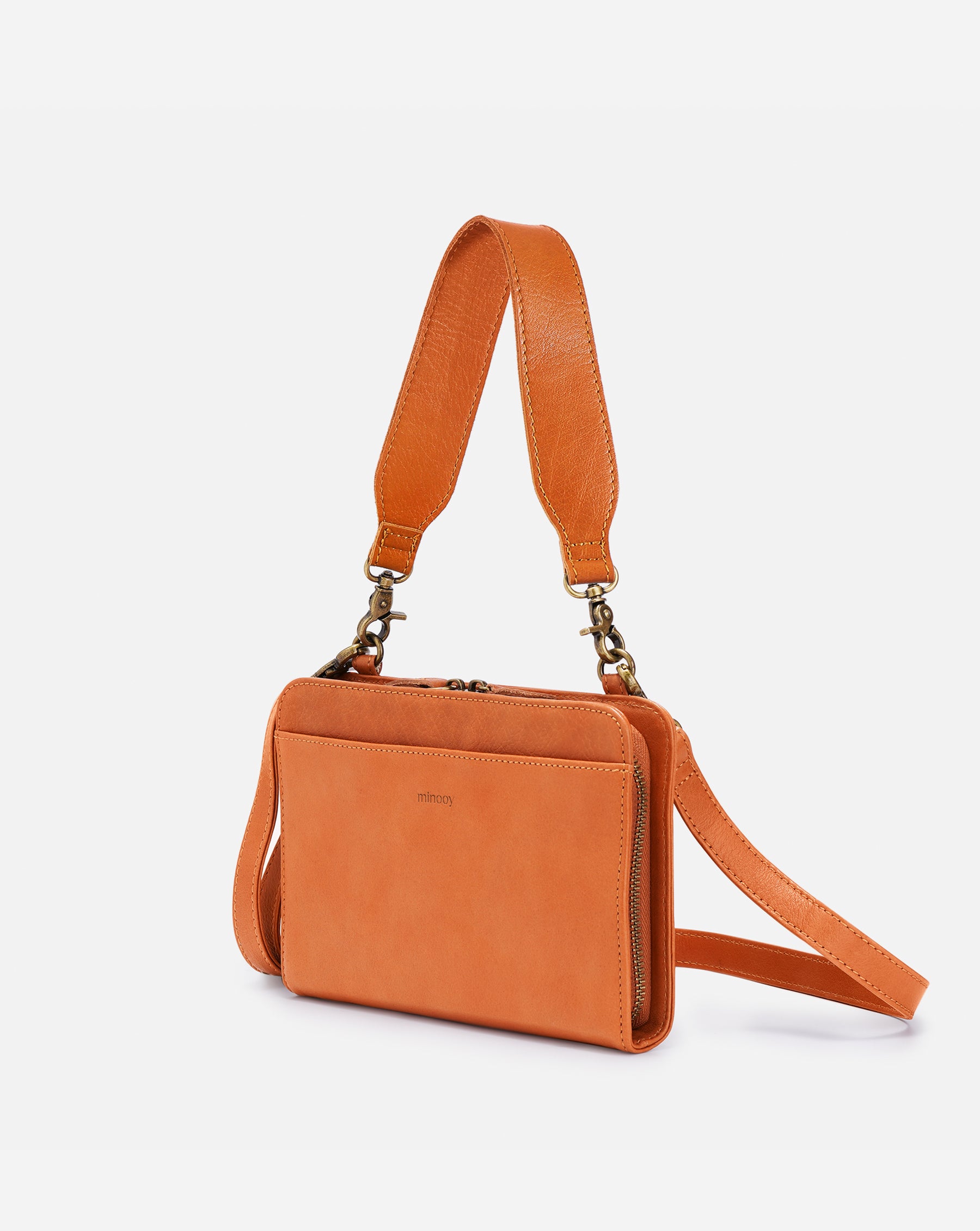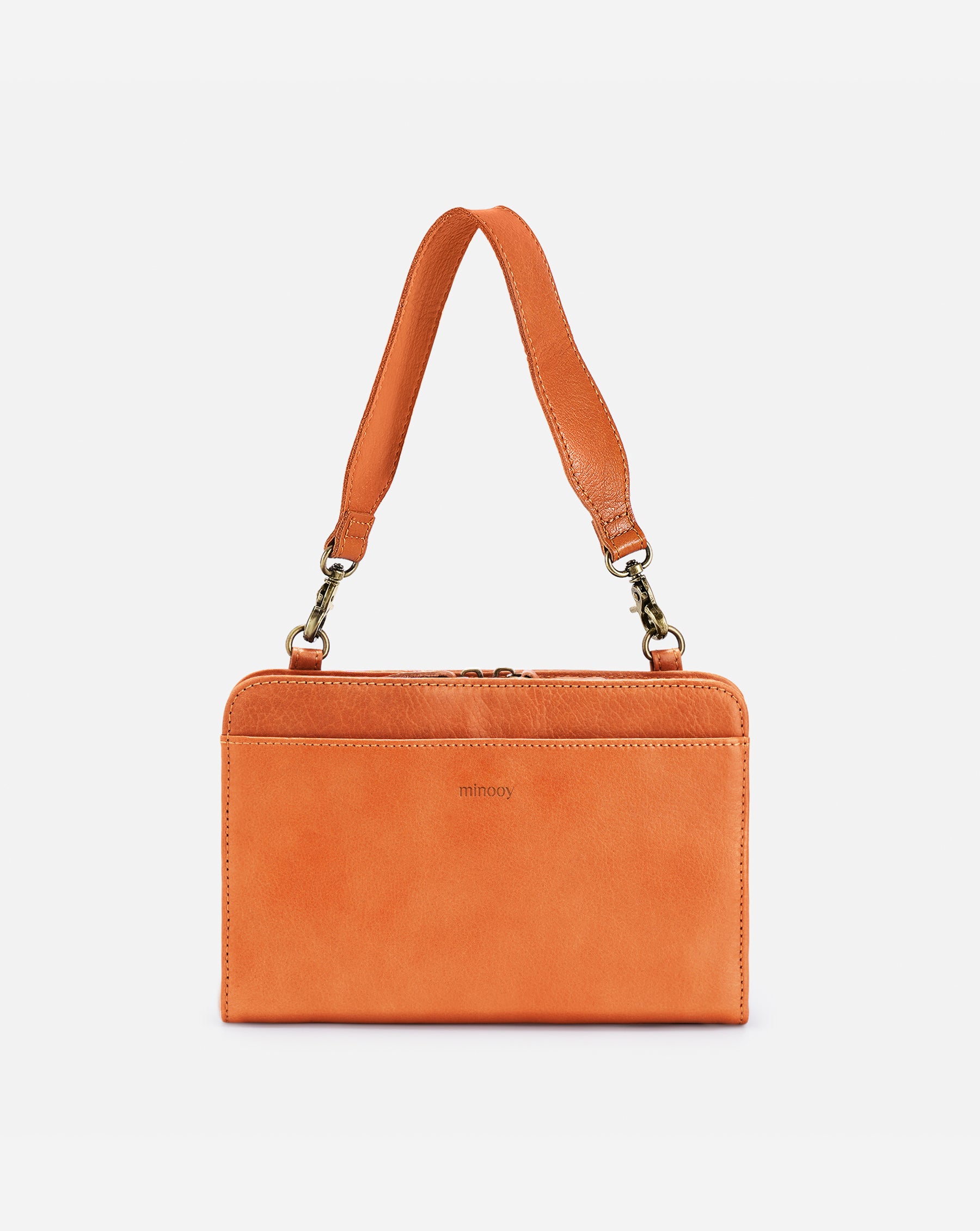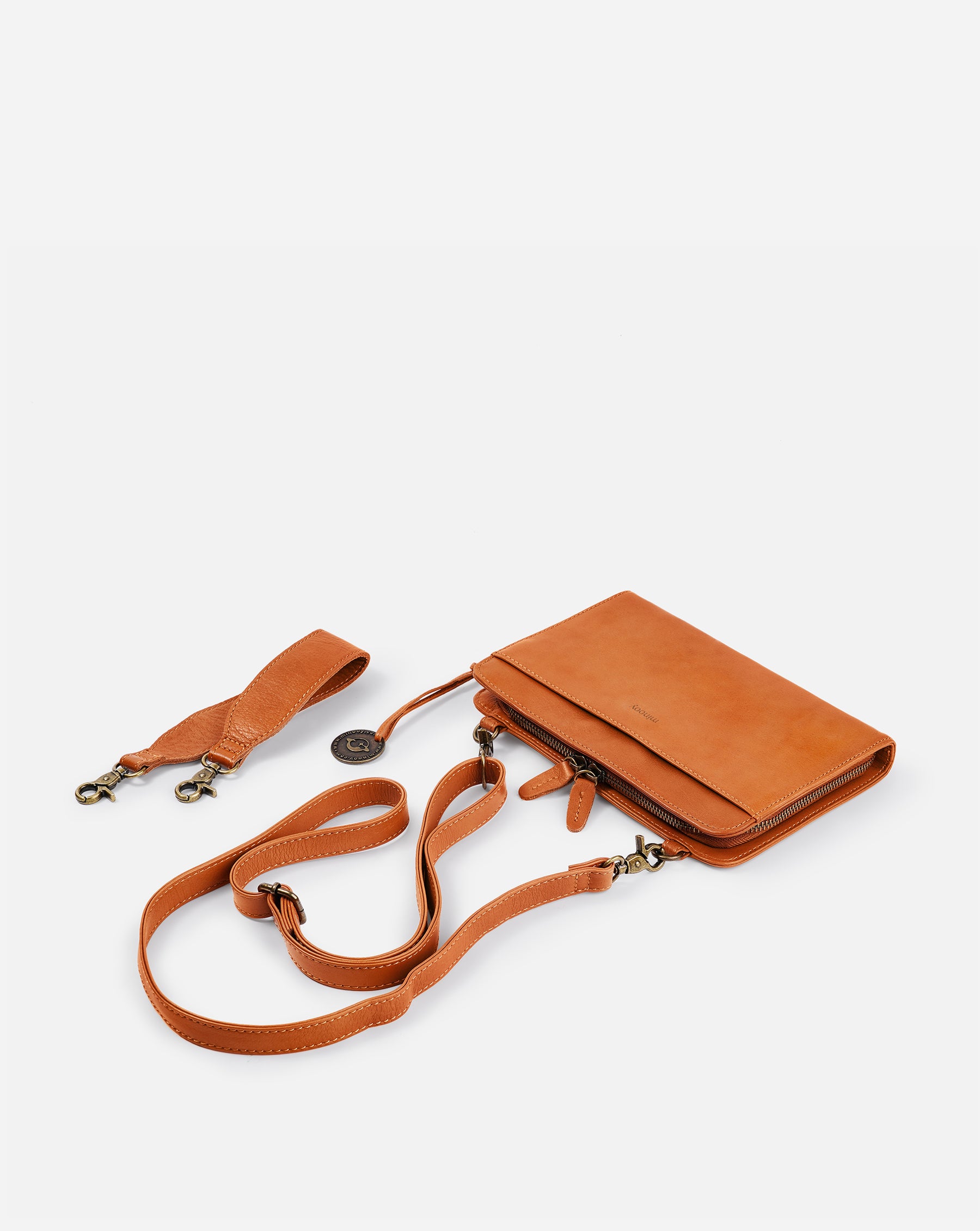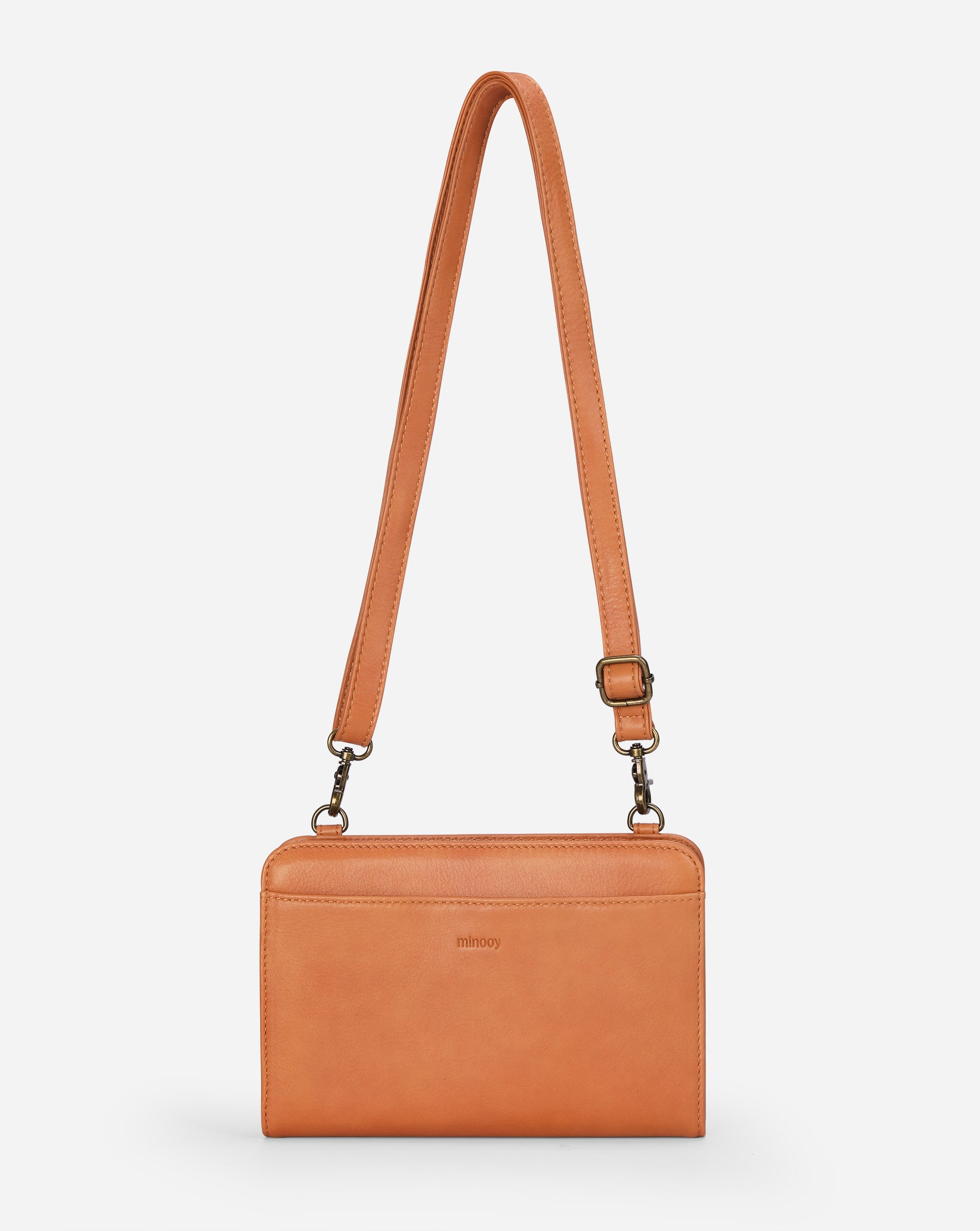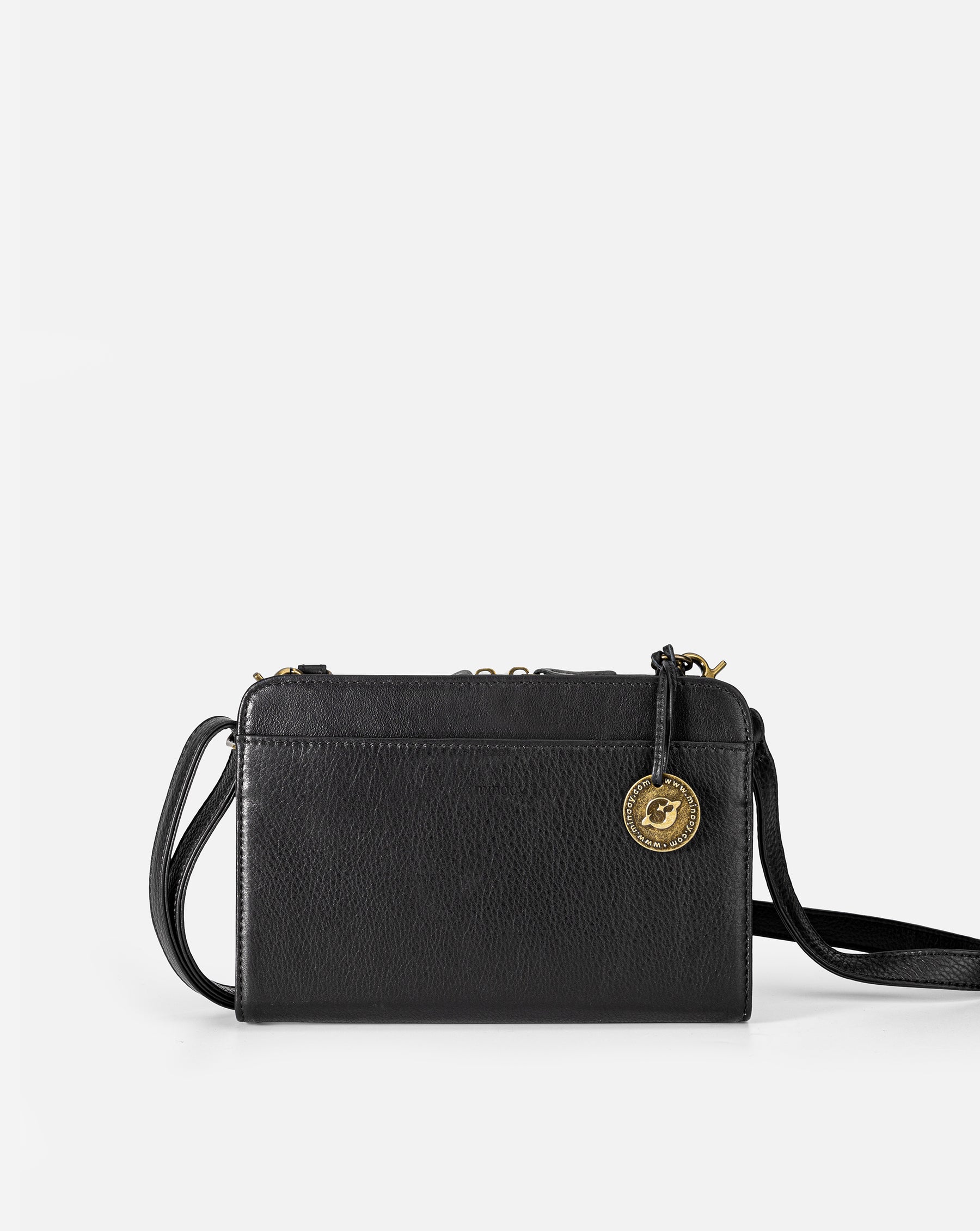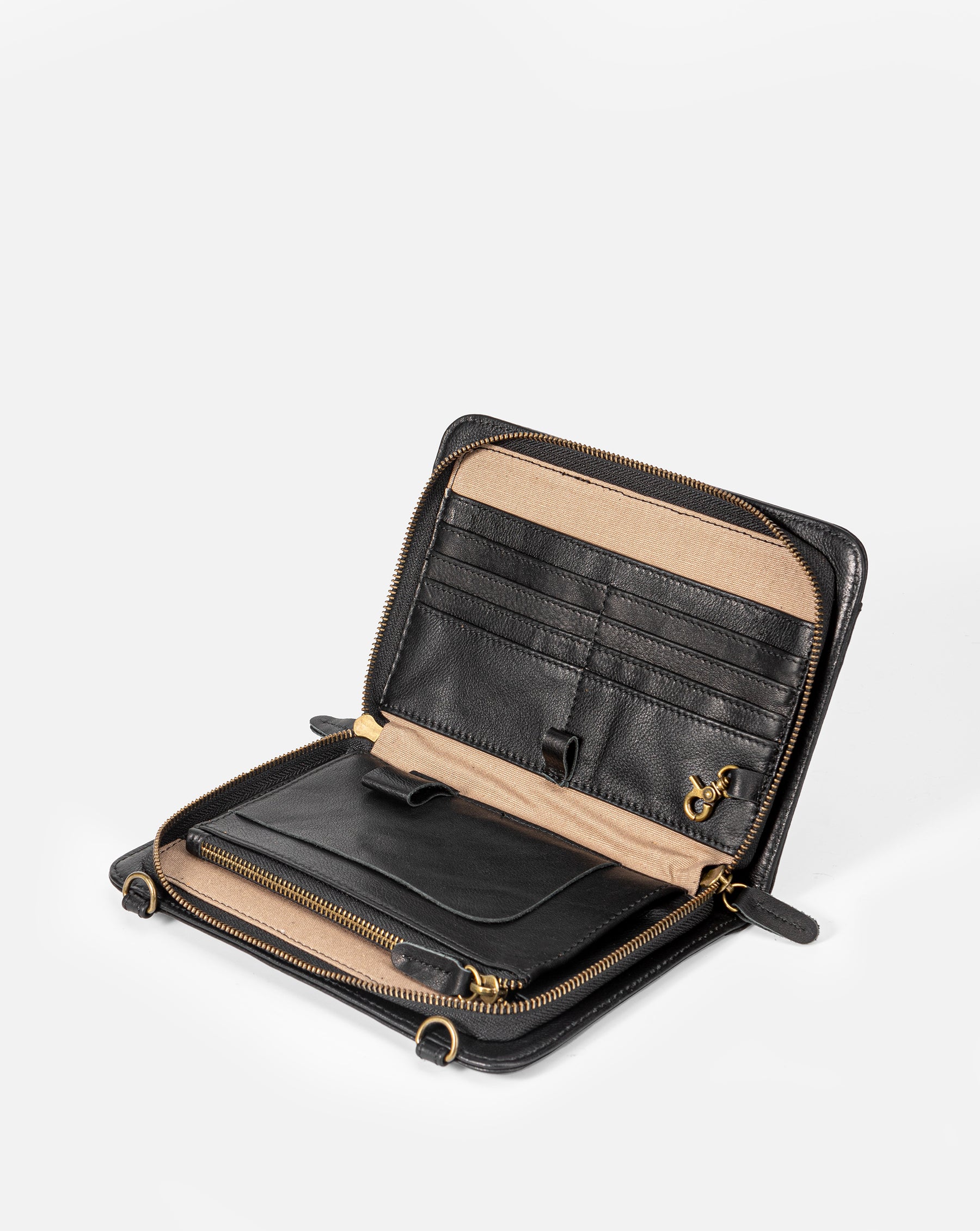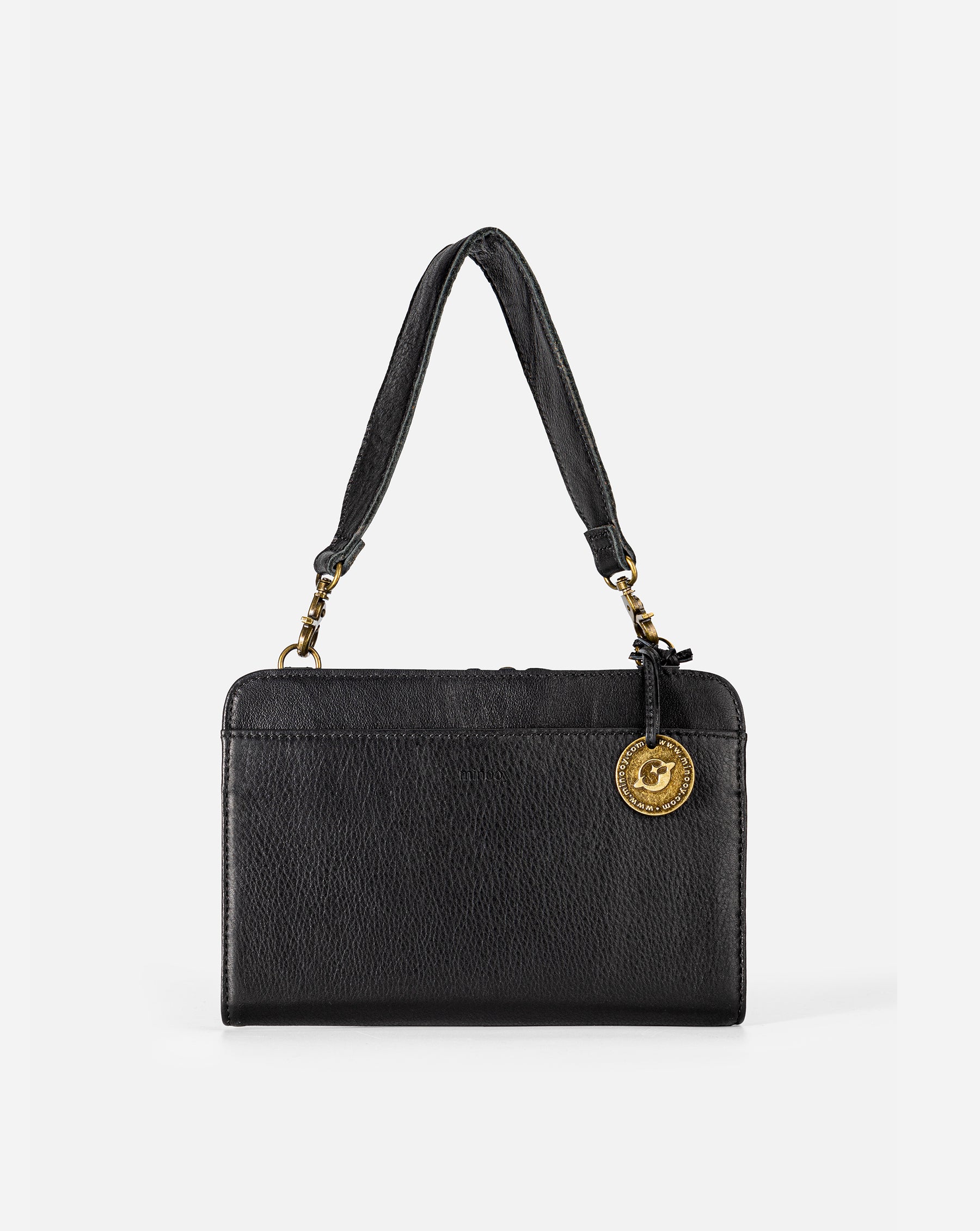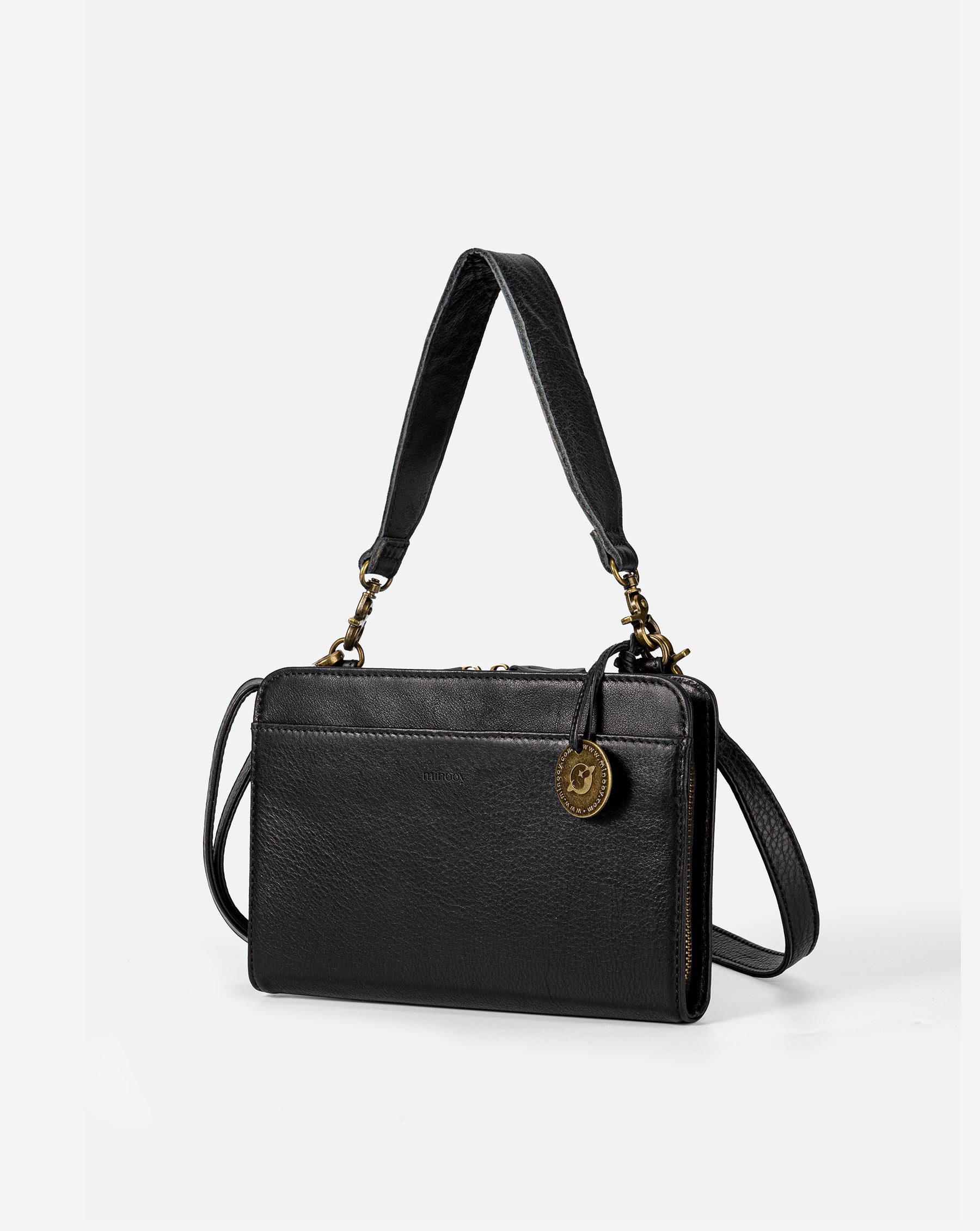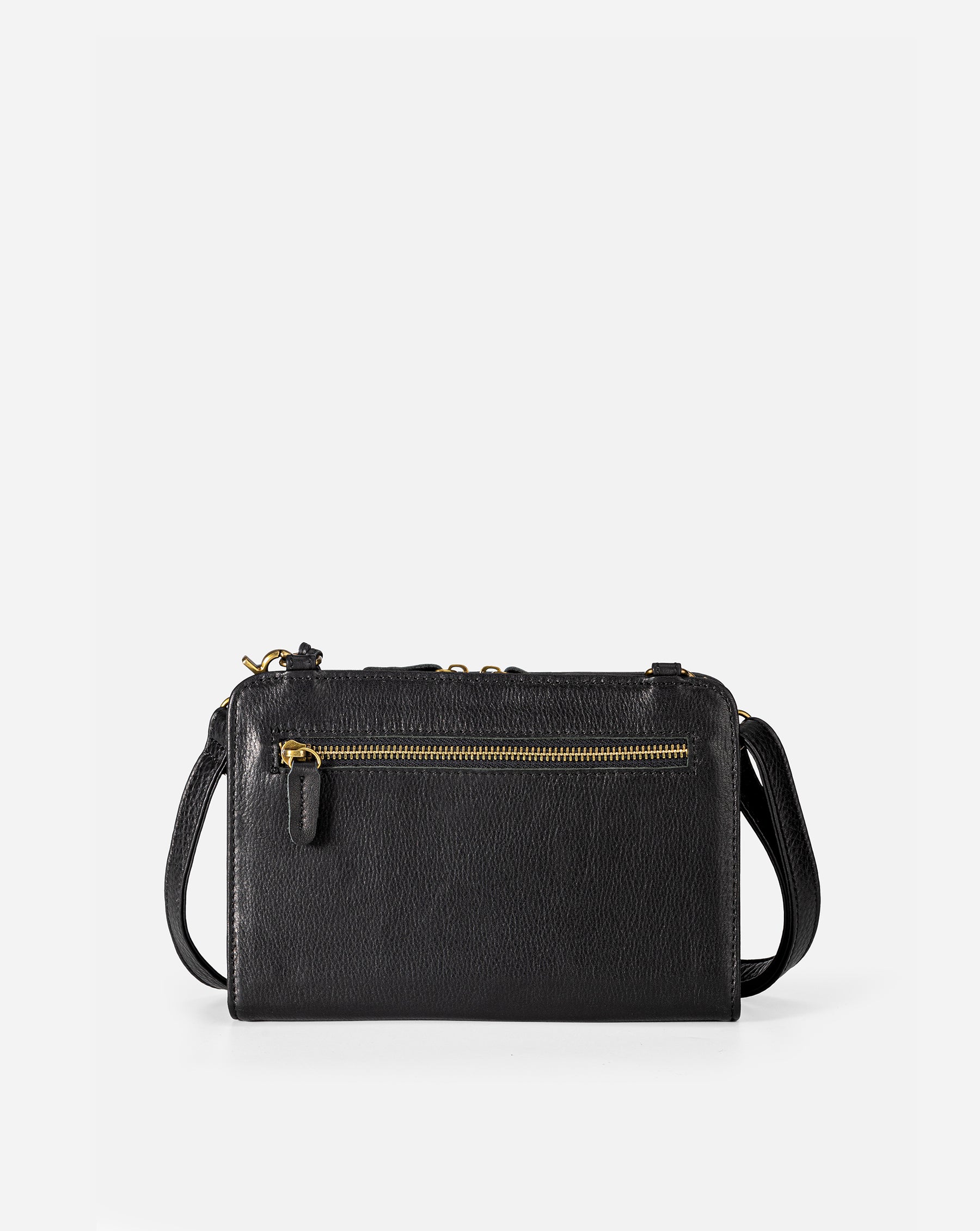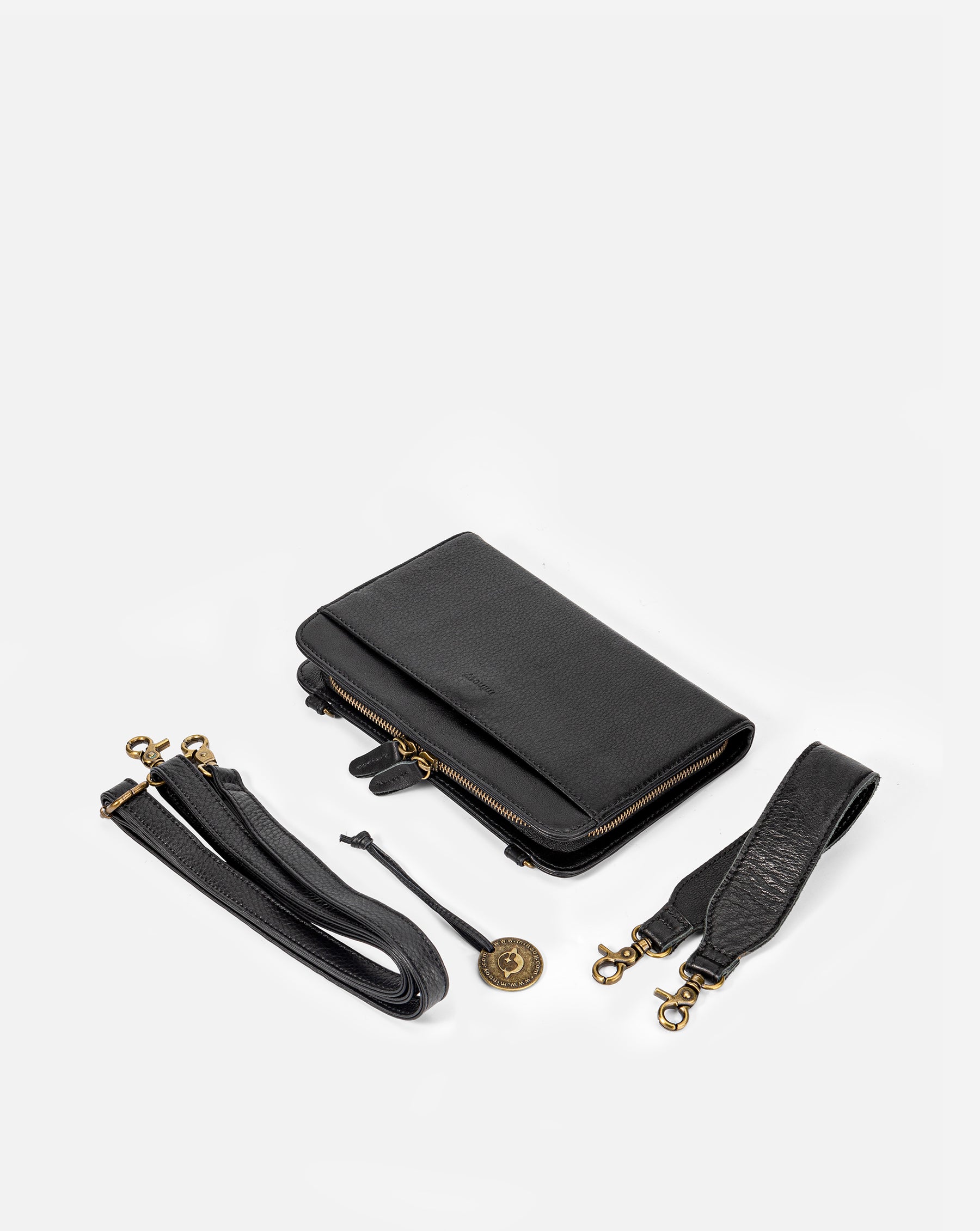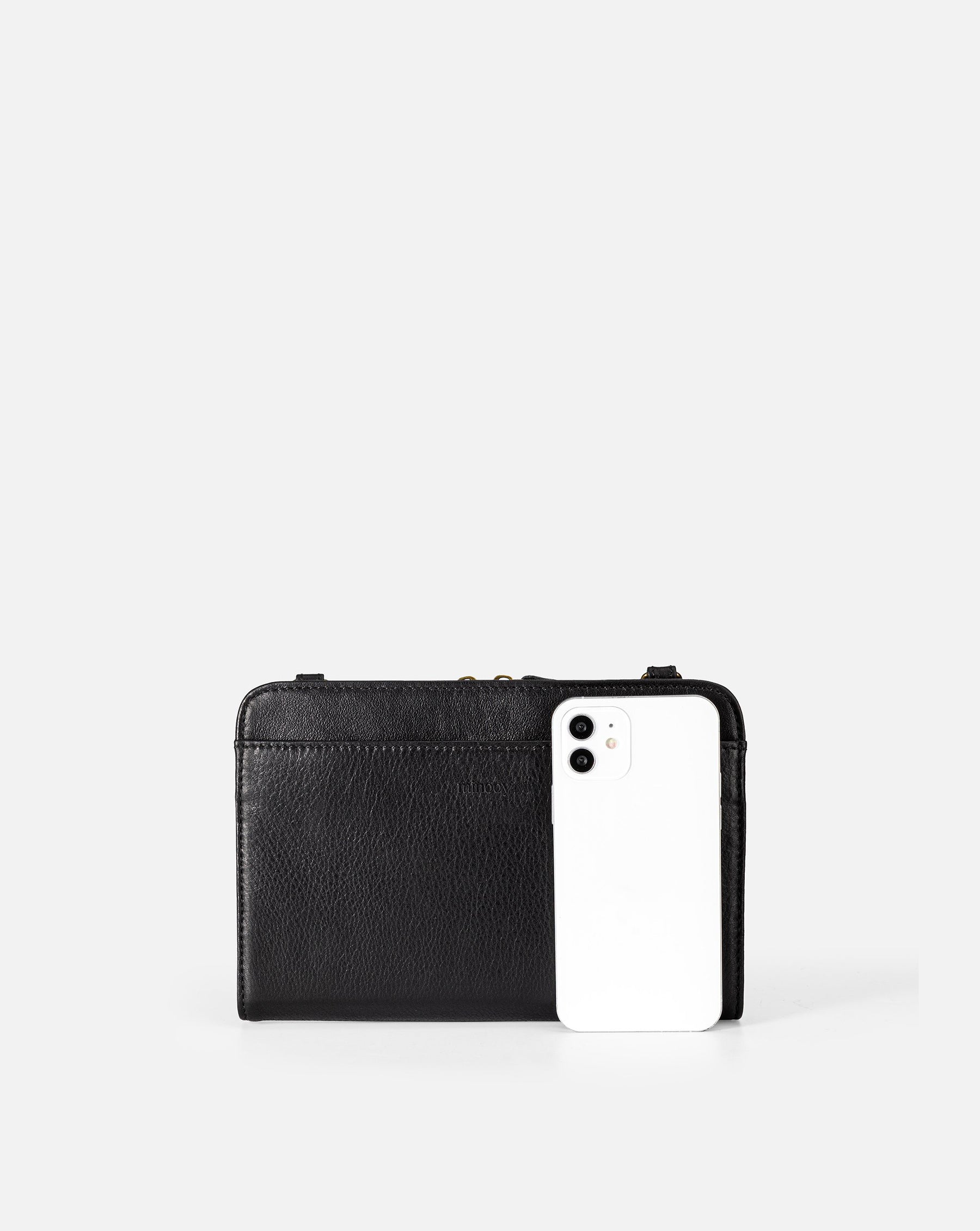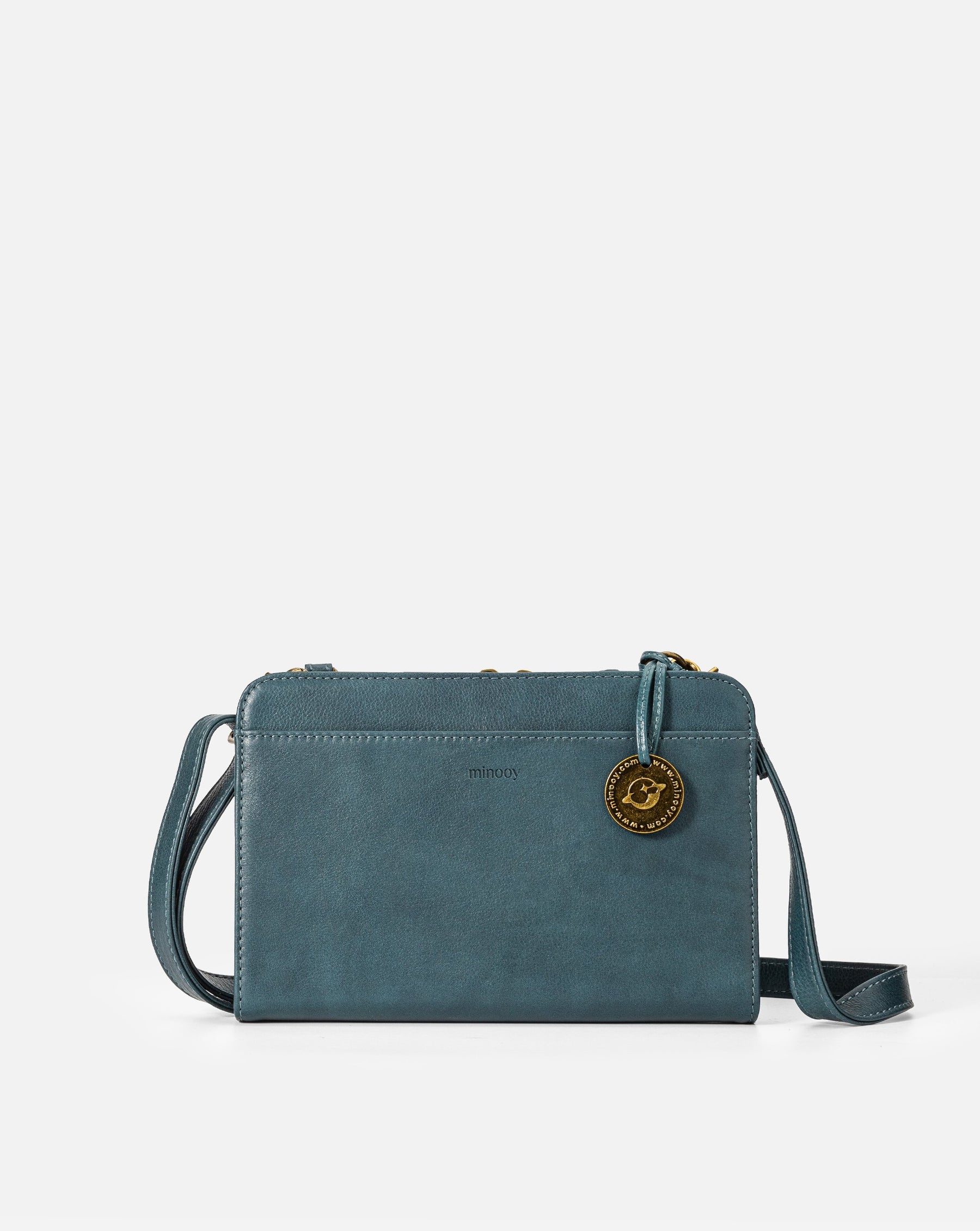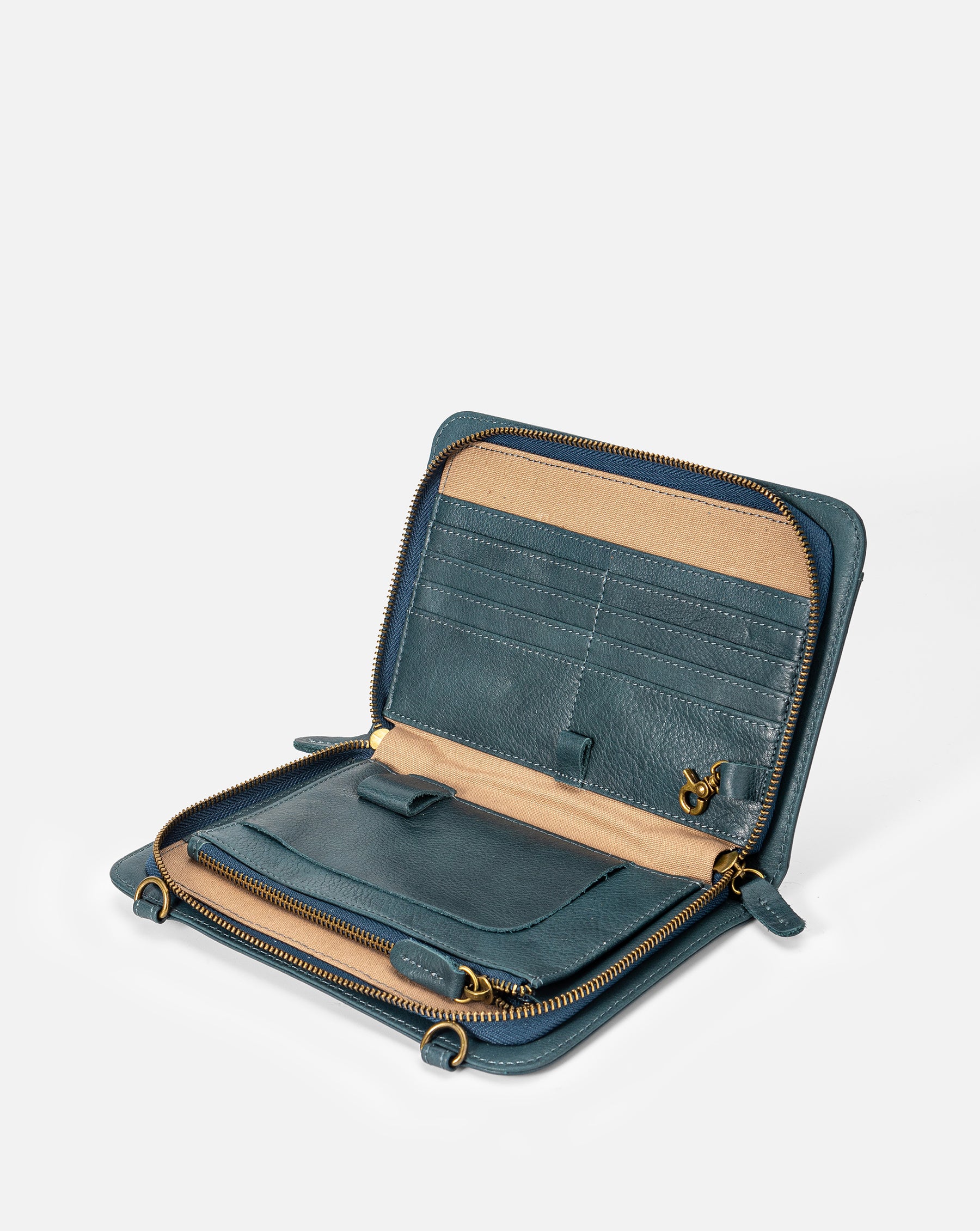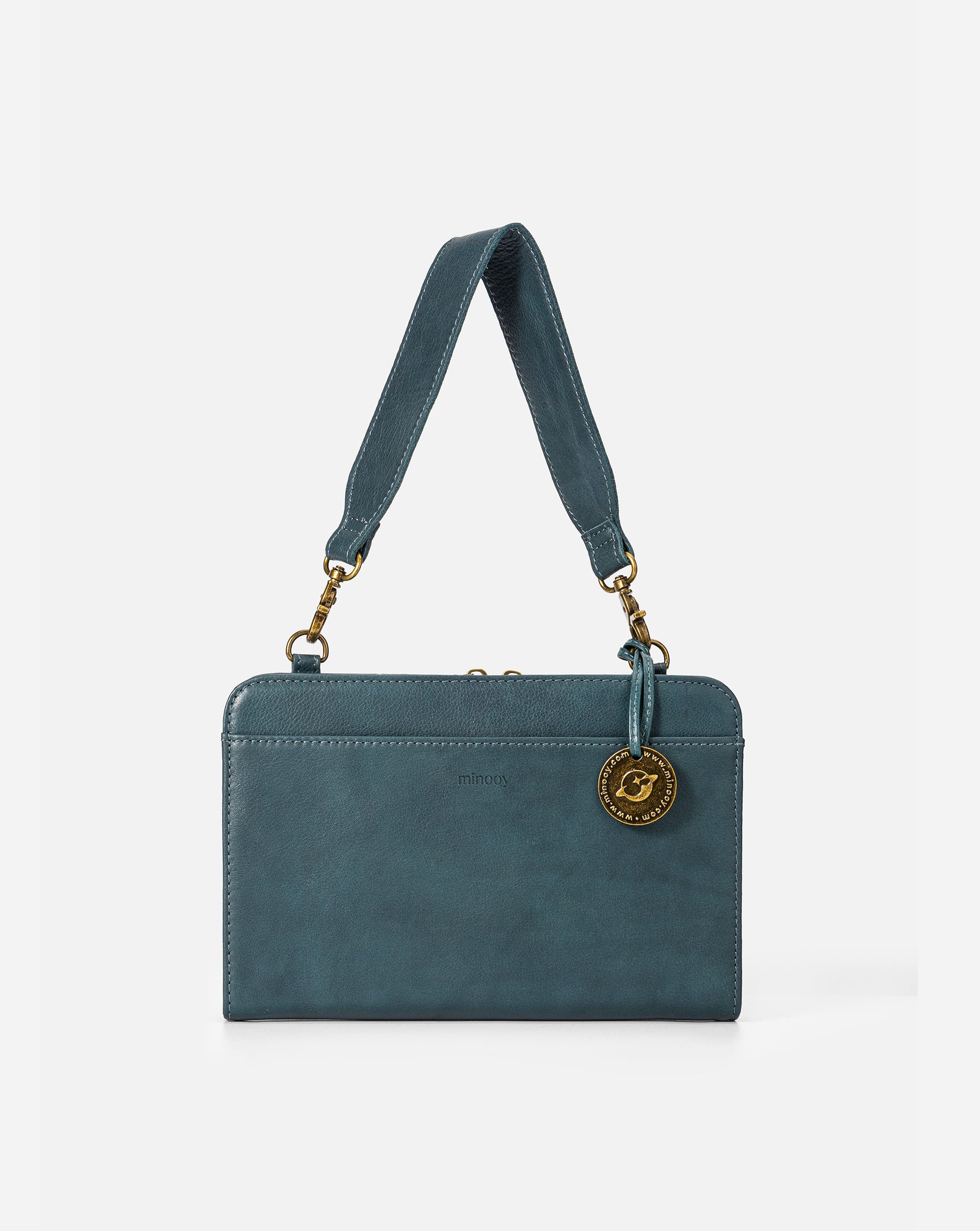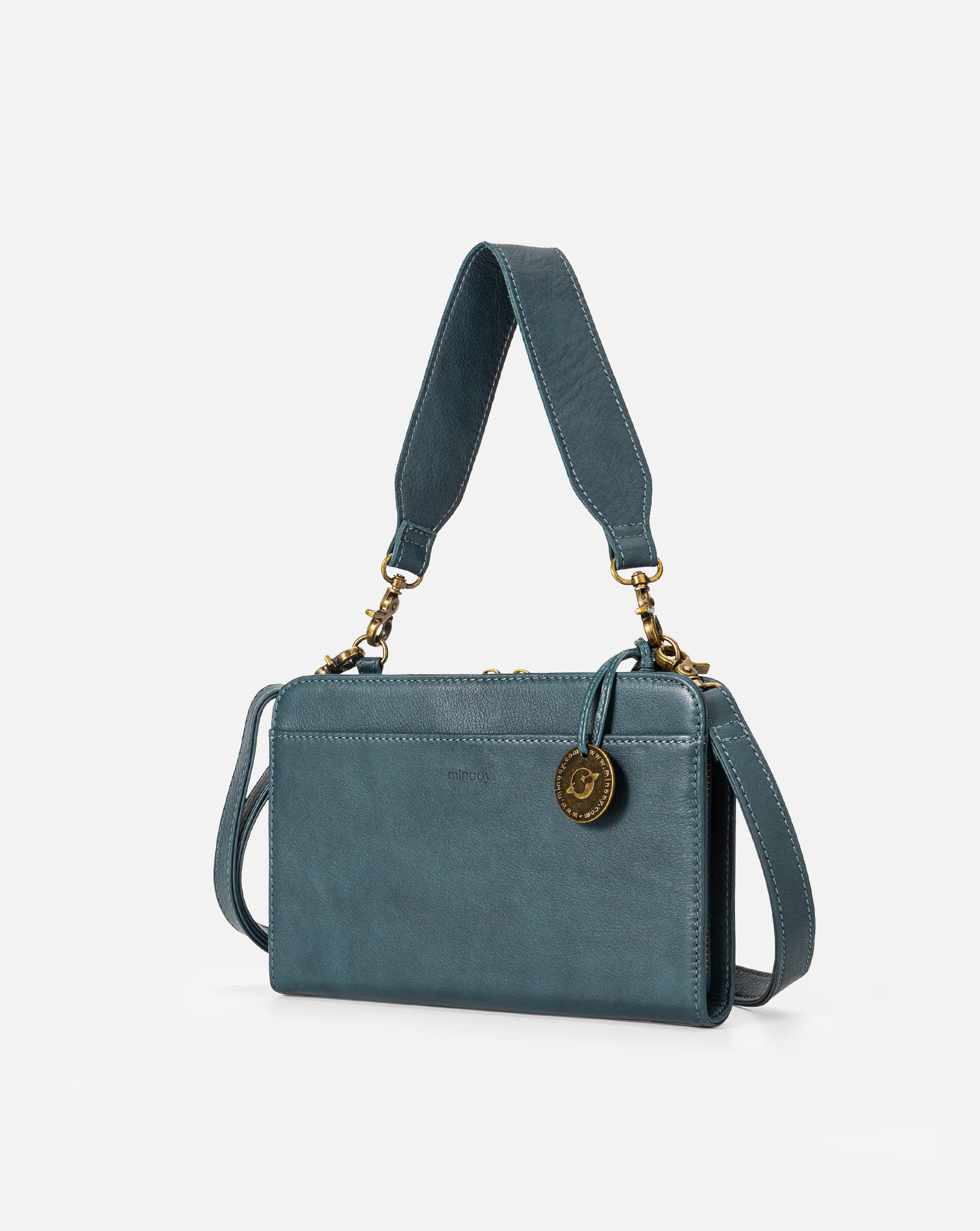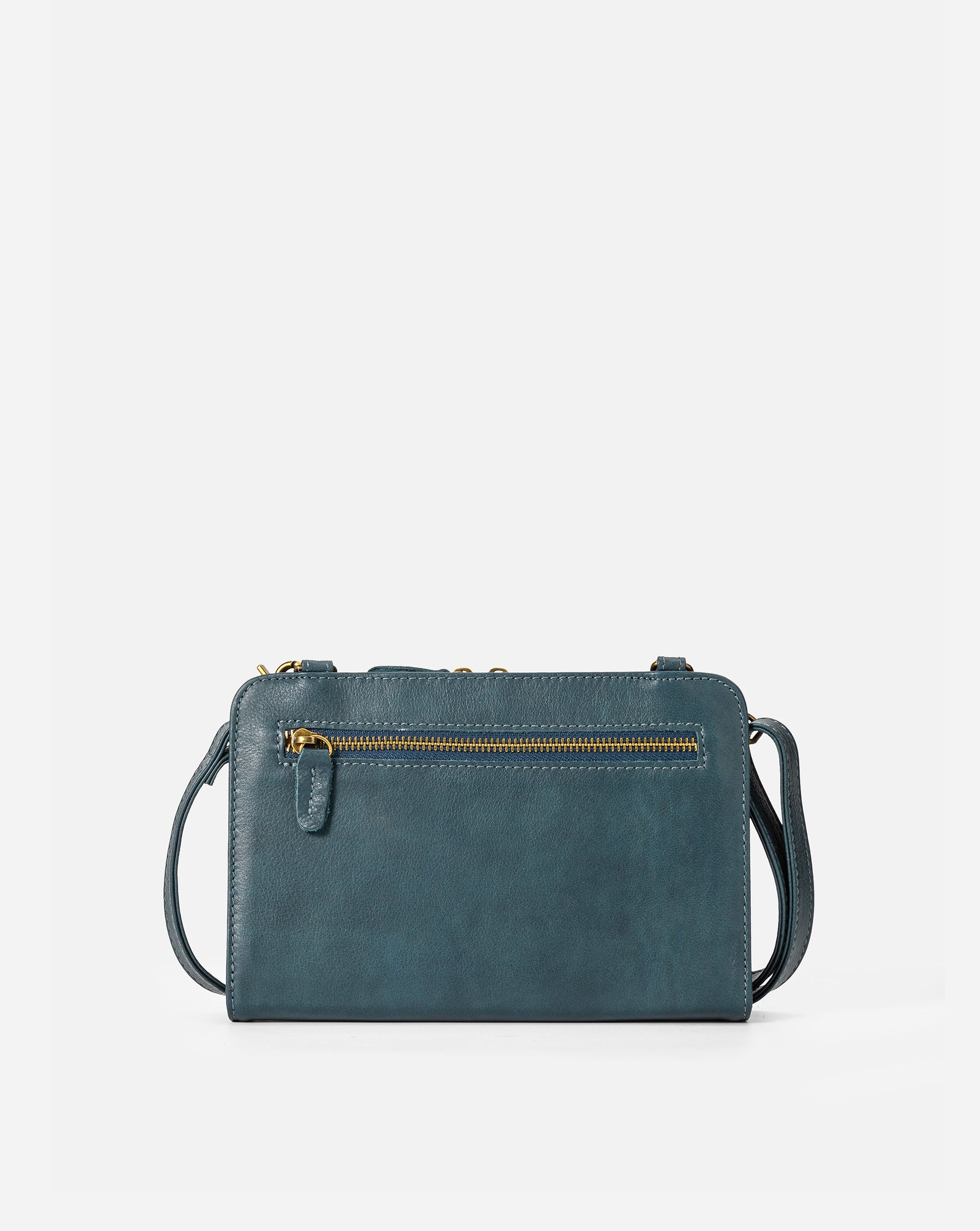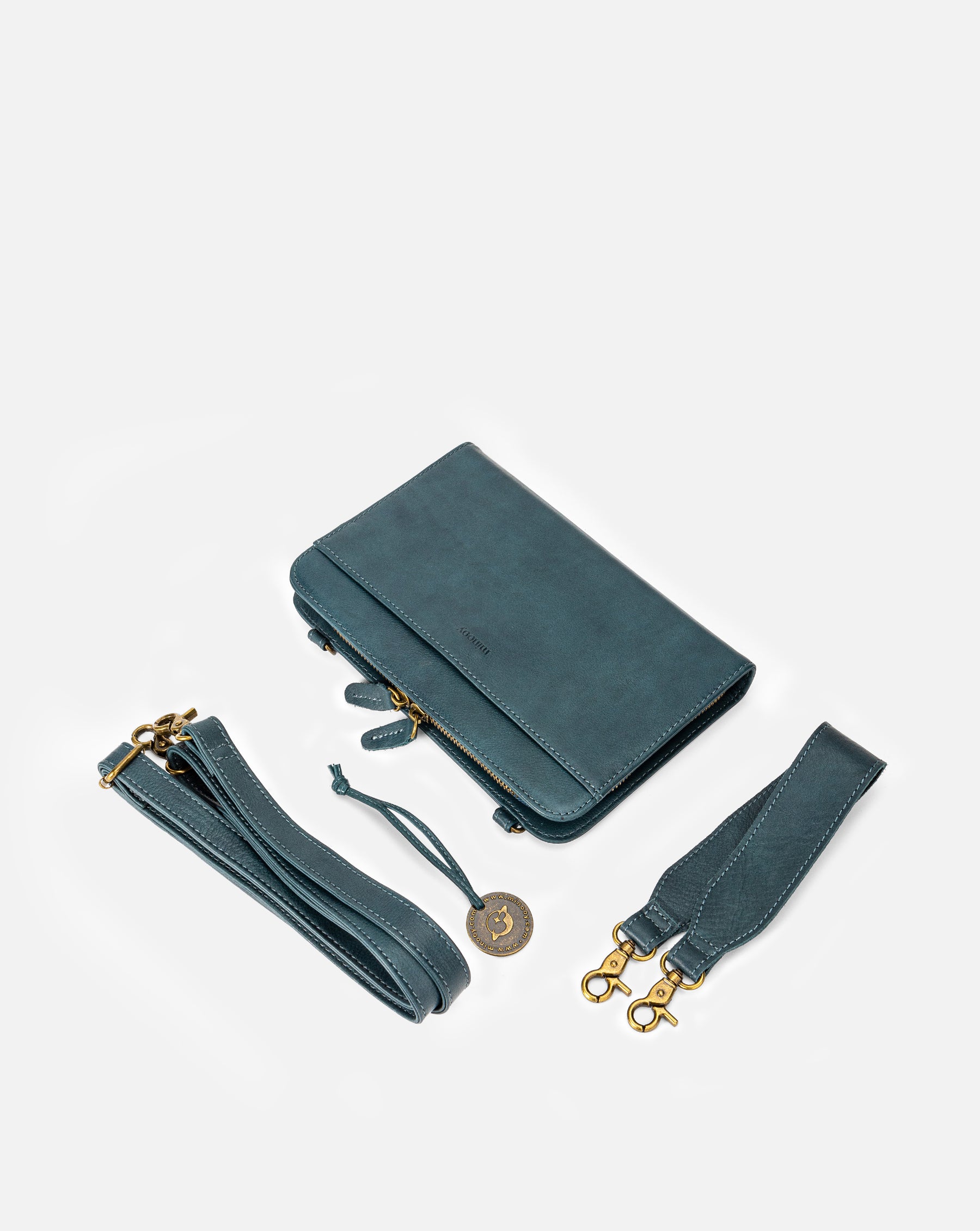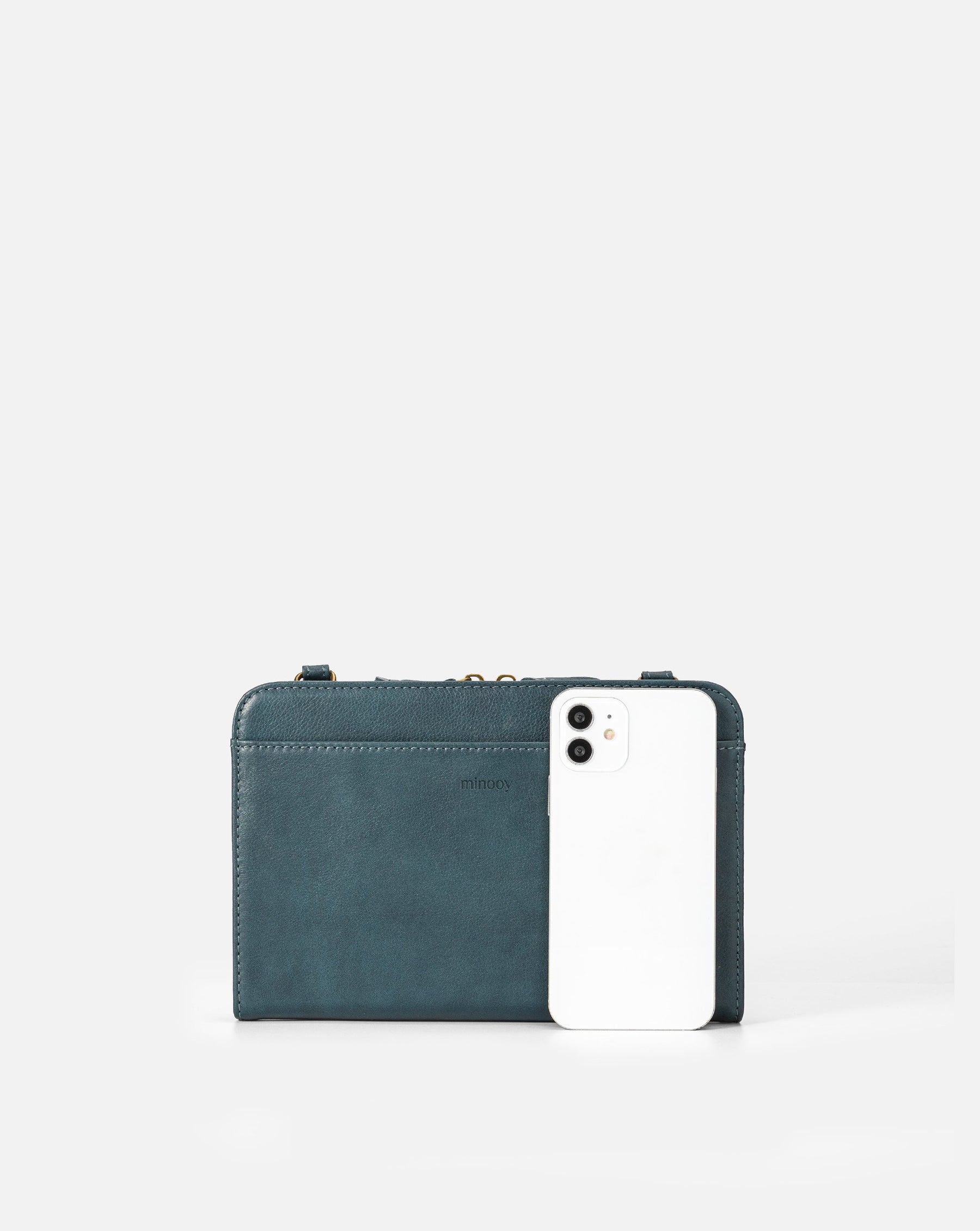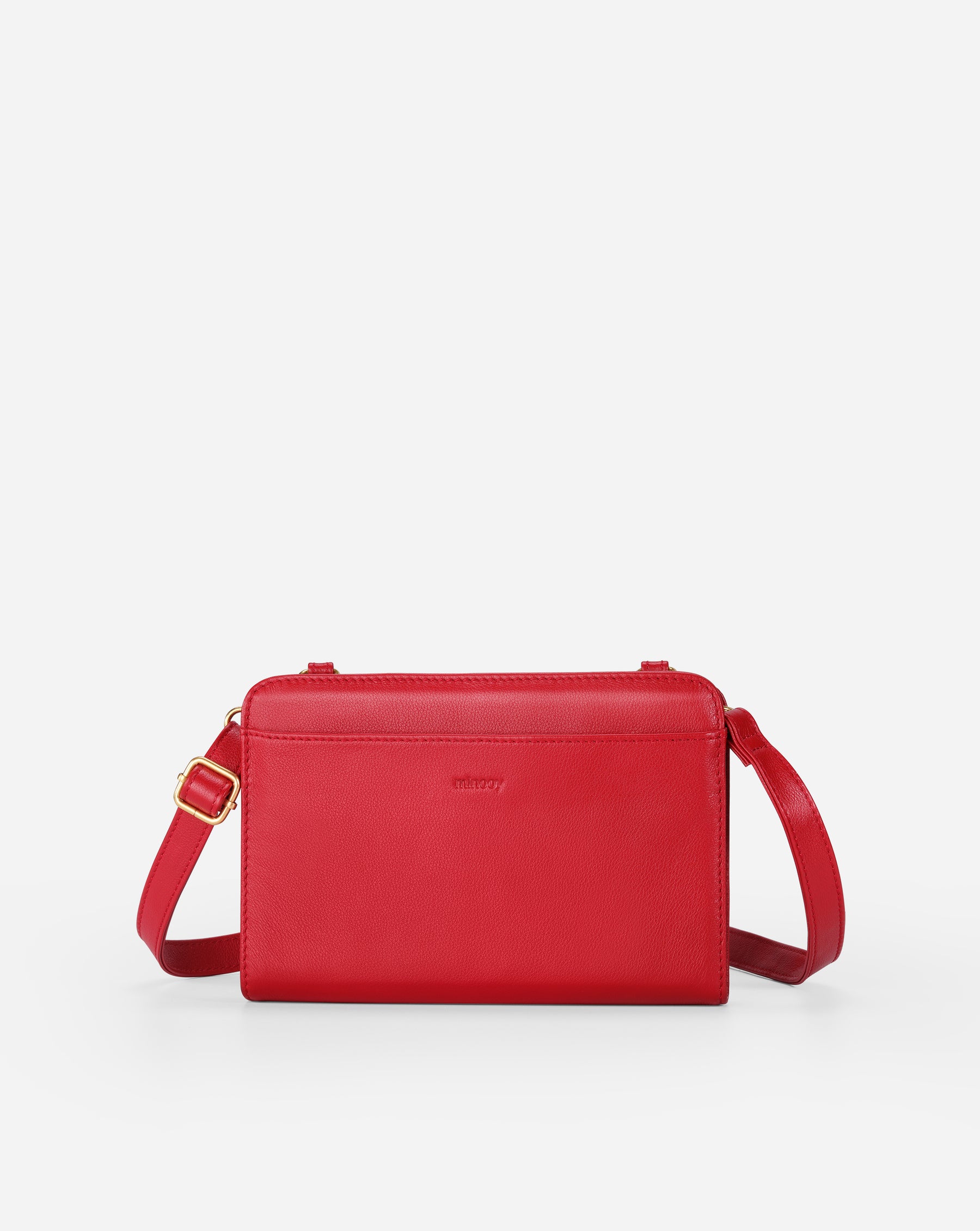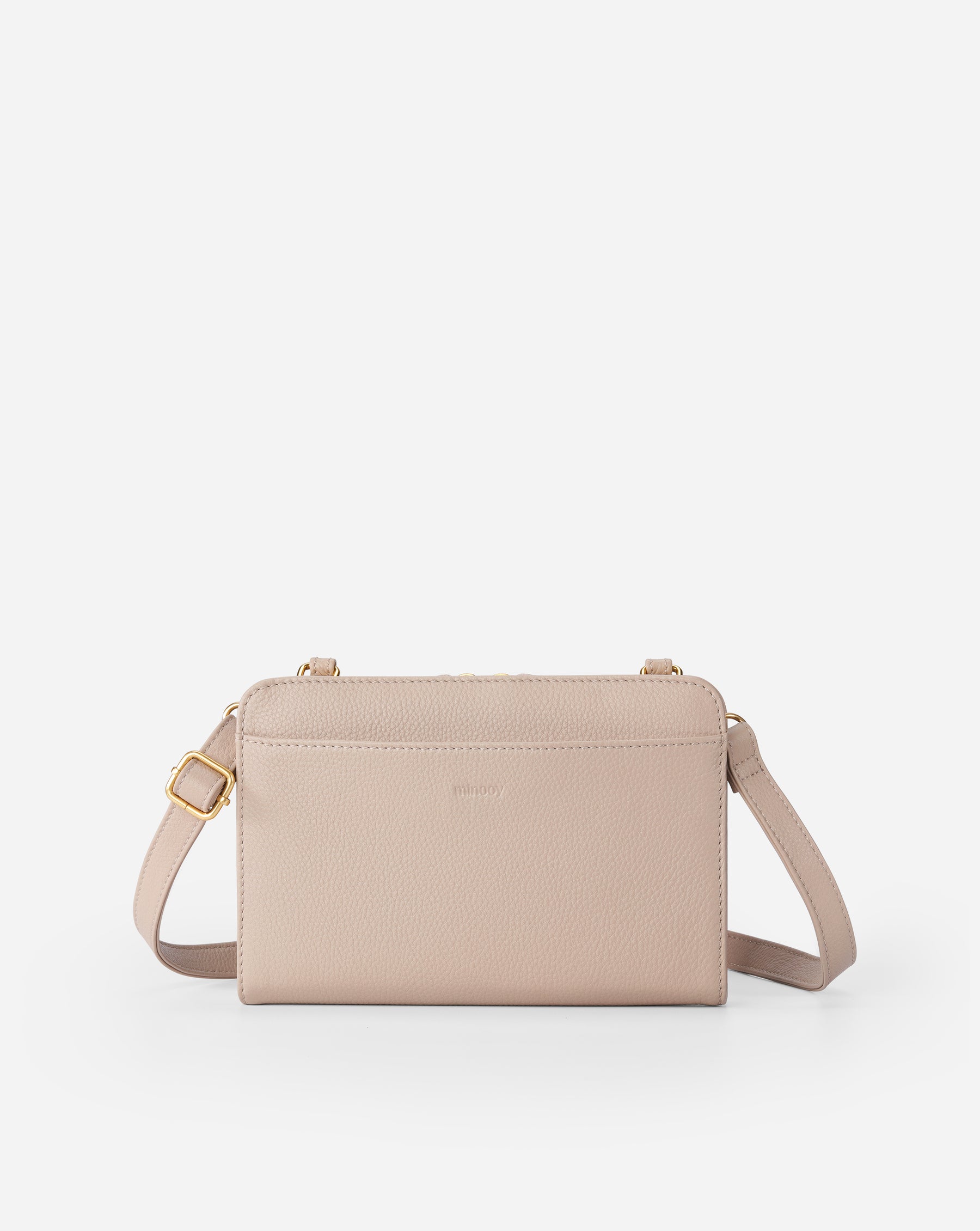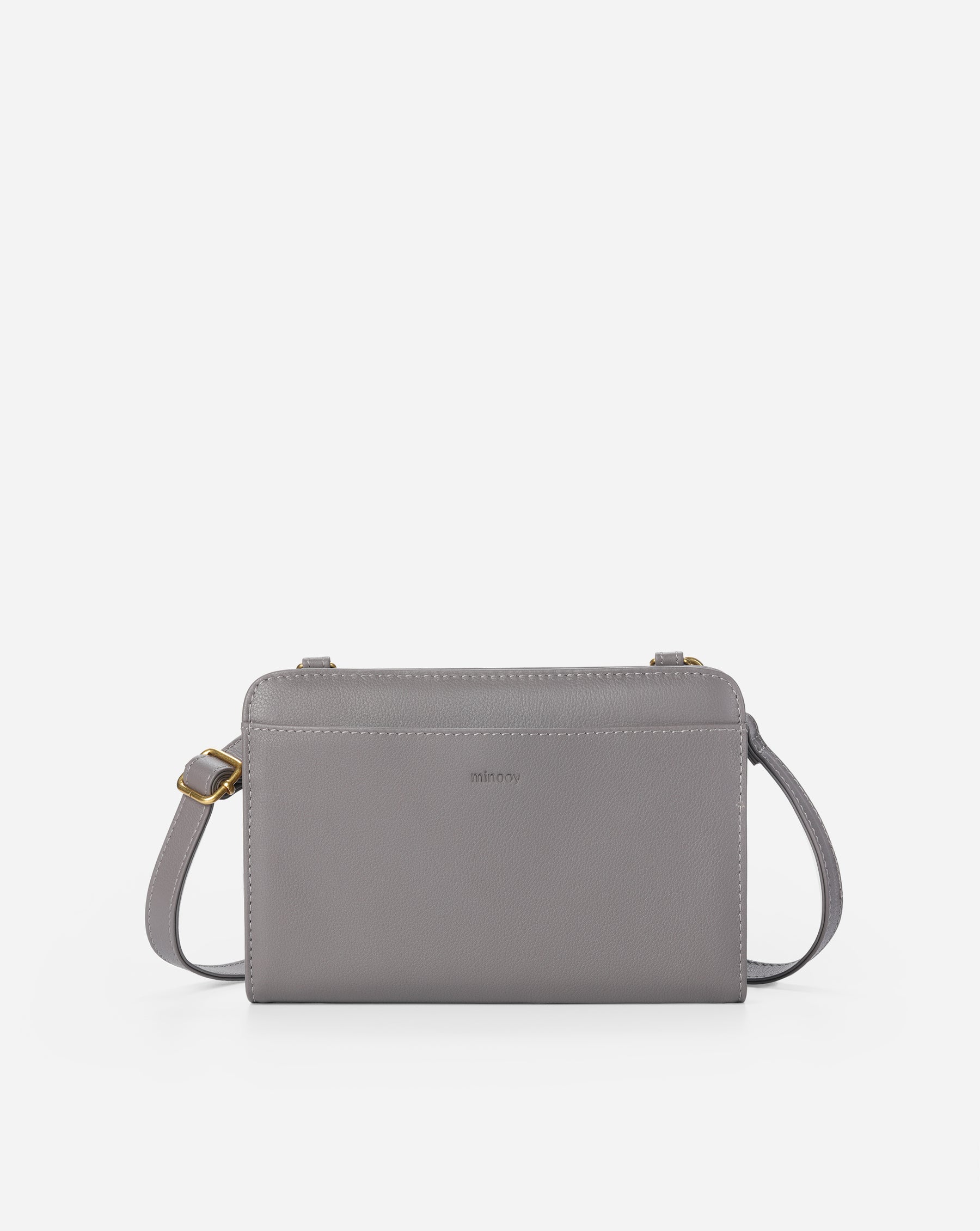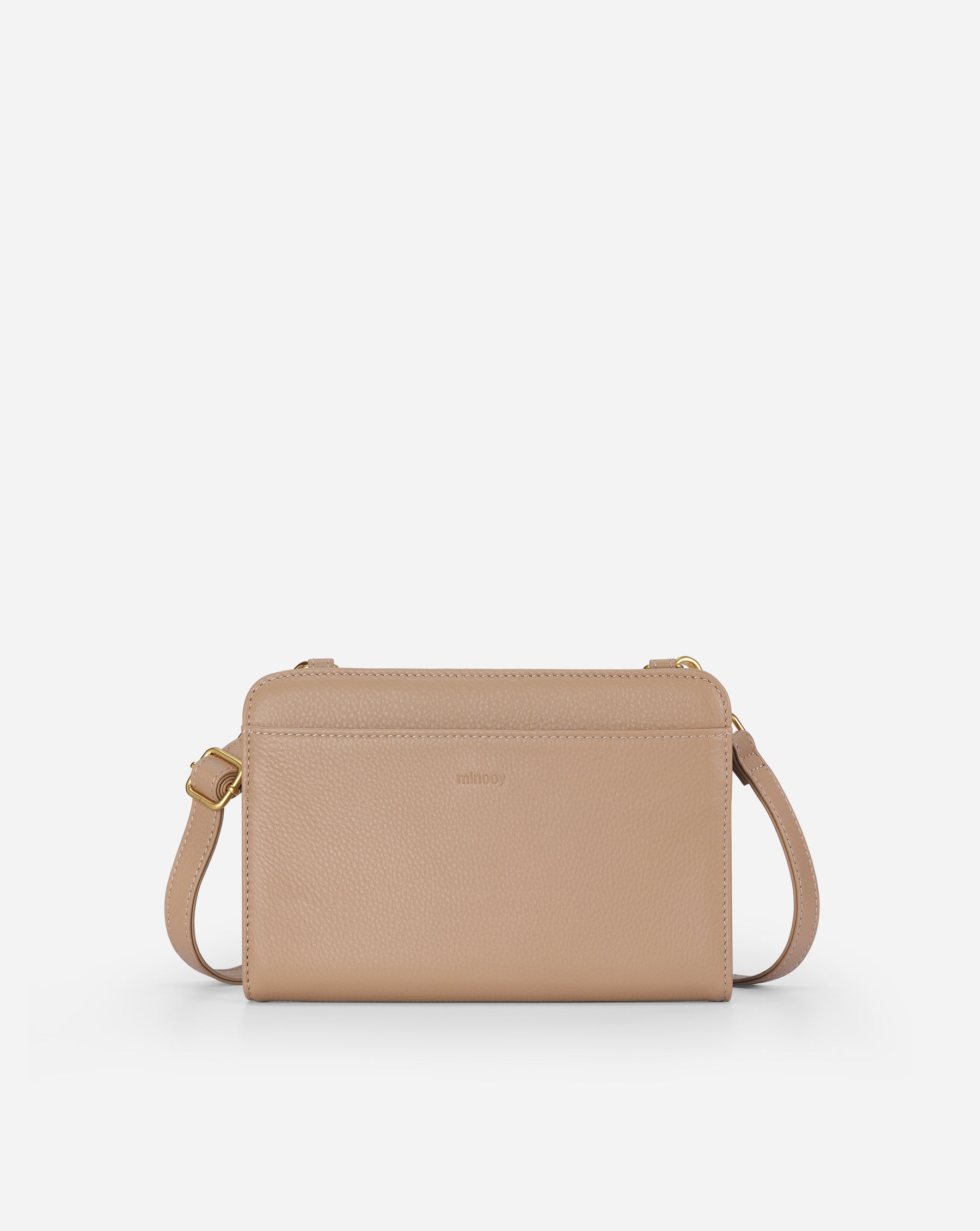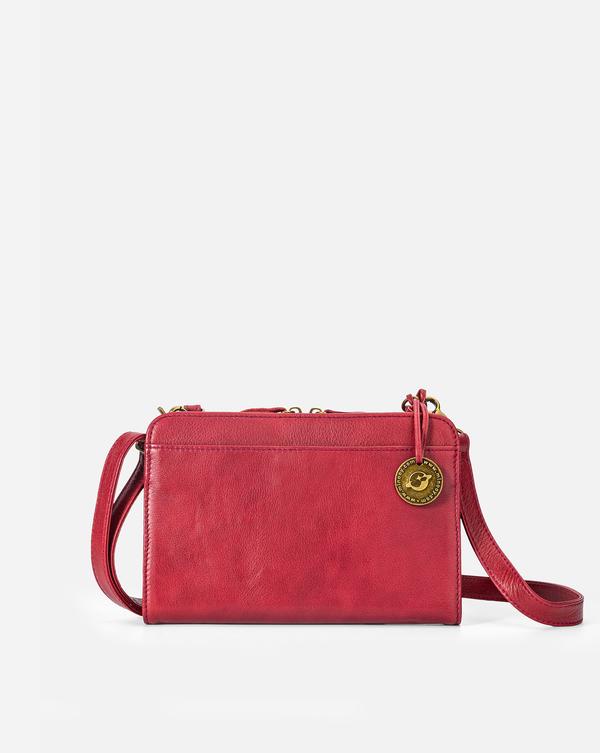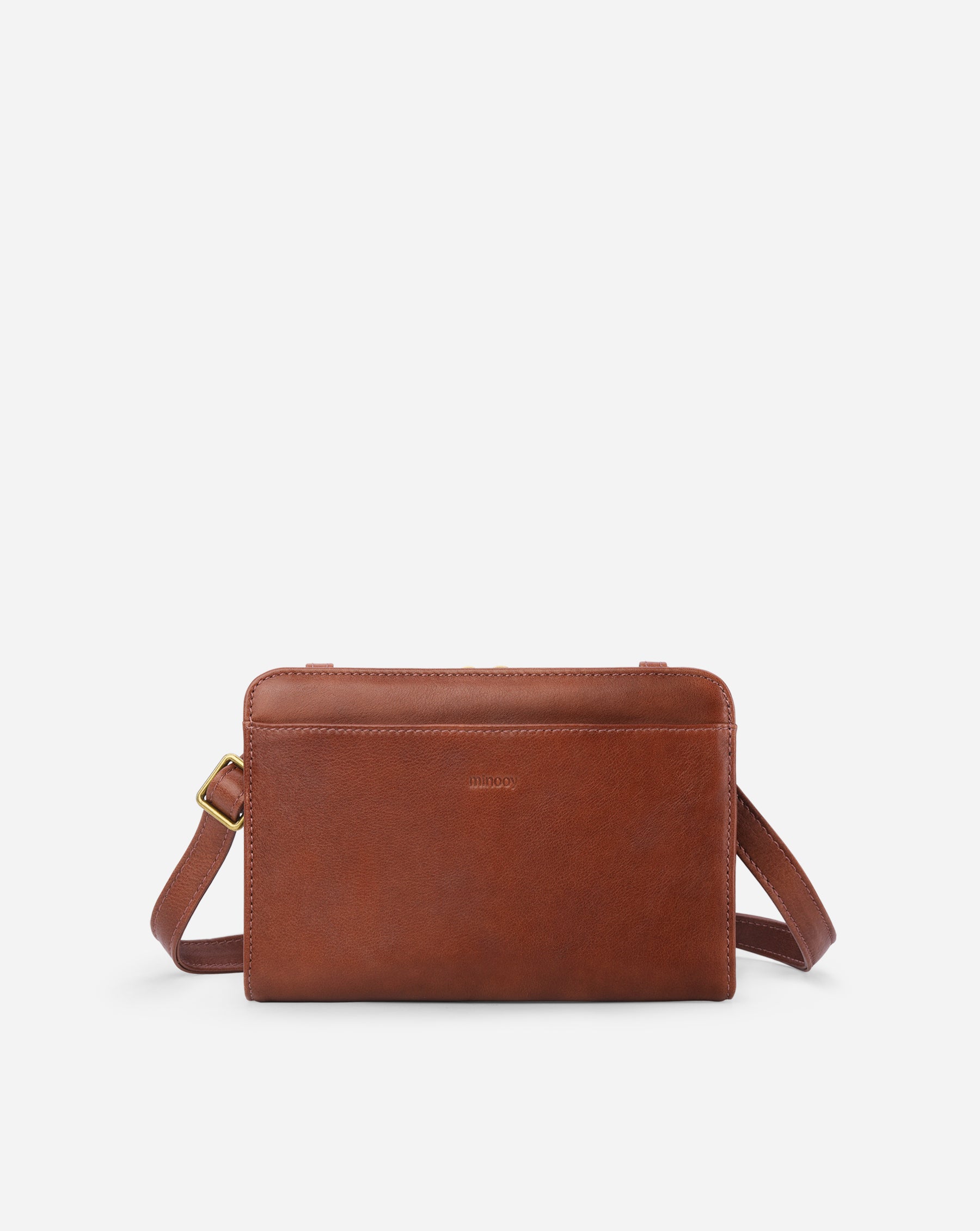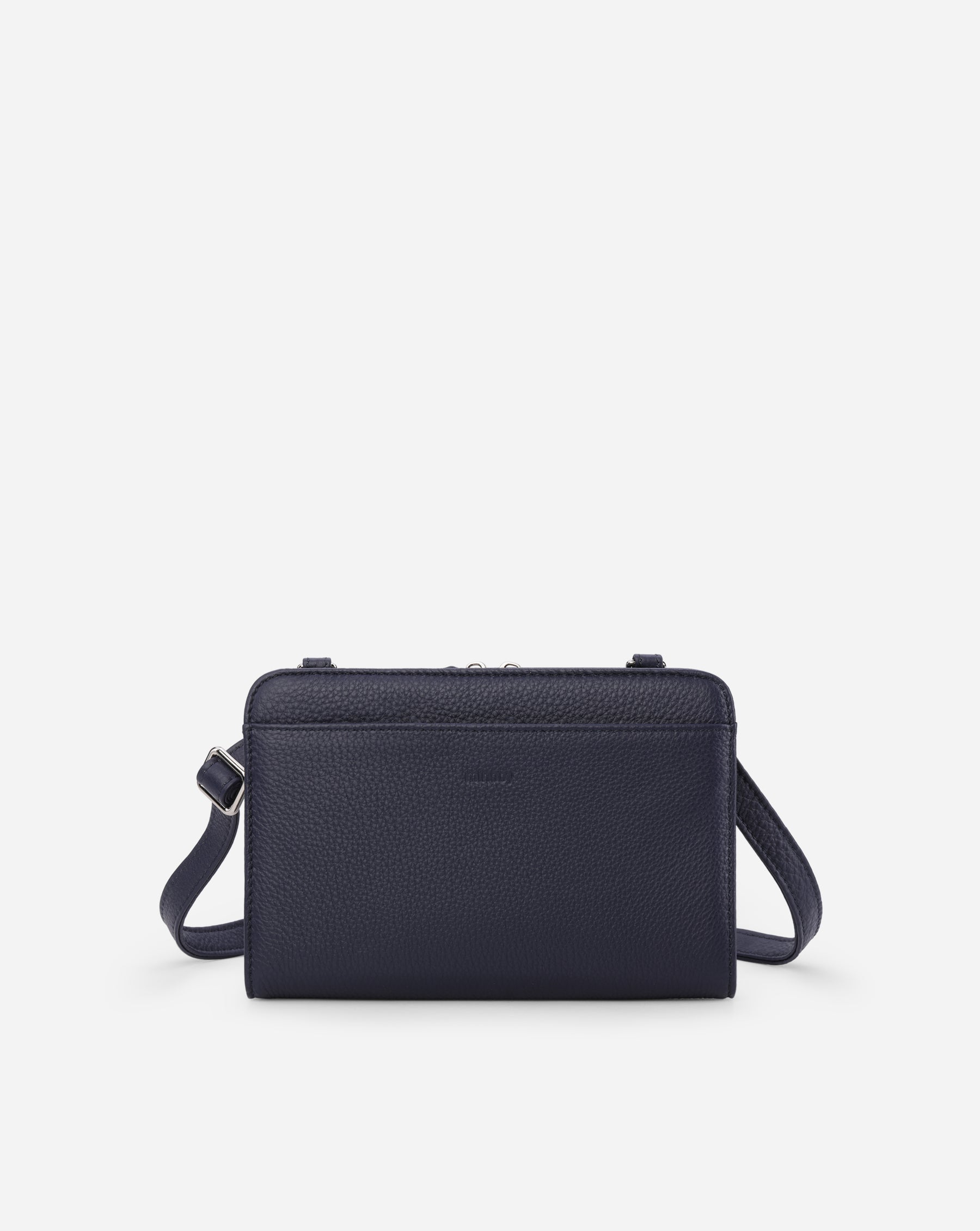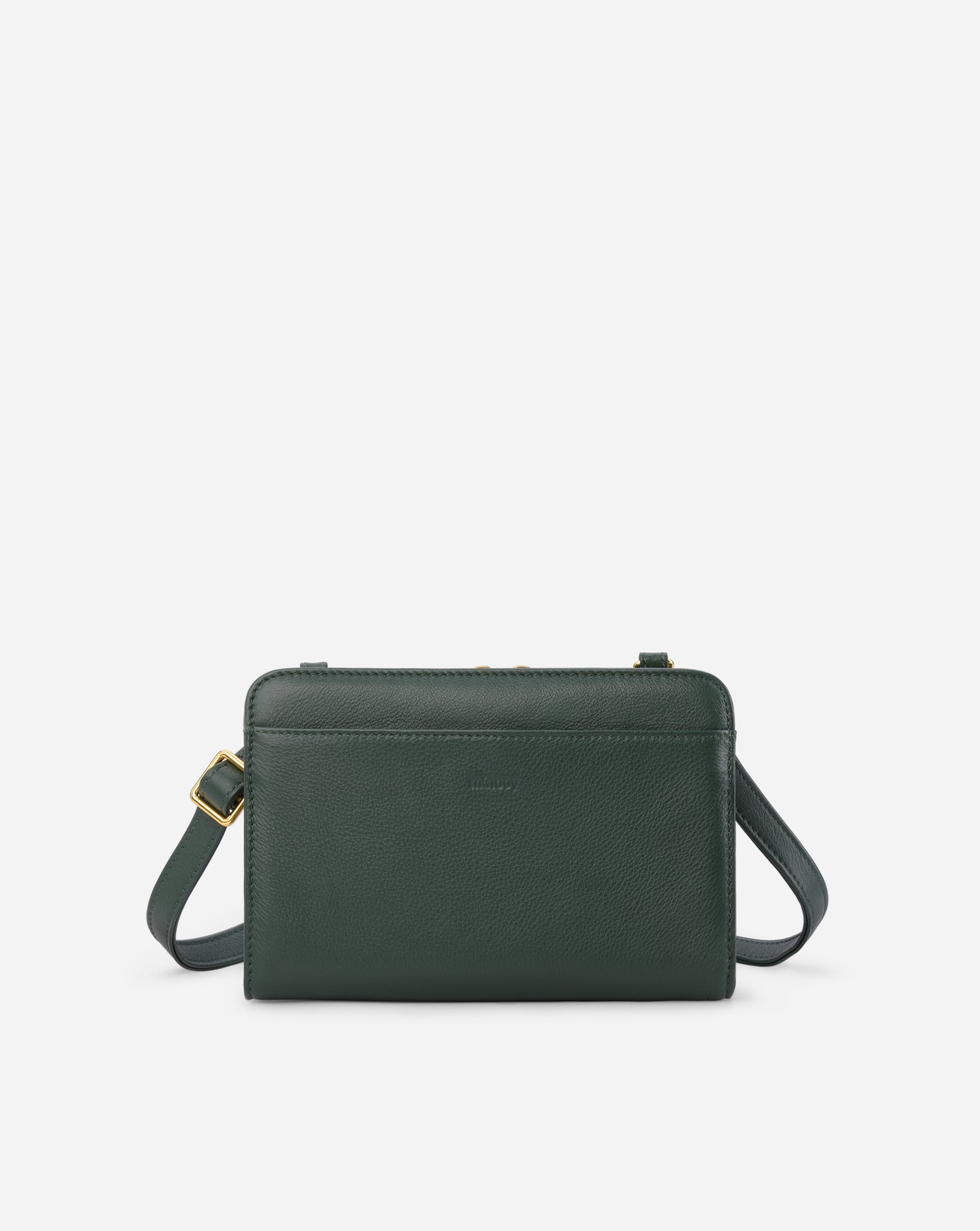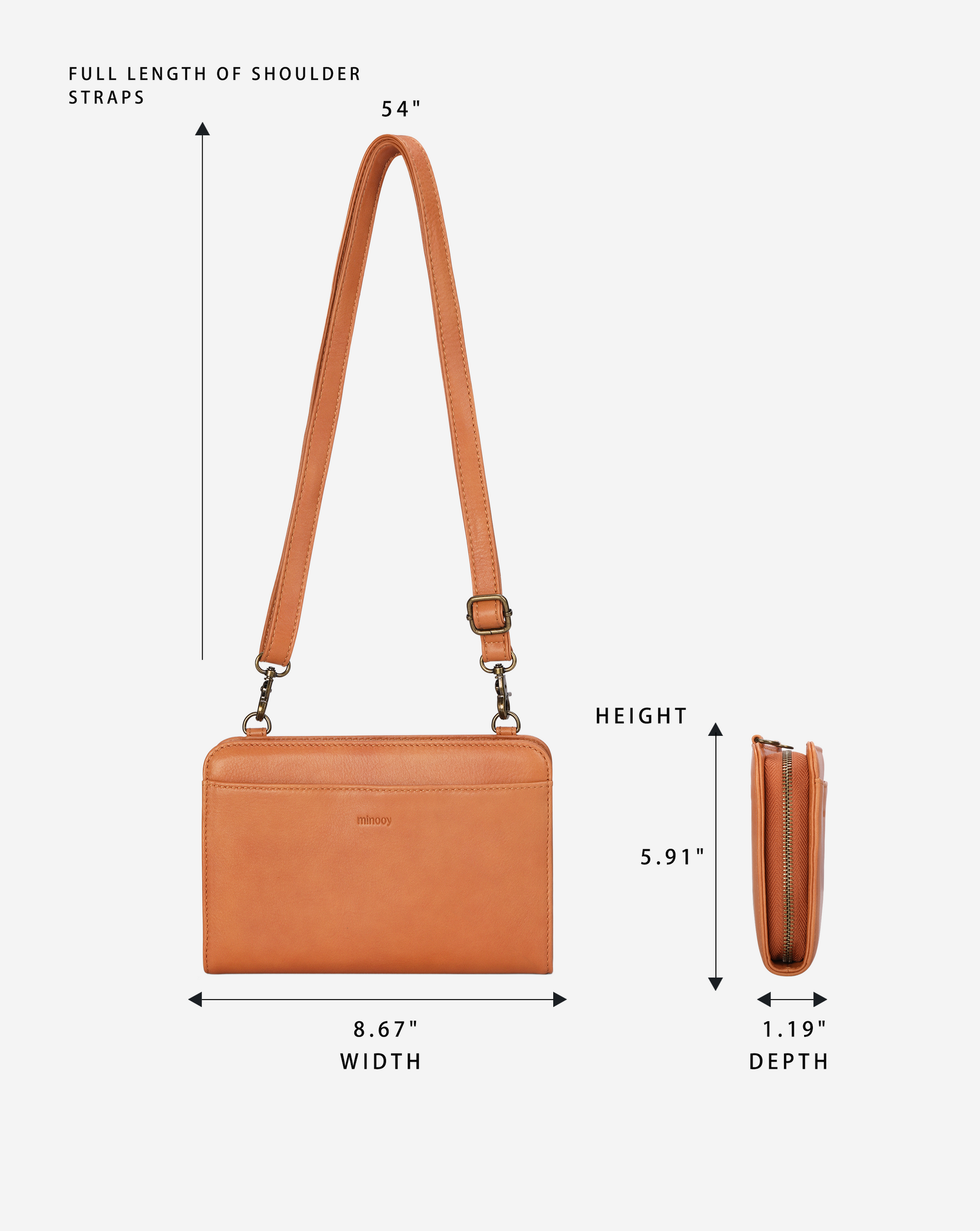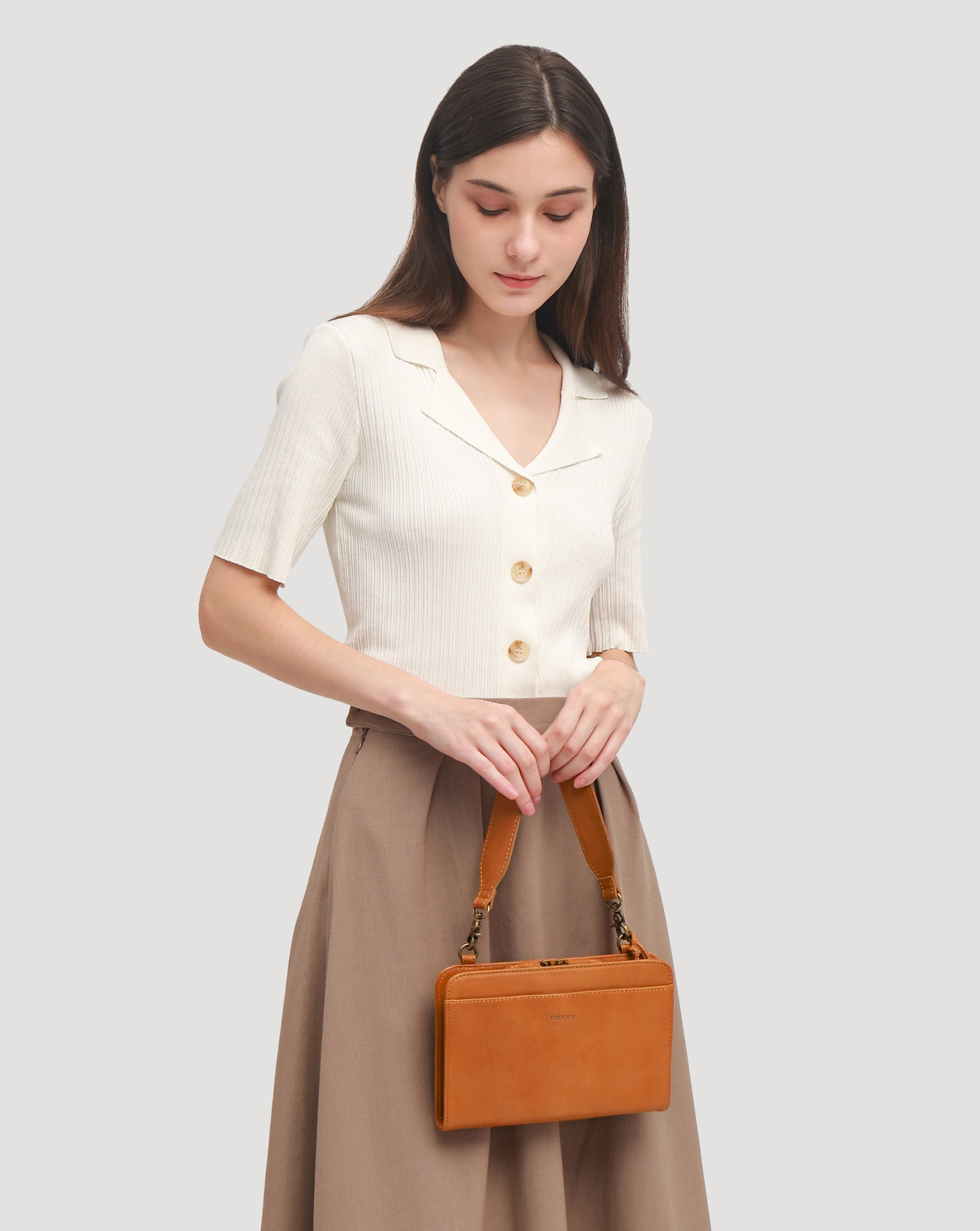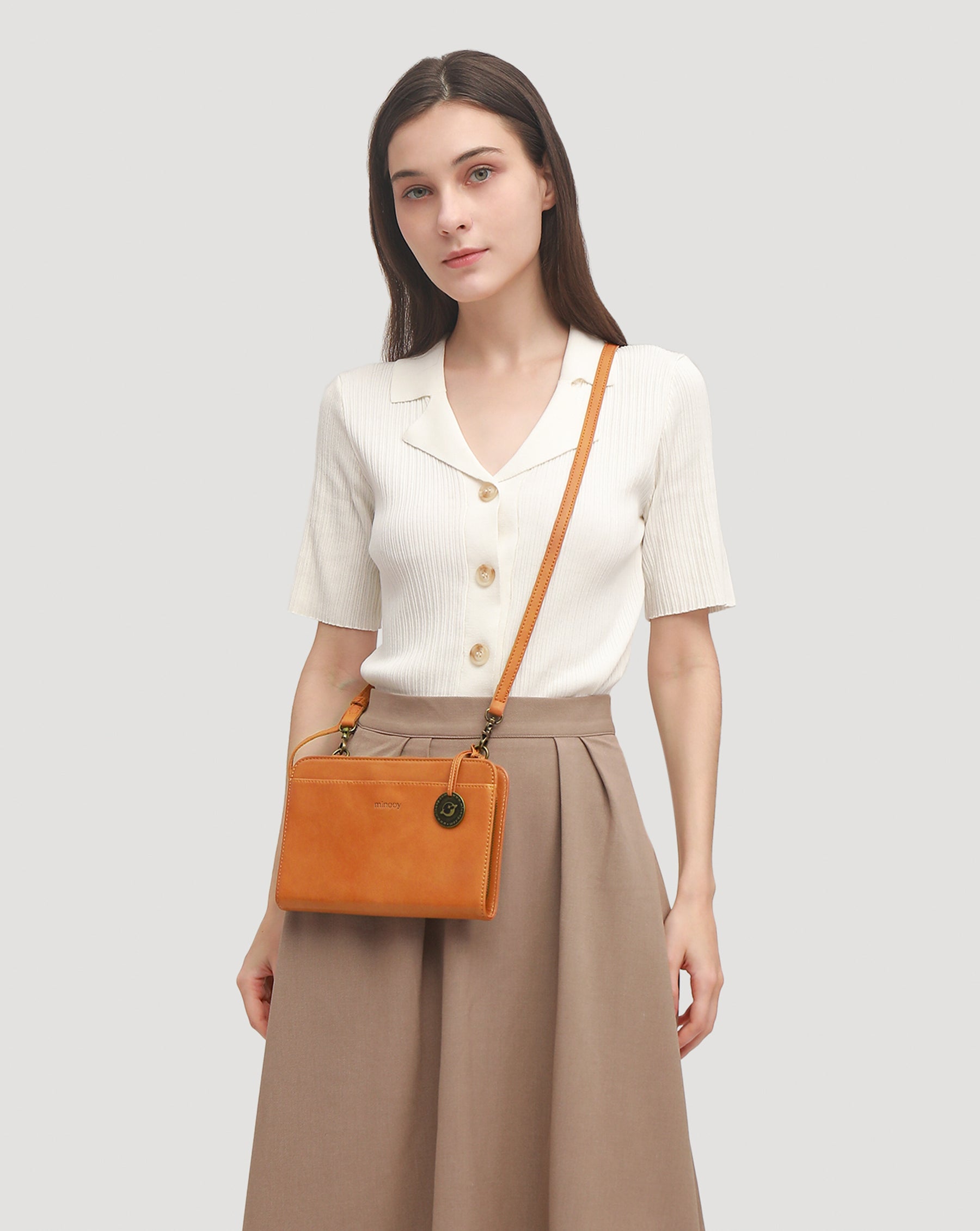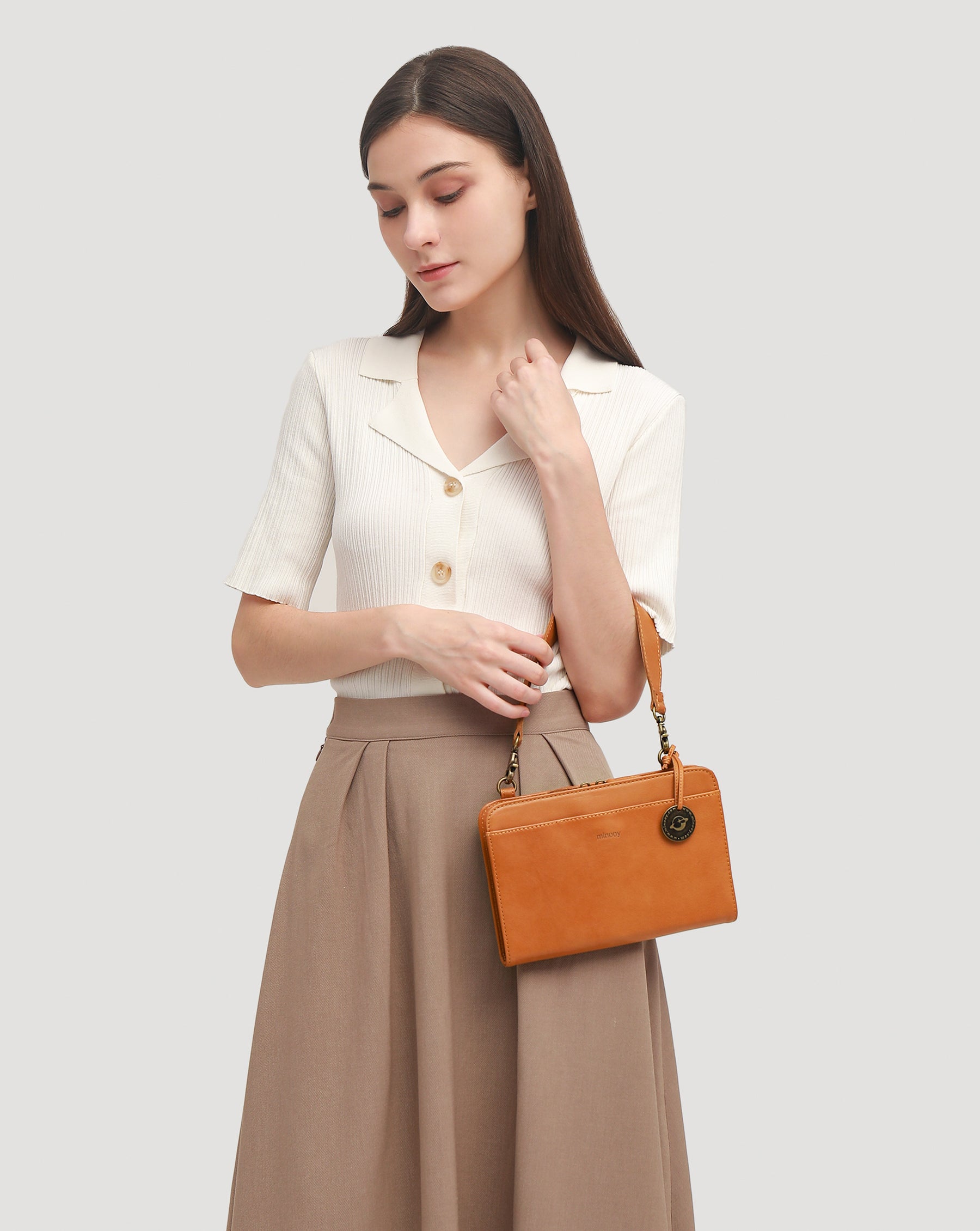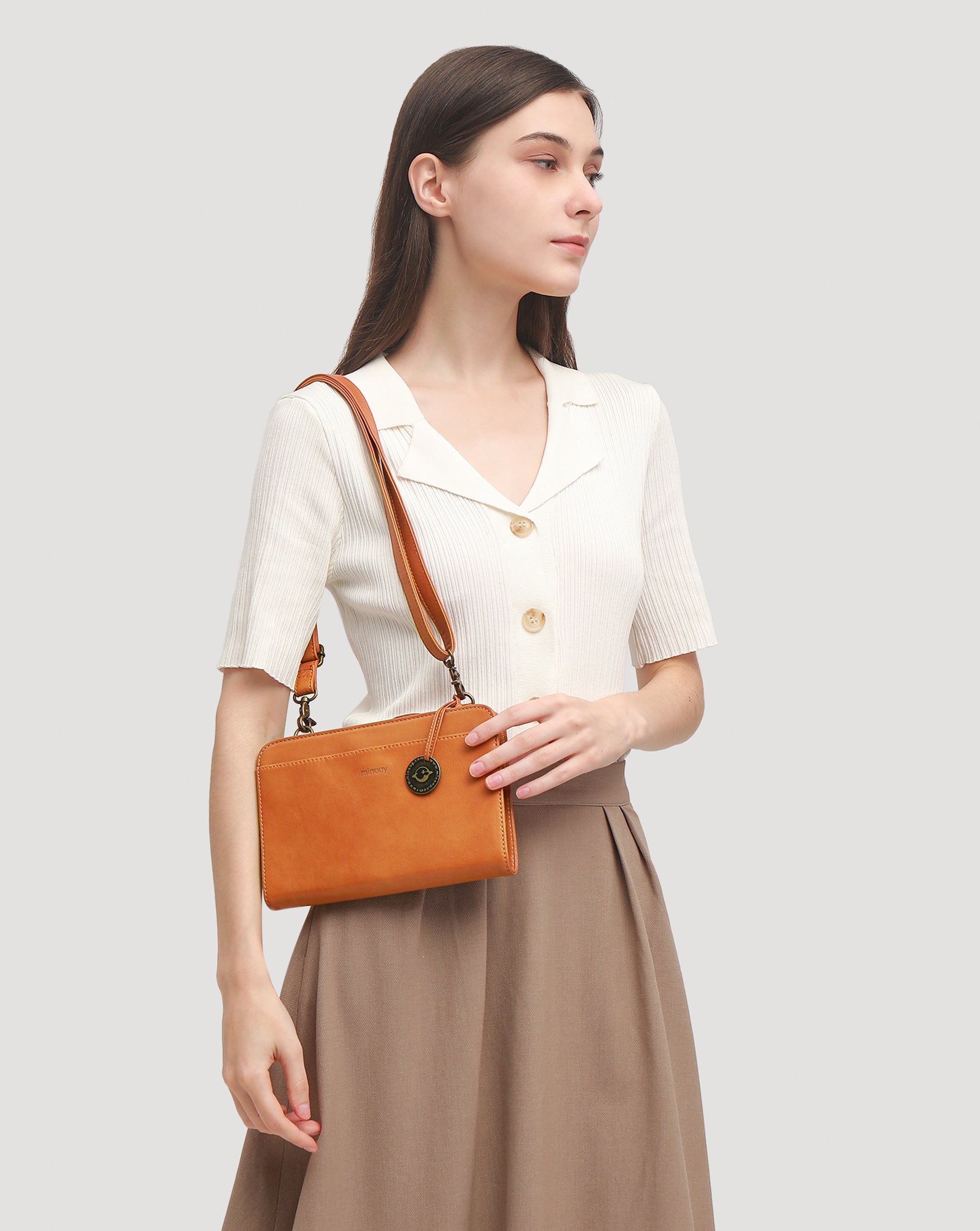 Bali Leather Crossbody Wallet Handbag Purse
· 
Size: H 15.0cm x W 22.0cm x D 3.0cm (5.91" x 8.67" x 1.19")
· 
Weight: 0.46kg (1.01 lb.)
· 
Removable, adjustable wide strap : 137.16cm (54")
· 
Short strap: 20.32cm(8")
· 
Device Compatibility:
  Mobile:Fits up to an iPhone 14 Pro Max and Galaxy S22 Ultra
· 
High quality full grain leather
· 
Metal hardware
· 
RFID Blocking
· 
Available as a Clutch, Crossbody and shoulder bag
· 
BUY 2 BAGS TO SAVE $30
Full-grain leather is regarded as the highest quality leather, which is why we choose it for the production of our bag and accessories.
Being the strongest, outermost layer of the hide to be used, and keeping the grain in its entirety, rather than being sanded away to look more 'uniform', full-grain leather lasts much longer. As it ages, it develops a patina, which is the change in color over time. This change occurs faster on untreated pieces and is considered to be a highly desirable characteristic of leather.
On the smooth, unaltered surface, you can even see the pores and small hair follicles (if you use a magnifying glass), which indicates that the leather is of high quality. Other characteristics to take note of are fat wrinkles or growth lines, natural variations in the grain texture, shading, and small scars.

Every hide is unique as it comes from a different animal with different markings and blemishes so when looking at or working with full-grain leather you'll soon realize that no two hides are exactly the same.
Due to the recent novel coronavirus (COVID-19), which has affected logistics in some controlled areas, logistics delivery times may deviate from estimated times. Actual shipping and delivery times may be delayed. We apologize for any inconvenience caused.
Delivery Time = Processing Time + Shipping Time
Shipping From: ShenZhen(Our bags are shipped from Shenzhen, but don't worry we have a US warehouse, if you are unsatisfied with the order when you receive, you can feel free to return the order to our US address)
Processing Time:
Items in stock: 24-48 Working Hours
Items Pre-Order: Please check ETA (estimate arrive time on website)
Shipping Time to US/CA/AU:
Method
Shipping Time
Shipping Cost
Standard Shipping
10-15 Working Days
 Free(Over

US

$109)

Standard Shipping

10-15 Working Days

 US

$10

DHL Express Shipping

4-7 Working Days

 US$20
 30-Day RETURN:
We want you to feel comfortable and confident when shopping at Minooy, that's why we offer an easy 30-day return & exchange policy.
· Size:H 15.0cm x W 22.0cm x D 3.0cm (5.91" x 8.67" x 1.19")
· Removable, adjustable wide strap :137.16cm (54")
· Short strap:40cm(15.7")
· Weight: 0.46kg (1.01 lb .)
· Device Compatibility:
Mobile:Fits up to an iPhone 14 Pro Max and Galaxy S22 Ultra
· Material:Soft full-grain leather

External Structure:
1*inside zipper pockets
1*outside zipper pockets
Metal hardware
RFID Blocking

Internal Structure:
8*card slots
1*passport pockets
1*wristlet strap
1*data cable hold
Leather coin attach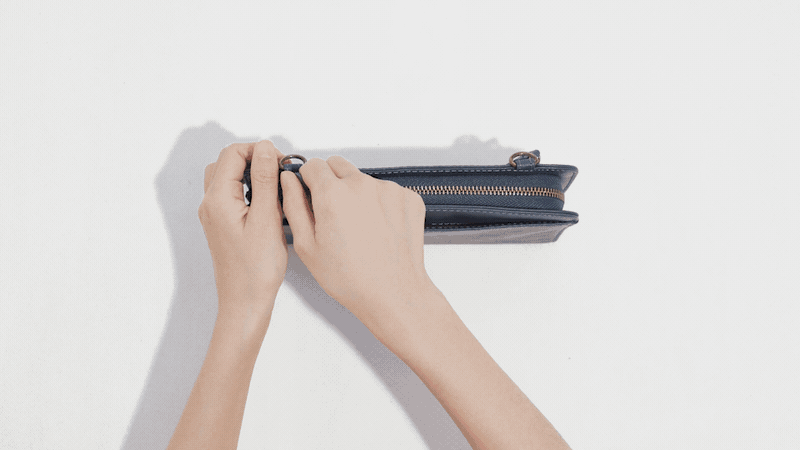 Large capacity in small body
Open the zipper on the outside of the bag and you can see that the inside of the bag is divided into two parts: one part with 8 card slots and 1 pocket and 1 key fob, the other part with 1 passport strap and 1 x data cable hold and 1 passport pocket and 1 pocket with a zipper.
The front of the bag has 1 pocket with a metal magnetic clasp and the back has 1 pocket with a zipper.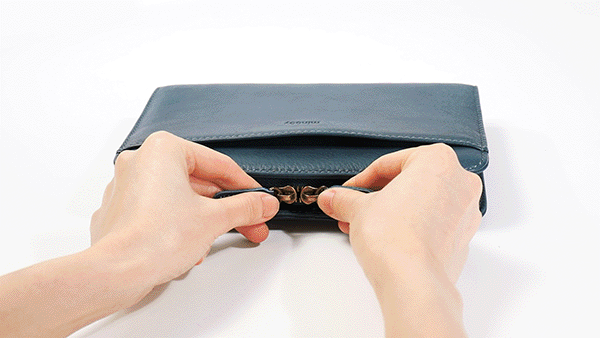 Perfectly sorted and well organized
This leather bag is lightweight in appearance, but large in capacity. It is perfect for carrying your money, keys, cell phone and other daily essentials. The bag has multiple individual compartments, card slots and bill locations. Built-in key fob slot and card insert pockets to meet your daily travel needs.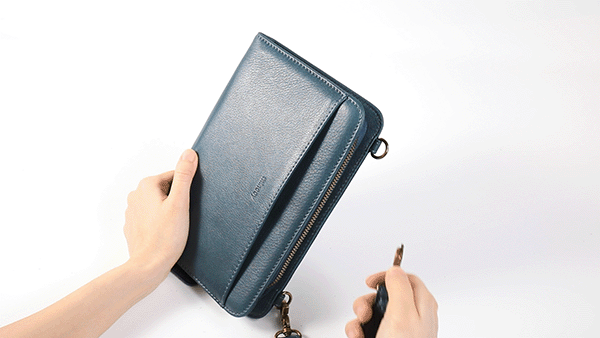 Exquisite detail processing
After getting strengthened, the gold hardware not only looks vintage but is also durable. The adjustable long strap and detachable hand strap make it more comfortable to use. The smooth exterior zipper allows for protection of small items and quick access.The external pocket allows you to quickly put in and take out your items without having to open your wallet again.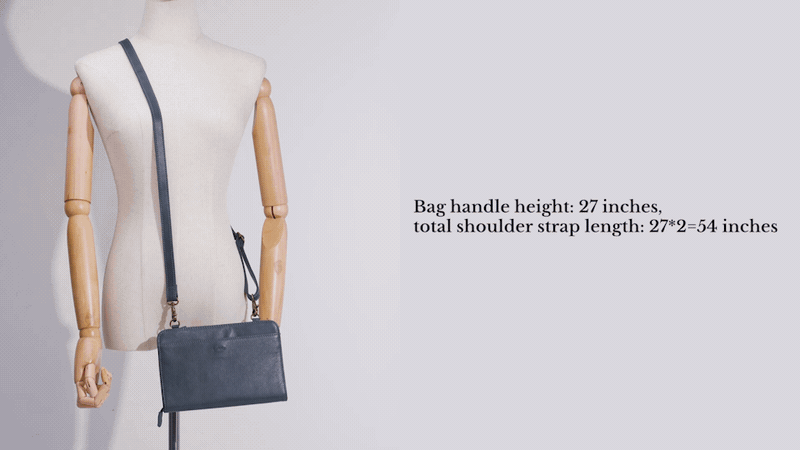 Size measurement
Bag handle height: 27 inches, total adjustable strap length: 27*2=54 inches,
The front width of the bag is 8.67 inches, the depth is 1.19 inch, and the height is 5.91 inches.
BRAVO!!
I travel internationally and have been looking for a wallet/crossbody. I wanted something with a zip closure, RFID, outer pocket that could accomodate my passport AND a paper boarding pass unfolded. This has all of those features! The leather is lovely. And, I can put this in my larger handbag. But simply take it out and attach a strap to go out to dinner. It will go on it's maiden voyage to the south of France in September!! Can't wait to use it.
Best purse for travel
I have purchased a much more expensive travel wallet just like this (only it came with a built in battery) and the zipper broke within a year because the design made the zipper go around sharp corners. I love the rounded corners and the heavy duty zipper, the thoughtful organization and ability to hold all needful documents and cards, and the attractiveness and ease of use. Including a built in battery would make this perfect but I can slip one in because there is room for it in this purse. It's really the best I've found and I look forward to traveling with it for years to come as well as being able to use it daily. I'll get other colors of this design for sure!
Love this Bali Crossbody
I am SO GLAD I bought this, and will be purchasing more of the same style. It's the perfect size to throw cards and cash in, and the *winning feature* is the "folder" touted for holding a passport. All well and good, but this section ROCKS for tucking away all of the receipts and bits of paper that we accumulate. It holds a thin note pad, cash, and a myriad of other stuff that usually ends up scrunched up in pockets and crannies. The Bali is big enough for "on the go," but small enough to throw into a tote when you need to haul a laptop and other sundries. I'm hooked!
As described. Color is darker then video
Very nice. Wish is was not as dark. Exactly as described. Paid more for shipping and received in less than 3 weeks. Not bad considering shipped from China.